To strengthen foreign relations, Nepal must build a system for envoy appointments, experts say
Despite promises to streamline ambassadorial appointments, the government has yet to implement the criteria it introduced itself around two years ago.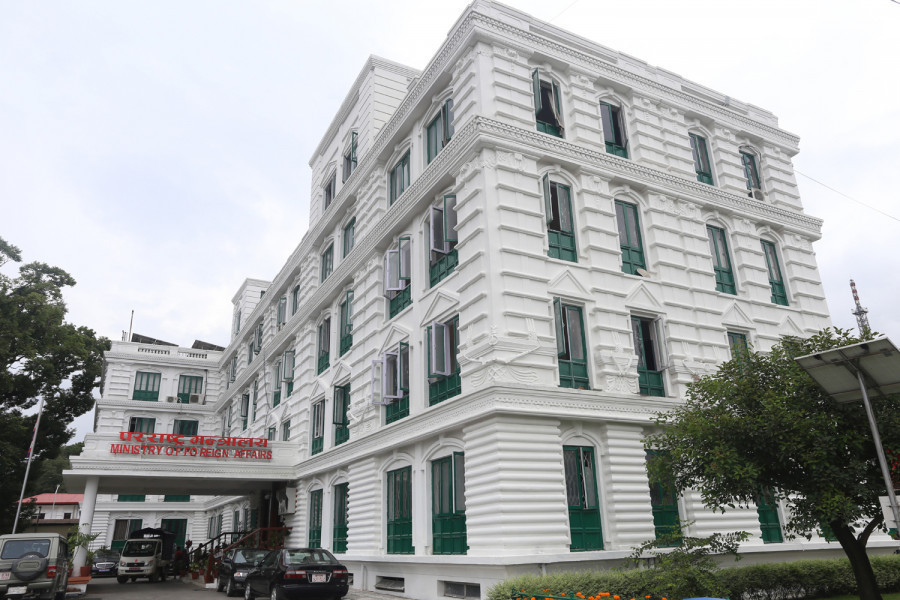 Former diplomats say Nepal must ensure its strong and continued representation abroad. Post File Photo
bookmark
Published at : September 18, 2020
Updated at : September 18, 2020 14:06
Kathmandu
Flushed with a resounding electoral victory, the Nepal Communist Party government made a host of promises on delivering good governance. The introduction of the new criteria for ambassadorial appointments in November 2018, including making ambassadorial appointments in foreign missions three months prior to the expiry of terms of the incumbent, was one of such commitments.

But in the past two years, neither have the criteria been followed nor have there been timely ambassadorial appointments, as foreign relations seems to be beyond the government's area of priority.
"During the Panchayat years or even later after the restoration of democracy, there was a tradition of picking capable people who had the calibre to represent the country as envoys, especially in neighbouring countries and in the capitals of big powers," said Bhekh Bahadur Thapa, a former foreign minister who also served as an ambassador to India.
"But these days, we don't find that kind of practice in our diplomacy."
The Oli administration-introduced criteria include "excellent academic record and capability to represent the country with a sound experience or knowledge of Nepal's foreign policy and international relations".
As per the criteria, persons who are well-versed on the dynamics of bilateral and multilateral diplomacy should be appointed ambassadors based on the principle of inclusiveness.
"Now we hear money plays a role. Political affiliation is also important," said Thapa. "Ambassadorial appointments these days are split among the ruling and opposition parties. There's no system in place."
Even when positions are vacant at key missions, the government has yet to pick ambassadors, largely due to politicians' failure to reach an understanding on their "quota".
South Korea is an example.
The East Asian nation where tens of thousands of Nepali migrants go for work has been without an ambassador for two years. An ambassador in such a destination where there is a huge number of Nepalis, especially those who are migrant workers, can be helpful when they face troubles.
Officials say there are some other missions which are diplomatically important and cannot be left without ambassadors for long as the vacuum can hit the country's relations.
"The standard practice in international relations calls for a country having its top diplomats at its missions without a break," said the joint-secretary at the Foreign Ministry who did not wish to be named fearing reprisal. "In our case, we are happy to keep our missions without ambassadors because politicians fight to have people of their choice."
According to the Ministry of Foreign Affairs, terms of Nepali envoys in the United Kingdom, Austria, Brazil, Russia, Egypt and the Permanent Mission to the United Nations, Vienna are going to expire within three months. But the government has to take initiatives to choose who will go there as ambassadors. The government criteria say ambassadors will be chosen three months before the missions become vacant.
After the Oli government decided to recall Deep Kumar Upadhyay from New Delhi, it took months to appoint his successor, despite the fact India as a neighbouring country is a very important destination for Nepal diplomatically.
The Delhi mission remained vacant for a year before the Oli government decided to send Nilamber Acharya in February 2019.
The Oli government in February-end decided to recall Leelamani Poudyal suddenly, without giving any reasons, from Beijing, yet another important mission in the northern neighbour. The ambassador's post remained vacant for six months until the government picked Mahendra Bahadur Pandey as Poudyals' successor in April. Pandey assumed office only in August , as the Covid-19 pandemic delayed his travel.
Experts and analysts have for long stressed that Nepal needs to have a strong foreign policy in the changed global context, and ambassadors can play a crucial role in making the country's position clear and strong. But for that, the Foreign Ministry needs to take the lead and implement the criteria it has introduced, they say.
Nepal's political parties, however, have made it a tradition that ambassadors are appointed from among the career diplomats and those picked by the leaders.
Last week Foreign Minister Pradeep Gyawali told the Post that appointments under both categories—political and diplomatic—would be made soon.
The government recently recommended ambassadors for Pakistan, the European Union and Germany–all three from among career diplomats.
Other ambassadorial appointments are pending due largely to the failure of the parties—and the factions within them—to reach a deal on their picks.
"Failure to appoint ambassadors on time is evidence of misplaced priority," said Tanka Acharya, former Nepali ambassador to China. "We have not been able to build a system on ambassadorial appointments yet."
Despite Foreign Minister Gyawali promising to streamline foreign service and appoint ambassadors on the merit basis, he seems to have largely failed due to pressure from the leadership.
Diplomats and experts on foreing relations say it's high time Nepal had a concrete framework and system regarding ambassadorial positions, as envoys are the faces of the nation and they represent the country.
"But we have made our system very weak," said Thapa, the former ambassador. "Today, we don't even know what is our immediate priority; where and why we need our ambassadors and how early we need them there."
---
---