Supreme Court turns down government's request to review interim order on tax collection
The court continues its earlier order to authorities to allow 30 days to taxpayers from the date of complete lifting of the lockdown.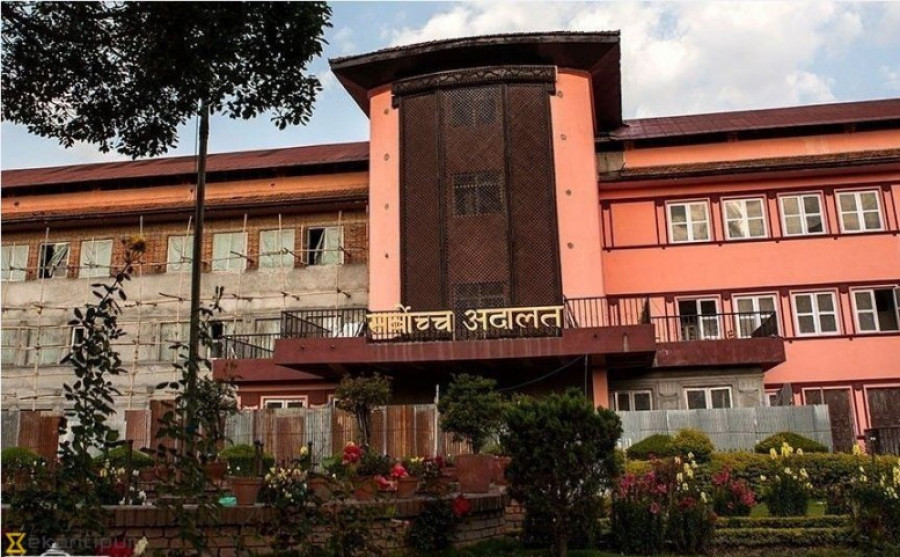 Post file photo.
bookmark
Published at : June 15, 2020
Updated at : June 15, 2020 22:44
Kathmandu
The Supreme Court has turned down the government's request to review its interim order that was against the decision of the Finance Ministry's notice to the taxpayers for paying tax within June 29.
A division bench of Chief Justice Cholendra Shumsher Rana and Justice Prakash Kumar Dhungana on Monday quashed the government's plea made through the Office of the Attorney General to vacate the apex court's June 11 interim order.
With Monday's move of the Supreme Court, the government cannot collect tax before the lockdown is completely lifted. The court had ordered the government to allow 30 days after the complete lifting of the lockdown time to the taxpayers to pay their dues.
Citing difficulties in managing its financial resources, the Finance Ministry had filed a writ demanding that the court vacate its June 11 order that affected the government's tax collection.
On June 11, the court had issued the interim order to the Finance Ministry and the Inland Revenue Department, Lazimpat not to implement the notice issued for taxpayers during the lockdown and to make necessary arrangements for them to pay their tax dues within 30 days after the lockdown is lifted completely.
After cases of the coronavirus started appearing in Nepal, the government on March 24 had announced a complete lockdown across the country halting all the economic activities.
The government on Wednesday decided to relax the restrictions on conducting most of the economic activities, but some sectors including public transport, cinema halls and shopping malls continue to remain banned for the time being
Finance Minister Yubaraj Khatiwada said on Sunday that the government's current revenue collection was insufficient even to meet the compulsory liabilities of the government as the measures taken to prevent the spread of Covid-19 pandemic have badly affected revenue collection.
"The situation of revenue is not good, which is the reality. There is no situation of the daily revenue collection sustaining the government's daily expenditures," said Minister Khatiwada, responding to lawmakers' questions on the financial bill at the House of Representatives on Sunday.
"We spend around Rs40 billion a month to meet basic liabilities. But we have been collecting only around Rs 15 billion a month from the customs and a few billion rupees from other internal revenues," he said.
---
---