New law proposes disqualifying all companies owned by blacklisted individuals from participating in public bids
The bill also proposes action against officials responsible for delay in public works.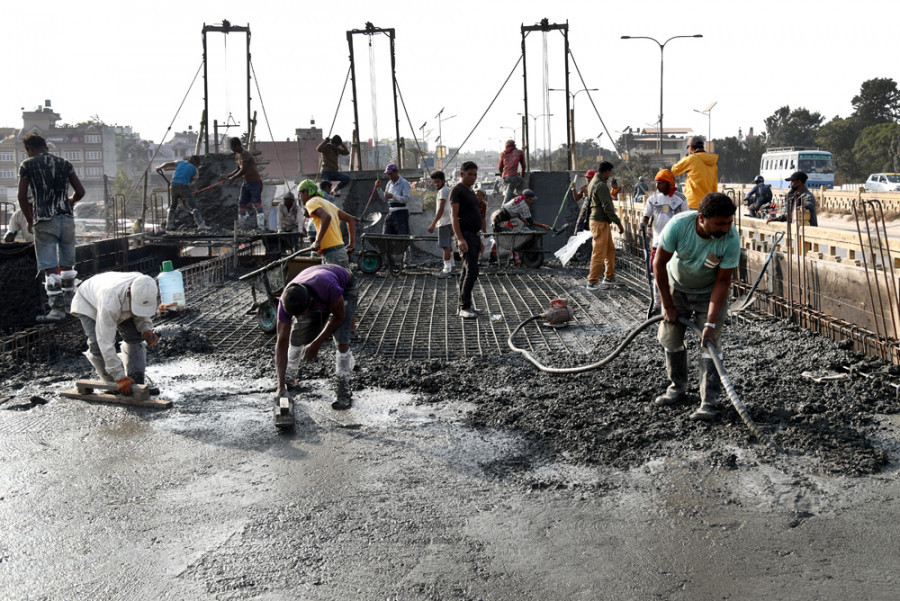 File photo of workers filling concrete mixture to build a bridge over the Manohara river in Jadibuti, Kathmandu. Angad Dhakal/TKP
bookmark
Published at : June 6, 2020
Updated at : June 6, 2020 11:32
Kathmandu
A new government-sponsored bill seeks to allow officials to blacklist not just companies that violate the terms of the contract for public works, but also their individual owners.

The bill to amend the Public Procurement Act registered recently in Parliament, aims to discourage the owners of companies disqualified to bid for public projects to register another company to participate in bidding or public works, officials say. Although the prevailing laws talk about blacklisting a person, there aren't any specific provisions to allow officials to blacklist an individual.

"The logic behind blacklisting the owner along with his/her company is to make sure that other companies owned by the same person don't participate in any government bidding," said Rajesh Kumar Thapa, director at the Public Procurement Monitoring Office, which monitors procurement activities of government agencies.

Thapa said that there have been several instances when individuals have participated in the bidding process even after one or several of their companies had been blacklisted.

"We sought to discourage such tendencies," said Thapa.

"But, it does not prevent any company already registered in the name of the blacklisted individual's family members from participating."

The bill has also proposed that companies found to have violated procurement contracts be blacklisted for up to five years, three more than current provisions.

According to the bill, any contractor or consultant can be blacklisted for up to five years if they are found to have prepared faulty designs or structural analysis. The same is to apply for those found to have been involved in criminal activities or have received a contract by lying about their qualifications.

The bill the government has proposed legal action against officials whose action or inaction may lead to delay in implementation of the development projects.

Although the contractors are often blamed for delays in most development projects, they had long been demanding that government officials also be held accountable for their actions.

Officials who fail to start the procurement process decide on time will face action. The bill, however, remains silent on the nature of such an action.

A government official who calls a tender without securing resources for it or fails to get an environment clearance will be penalised, if the bill is passed by Parliament. The bill says that an official who fails to prevent a blacklisted company from taking part in the public procurement process, or fails to recommend a company for blacklisting will also be punished.

"When things go wrong in any construction project, the contractors are blamed," said Rabi Singh, president of Federation of Contractors' Association of Nepal. "The government realising that even government officials could be responsible for delays is a good thing."

Although the prevailing public procurement law bars government officials from engaging in deals that lead to conflict of interest, corruption and losses on the part of government, it does not hold officials accountable. The bill is expected to change that.

The bill has also proposed that the deadline for projects that are not completed on time be extended only by up to 50 percent of the original contract period if the situation goes out of control, or the government agency concerned fails to fulfill its obligations.

If the work cannot be completed even during the extended period, the Cabinet can extend the deadline for a reasonable period without putting any extra financial burden on the government, according to the bill.

Currently, the law allows government officials to set the new deadline after receiving a request from the contractor to do so.

A Commission for Investigation of Abuse of Authority study last year showed that some government contracts have remained "idle" since 2009. The anti-graft body declared 1,848 contracts worth Rs118 billion related to seven ministries, "sick" as their terms had not been met even after several deadline extensions.
---
---