Authorities in Dailekh struggle to prepare proper quarantine facilities for returnees
In Narayan Municipality, 25 individuals are cooped up in one small room. Those quarantined in other municipalities are not faring any better.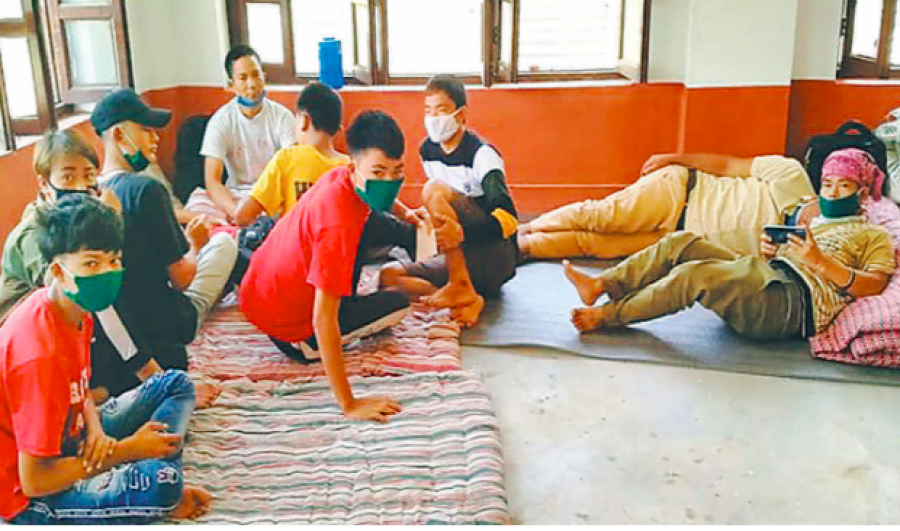 The management of quarantine facilities is poor with no provisions for food and sanitation. Post file photo: Jyotee Katuwal
bookmark
Published at : May 27, 2020
Updated at : May 27, 2020 08:02
Dailekh
Authorities in Dailekh are struggling to prepare quarantine facilities for people coming into the district from various parts of the country and from India.
In the last three days, 4,500 individuals have entered Dailekh from India, and all of them have been quarantined in the district, but they are living in pitiable conditions ripe for transmission of infections.
"The risk of getting infected is higher here. The municipality has set up a 100-bed isolation facility here at Narayan Campus. But there are more than 250 individuals staying here," said Shyam Rana, a resident of Narayan Municipality Ward No.6 who recently returned to his village from India.
Rana said people are being discriminated against at the quarantine centre too. "There's discrimination here too; those who know people in positions of power have access to beds, the rest of us are made to sleep on desks and benches," said Rana.
According to locals, the management of quarantine facilities is poor with no provisions for food, accommodation and sanitation. "Twenty-five of us are staying in one room. The food they give is not even properly cooked; we are sleeping on the floor," said Bipin Rawal, another person in the same quarantine facility.
"This has been such a horrifying experience for us. But neither the people's representatives nor the district officials took stock of the situation," he said.
Narayan Municipality has set up 344-bed quarantines in various parts of the town to accommodate recent returnees.
There are 965 quarantine facilities across all 11 local units in the district. According to the District Administration Office, there are currently 2,029 individuals staying in various quarantine facilities across the district.
Most of the local units have used campus and school buildings as quarantine facilities in the district. "We are kept inside a room like animals here. We are not safe here," said a man in a quarantine facility in Narayan Municipality asking not to be named.
Meanwhile, local people's representatives say the number of people coming back to their home district has overwhelmed them and the resources available at their disposal. Tirtha Narayan Shrestha, ward chairman of Narayan Ward No. 1, said, "The number of newcomers has been increasing day by day. We are trying to make arrangements to accommodate them all but it is a challenge."
According to Dailekh District Police, around 1,000 have been entering Dailekh from India on a daily basis. Ghanashyam Bhandari, chief at Dullu Municipality, said, "Around 1,000 people have gone to India in search of employment from Dullu alone. If even half of them will return to the villages in the next few days, we will have major problems." According to Bhandari, the municipality has purchased viral transport medium (VTM) recently and has started collecting swab at quarantine facilities.
Meanwhile, the District Health Office in Dailekh only has 50 rapid diagnostic test kits and VTM sets available for the time being. Thir Prasad Regmi, immunisation officer at the office said they need at least 10,000 RDT kits and 10,000 VTM sets for the district. "We estimate that around 25,000 individuals will enter Dailekh in the coming days. Until now, we have collected 489 swab samples. Out of them, eight tested positive for Covid-19 in the district." said Regmi.
---
---