Supreme Court's intervention sought to stop police from using excessive force during lockdown
Security personnel have been found beating up people who were out during the lockdown to buy essentials and medical workers.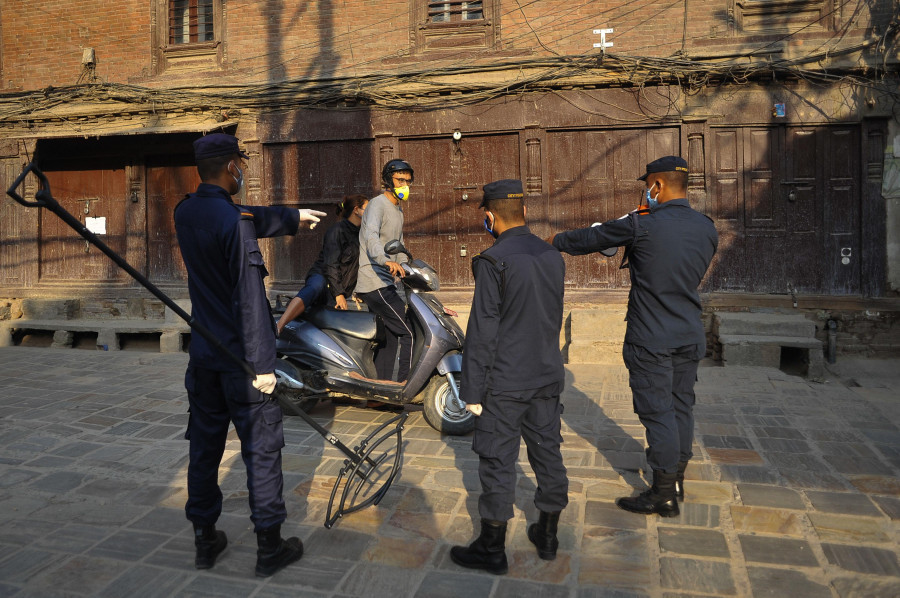 In this file photo, police personnel stop a two-wheeler for defying the nationwide lockdown imposed by the government amid concerns about the spread of coronavirus disease (COVID-19) on April 8, 2020. Sanjog Manandhar/TKP
bookmark
Published at : April 20, 2020
Updated at : April 20, 2020 17:57
Kathmandu
Amid rise in the incidents of security personnel using excessive force against the lockdown violators, a writ has been filed at the Supreme Court seeking its intervention to stop police high-handedness when enforcing the government's shelter-in-place orders.
Human rights lawyers affiliated to Third Alliance and Advocacy Forum have said while it is commendable that the security force have been working hard to enforce the lockdown, they also have been found manhandling the people who are out to buy essentials like medicine and groceries.
The personnel from the Nepal Police and the Armed Police Force have assaulted doctors and medical staff during the lockdown, according to the writ.
"We look for an interim order to immediately stop the inhuman activities, as more people could fall victims," reads the writ.
The writ also demands a directive from the apex court to the National Human Rights Commission and the Human Rights unit of the Nepal Police to perform their constitutional duty of protecting human rights.
On April 15, police beat up three doctors from Tribhuvan University Teaching Hospital while they were returning to their residence after completing their duties.
On Thursday, a new video emerged on social media once again displaying how quick the police are to employ force.
The video, sourced to an online news portal, shows a team of police personnel beating up three people, two of them women, who were apparently returning home after buying medicines.
The trio can be heard trying to explain to the police that they were out to purchase medicine. But once the man in the video begins to get agitated and raises his voice, the police quickly begin to rain batons on them.
The government first imposed the lockdown on March 24 and since has extended it three times, with the latest extension applicable until April 27.
"We also seek a ruling to the High-Level Coordination Committee to Control and Prevent Novel Coronavirus, to form a mechanism to ensure that the human rights and individual's dignity are protected while enforcing the lockdown," reads the writ.
It also demands the court's ruling to ensure every citizen has access to medicine, water and the food items without any hurdles.
---