Numerous complaints at CIAA seek investigation into Baskota's alleged corruption
The complaints have also sought investigations into the roles of Prime Minister KP Sharma Oli, and bureaucrats involved in the security printing press process.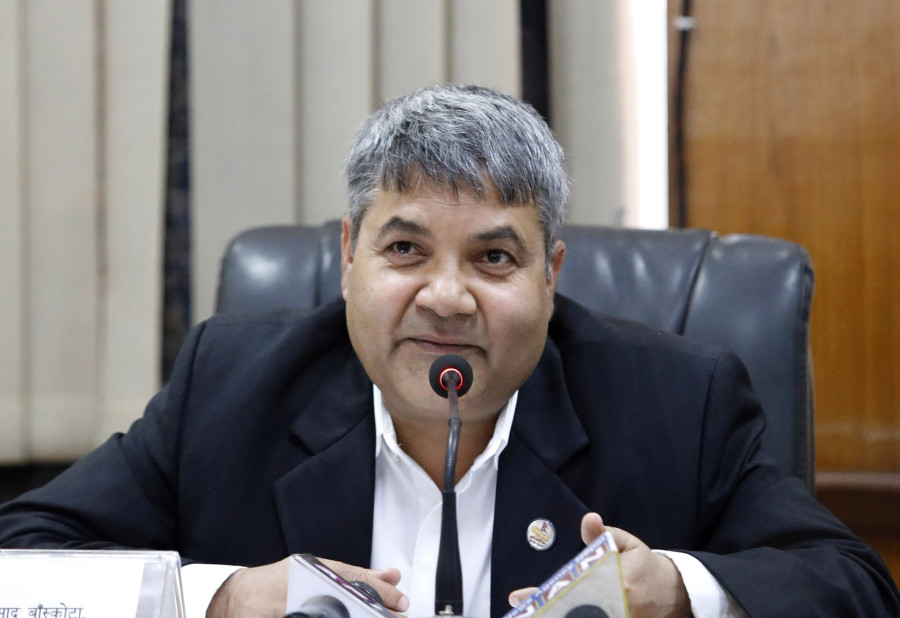 Baskota, who was also the spokesperson for the KP Sharma Oli administration, took to social media to announce his resignation. Post File Photo
bookmark
Published at : February 23, 2020
Updated at : February 23, 2020 15:56
Kathmandu
The Commission for the Investigation of Abuse of Authority has received several complaints demanding an investigation into allegations of corruption against Gokul Baskota, the former minister for communication and information technology.

Baskota stepped down as minister on Thursday following a leaked audiotape where he was heard allegedly negotiating for a Rs700 million 'commission' with the local agent for a Swiss company vying for a government contract regarding security printing of passports and other sensitive material.
Several complaints have also demanded a probe into the roles of Prime Minister KP Sharma Oli, Communication Ministry Secretary Mahendra Man Gurung and Executive Director of the Security Press Bikal Poudel.
"The commission has initiated investigations as per the prevailing law," said Pradeep Koirala, spokesperson at the commission.
One complaint registered by social activists Pritam Subedi and Bijaya Babu Siwakoti on Sunday sought action against Baskota per Chapter 2, Section 3 (1) of the Prevention of Corruption Act, 2002 which states that— "whoever, being, or expecting to become, a public servant accepts or agrees to accept graft... shall be liable to a punishment of imprisonment and fine". The Act further states that graft involving amounts above Rs10 million will be punished with "imprisonment for a term of eight to ten years".
Another complaint, registered by former journalist Prem Bahadur Shahi and former bureaucrat Ananda Ram Poudel, has specifically sought an investigation into the role of Prime Minister KP Sharma Oli.
As per Section 3 (4) of the law, whosoever abets corruption will also be accountable. If they are a public servant, they will be liable to the same punishment as the accused, and if any other person, half of the punishment for that offence on the basis of the degree of the offence irrespective of whether or not the offence has been committed because of such abetment.
Furthermore, per the Section 44 of the law, if the chief of a government body or public institution receives any information regarding corruption at his office or any other office under him, they must immediately take all related documents into his custody and keep them safe.
"After inquiring with the persons and officials related to such subject and upon having known the reality, if there appears any reason of commission of corruption, he or she shall forward such documents to the concerned body for investigation and inquiry," the law says.
Citing media reports, Subedi and Siwakoti's complaint has also drawn the attention of the anti-graft body into possible irregularities in seven other projects worth around Rs1 billion that Baskota was in charge of.
---
---