Army rehearsal shuts down airport for two hours, affecting scores of flights
A Nepal Army drill, in preparation for the upcoming Army Day, closed Kathmandu airspace for two hours, leading to three dozen domestic flight cancellations.

Nepal Army took control of Kathmandu's airspace for two hours on Tuesday afternoon rehearsing for the Army Day celebrations that take place every year on Shivaratri. Elite Joshi/TKP
bookmark
Published at : February 18, 2020
Updated at : February 18, 2020 21:24
Kathmandu
After suffering through bad weather conditions that had already delayed a number of flights on Tuesday morning, domestic and international passengers at Tribhuvan International Airport were treated to yet another two-hour-long delay.

Nearly three dozen domestic flights were cancelled and numerous others, including international flights, were delayed because Kathmandu airspace was being used by "other users", according to an air traffic controller. Except for east, all sides of Kathmandu's airspace were locked for two hours on Tuesday afternoon.
Behind these cancellations and delays was the Nepal Army, which took control of Kathmandu's airspace for two hours on Tuesday afternoon rehearsing for the Army Day celebrations that take place every year on Shivaratri. This year, the Army celebrates the day on February 21.
A notice to airmen, which is a notice filed with an aviation authority to alert pilots along a flight route or at a location, came too late, said airline operators.
"As a result, the flight schedule went haywire," said one domestic airline official on condition of anonymity. "There was no prior information about the Army drill, which was very negligent of the Kathmandu airport."
Deo Chandra Lal Karna, the spokesperson for the Tribhuvan International Airport, told the Post that the notice to airmen was issued on Monday evening for the Army drill beginning at 1:45 pm and lasting for two hours.
"The notice was issued for the Army's ground rehearsal but poor visibility also added pressure to the airport's ground and air," said Karna, who did not comment on why the notice was late.
Generally, permission from the airport for any events that could disturb passenger flights should be sought seven days in advance. Subsequently, the airport authorities will issue a notice to airmen 72 hours, or three days, in advance.
But in this instance, the Army only sought permission on Monday, said Brigadier General Bigyan Dev Pandey, spokesperson for the Nepal Army. The airport authorities issued a notice the same day.
"It's only in emergencies that the notice is issued abruptly," said the air traffic controller. "As Kathmandu's airspace is public airspace, not military-controlled, the airport officials may have committed a blunder by not informing airline operators."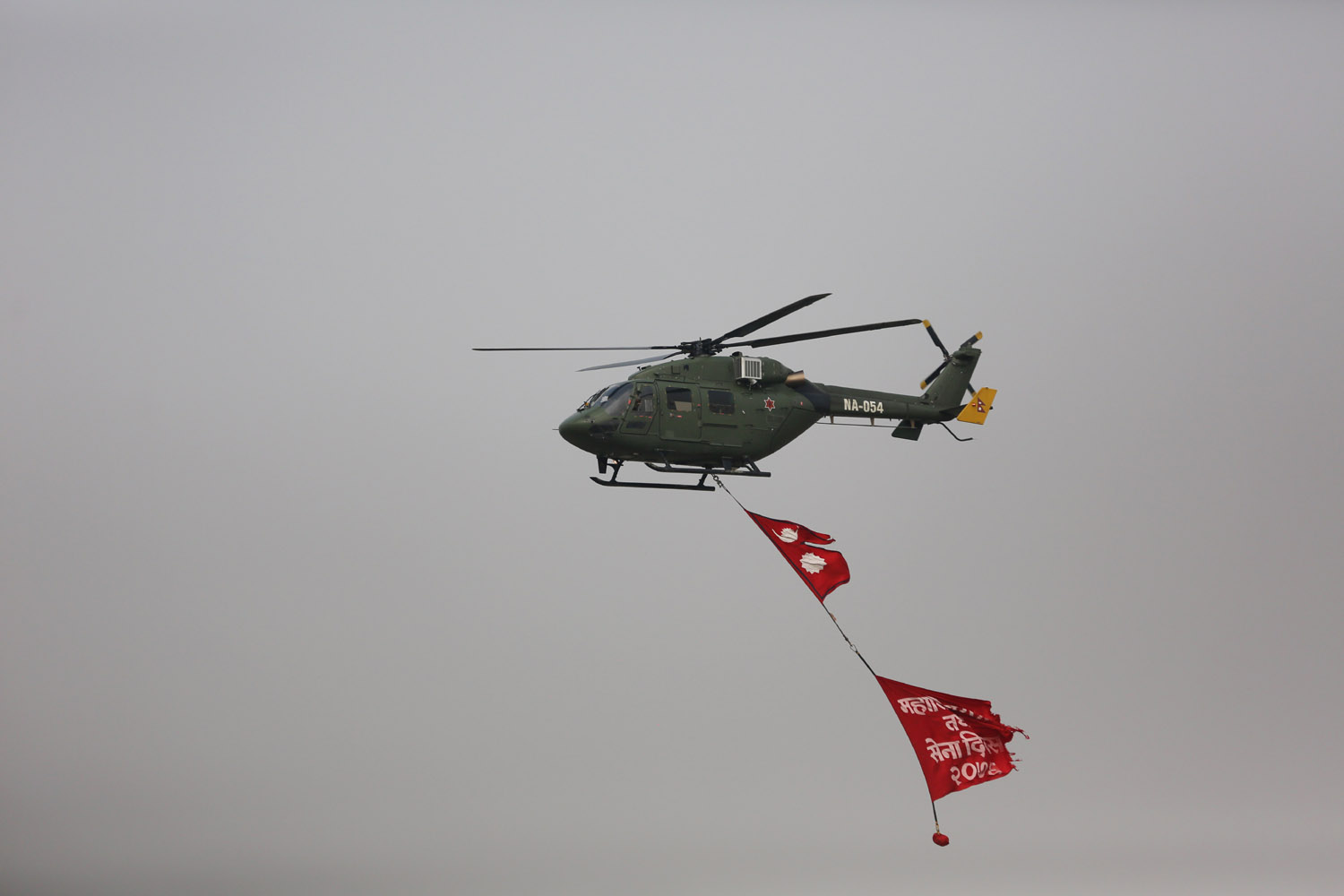 Sanjog Manandhar/TKP
Officials from three domestic airlines told the Post that they had received no prior information regarding the Army drill. If the airport authorities had informed them about the drill, they would've informed their passengers or reduced flights, they said.

A Buddha Air official said that adverse weather conditions along with the Army drill forced them to cancel five flights in Pokhara, two in Tumlingtar and one each in Rajbiraj and Bharatpur.
"The weather has not been good since Monday, but despite that, there was only one flight cancellation yesterday. The same situation continued on Tuesday morning, but we were forced to cancel nine flights today because of the Army drill that came as a surprise," said the Buddha Air official who spoke on condition of anonymity.
Similarly, Shree Airlines was forced to cancel at least four flights on Tuesday due to the Army's rehearsal.
"Dozens of flights were told to hold or circle the skies, causing huge financial losses to airlines," said the air traffic controller.
Airline and airport officials both said that the drill was "unnecessary" as it was not meant for security purposes but was simply a rehearsal.
"They were showing off," said one airline official. "And passengers had to face consequences for their posturing."
Social media users too were harsh on both the airport and the Army for inconveniencing passengers for an "unnecessary drill".
"Thanks Nepal Army for occupying the Tribhuvan International Airport for your Shivaratri rehearsal which caused domestic airlines to cancel 90 percent of their flights," said one Twitter user.
An official at a private helicopter company told the Post that the Nepal Army has been conducting the drill annually but it had never affected flights.
"The army has only been operating helicopters in past years. This year, its three Skytrucks took to the skies and caused traffic at the airport to go haywire," said the official.
Pandey, the Army spokesperson, confirmed that the Army had employed two US-gifted M28 Skytrucks and a PZL M-28 Skytruck for the drill this year.
"A combination of factors, such as bad weather, President Bidya Devi Bhandari's visit to Rautahat and our drill made the situation difficult," said Pandey. "As our main event is on Friday and that could also possibly affect flights, we will be discussing with the airport authorities regarding minimising the disturbance."
---
---