Nepalis evacuated from China to be housed at Nepal Electricity Authority training centre in Bhaktapur
China returnees will need to spend at least two weeks in isolation as 14 days is the incubation period of the coronavirus.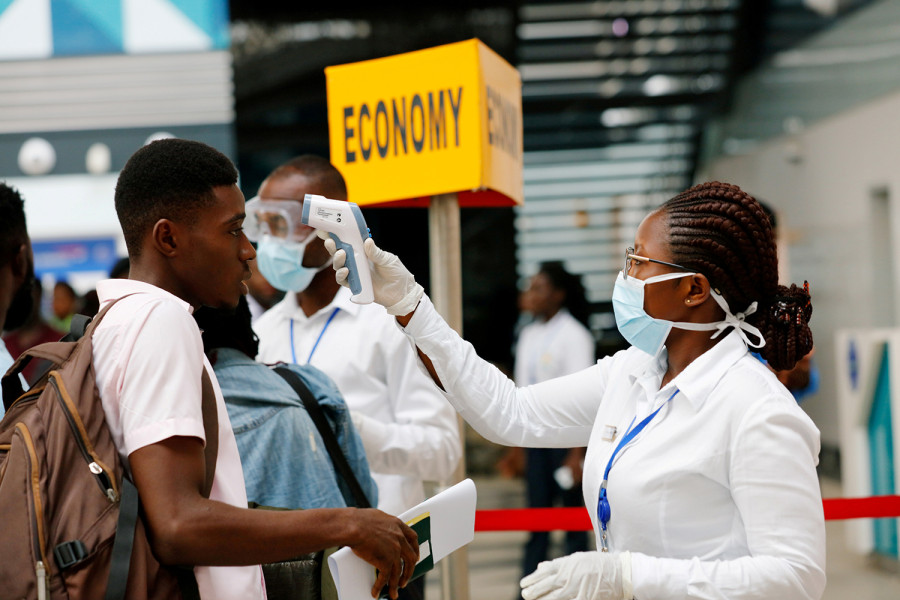 A health worker checks the temperature of a traveller as part of the coronavirus screening procedure at the Kotoka International Airport in Accra, Ghana. Francis Kokoroko/Reuters
bookmark
Published at : February 5, 2020
Updated at : February 5, 2020 20:23
Kathmandu
The government has decided to quarantine Nepalis evacuated from China's Hubei province at the Nepal Electricity Authority's training centre in Bhaktapur.
As many as 180 Nepalis, mostly students, from Hubei have registered with the Nepali embassy in China expressing their desire to return home. The city of Wuhan in Hubei is the epicentre of the coronavirus outbreak. The Chinese government has imposed a lockdown on virtually all of Hubei province.
The Health Ministry had initially ruled out evacuating Nepali citizens from China, including Wuhan, but reversed its decision a few days later when Nepali students began to petition the embassy for evacuation.
Government officials earlier said they were unsure about the evacuation process and were trying to figure out how they were going to bring the Nepalis home.
The Chinese government has assured assistance in the evacuation. Nepali officials won't be visiting as the city is under lockdown.
The coronavirus outbreak, which now has been declared a public health emergency of international concern by the World Health Organisation, has claimed 490 lives in China as of Wednesday. Deaths have also been reported outside China in Hong Kong and the Philippines.
First detected in Wuhan in December last year, the new strain of coronavirus has now spread to as many as 25 countries.
A number of countries, including the US, Japan, Australia and India, have rushed to evacuate their citizens from Hubei. Many countries have also imposed travel restrictions to China and people flying out of China are being quarantined to prevent the spreading of the virus.
---