Ganesh Datta Bhatta to lead truth commission, Yubraj Subedi picked as disappearance commission chair
Recommendation committee finalises names after ruling and opposition parties reach a deal on taking transitional justice forward.

A meeting between leaders of ruling Nepal Communist Party and Nepali Congress on Saturday. Post photo.
bookmark
Published at : January 18, 2020
Updated at : January 18, 2020 15:17
Kathmandu
After a two-point agreement between the ruling Nepal Communist Party and the primary opposition Nepali Congress on Saturday morning, a committee formed to recommend officials for the two transitional justice commissions has finalised 10 names.
The committee led by former chief justice Om Prakash Mishra, which was formed after the two commissions went vacant in mid-April, has picked Ganesh Datta Bhatta, associate professor at Nepal Law Campus, as the chair of Truth and Reconciliation Commission.
"Yubraj Subedi, a former joint attorney, has been recommended as the chair of the Commission of Investigation on Enforced Disappeared Persons," said Ramnath Mainali, a member of the recommendation committee.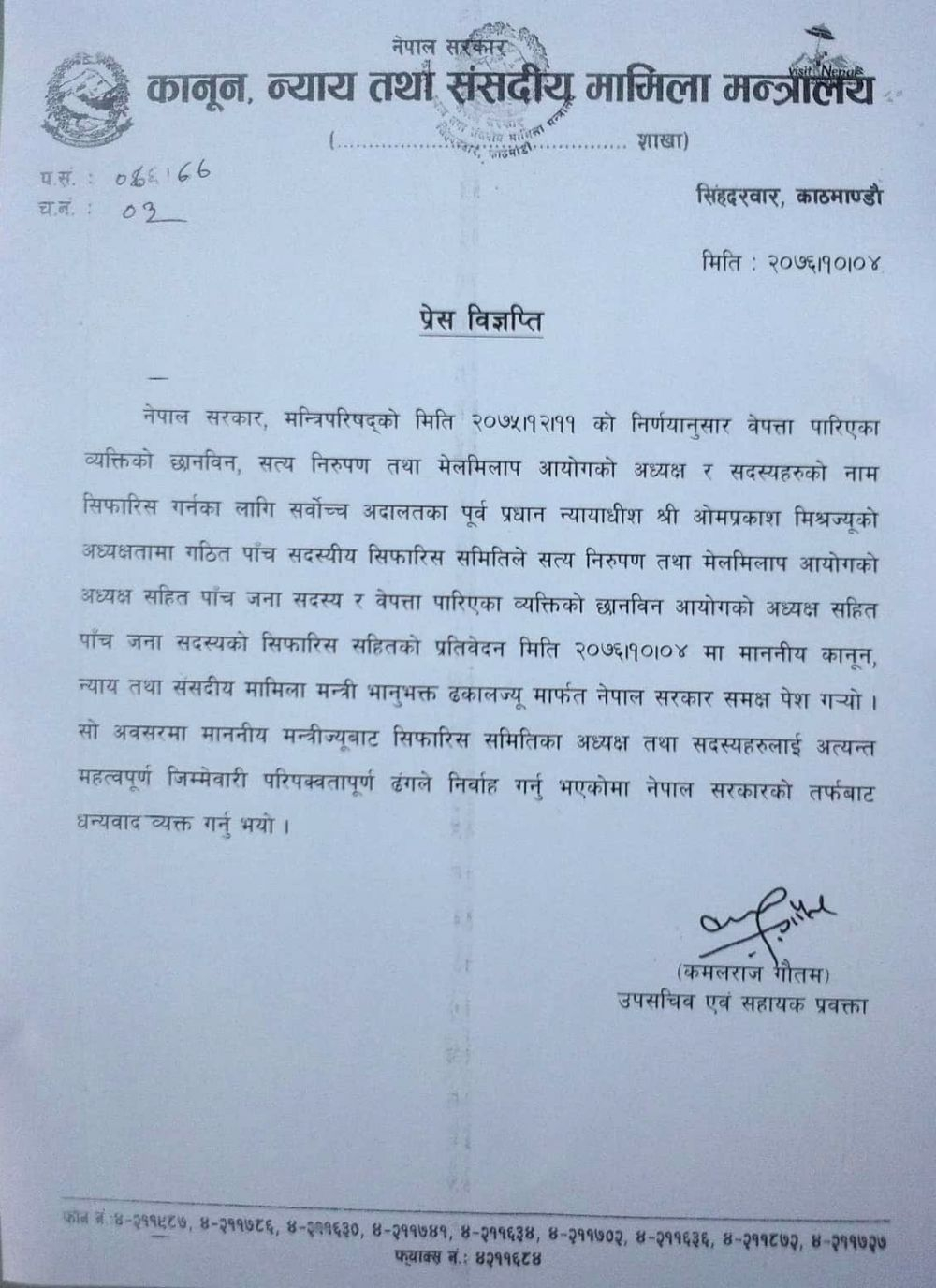 Bhatta, who has close relations with Nepali Congress President Sher Bahadur Deuba, has been recommended for the truth commission from the main opposition quota.
Subedi has been picked under the Nepal Communist Party. He is believed to have close relations with Subash Nembang, the deputy parliamentary party leader.
Prachanda Man Shrestha, Gobinda Gautam, Mana Dahal and Bishnu Pokhrel have been recommended as members for the truth commission.
Similarly, Bishnu Bhandari, Sunil Ranjan Singh, Gangadhar Adhikari and Sarita Thapa have been picked as members of the disappearance commission.
---
---