At this school on Capital's outskirts, blind students are setting sights on higher goals
Prithvi Narayan Secondary School caters to 14 blind students from a hostel run by a man who himself lost his eyesight at the age of 20.

At least three visually impaired students are toppers in classes also having peers who can see. Kabin Adhikari/TKP
bookmark
Published at : January 12, 2020
Updated at : January 12, 2020 07:39
Kathmandu
Madan Rokaya is an eighth-grader at Prithvi Narayan Secondary School in Dahalthok, on the outskirts of Kathmandu. The 15-year-old boy follows almost the same routine the students of his age usually do. In a class of 45 students, he is way ahead of the pack. His teachers and classmates admire him as he is a class topper. But that's not what sets him apart from others. Rokaya cannot see—he is blind.

For Rokaya, who came to Kathmandu from Mugu, a remote district in Karnali Province, competing with his classmates, who all can see, is no mean feat, his teachers say.
Rokaya lives at a hostel, along with 13 other students who are also blind, at Dahalthok in Tarakeshwor Municipality. All go to the same school. Like Rokaya, Kopila Tamang, 13, from Rasuwa, a sixth-grader, and Dipesh Upadhyaya, 10, from Humla, a fifth-grader, also are class toppers.
According to Binod Kafle, who runs the hostel—Blind Children Education Center, other students too are doing well in their studies.
Kafle started the hostel in 2013 with a view to helping blind students.
"I myself lost my eyesight when I was 20 years old," said Kafle, who was born in Syangja but grew up in Chitwan. "I could not pursue my studies after I lost my eyesight. So I wanted to help those who cannot see. There are so many blind students who want to continue studies but lack resources."
Prithvi Narayan Secondary School is one of the few schools that run resource classes for blind students across the country.
Data from the Center for Education and Human Resource Development under the Inclusive Education Section shows there are a total of 2,377 blind students studying in different schools across the country.
"The government runs 18 integrated programmes and 81 resource classes for blind students across the country," said Narad Pradad Dhamala, a section officer at the Inclusive Education Section.
Kafle, however, said he doesn't know how other blind students across the country are faring.
According to him, the children from his hostel have been able to get an education so far because of Narayan Prasad Sharma, the principal of Prithvi Narayan Higher Secondary School.
There is only one special school for blind students in Nepal—the Purwanchal Gyan Chakshu Vidyalaya in Dharan. In Kathmandu Valley, Namuna Machhindra Secondary School in Lagankhel and Laboratory School in Kirtipur also enroll blind students who study along with the students who can see.
As part of the government's inclusive education campaign, blind students are entitled to Rs4,000 scholarship, free braille books, free audio materials, a separate teacher for each resource class and one caretaker.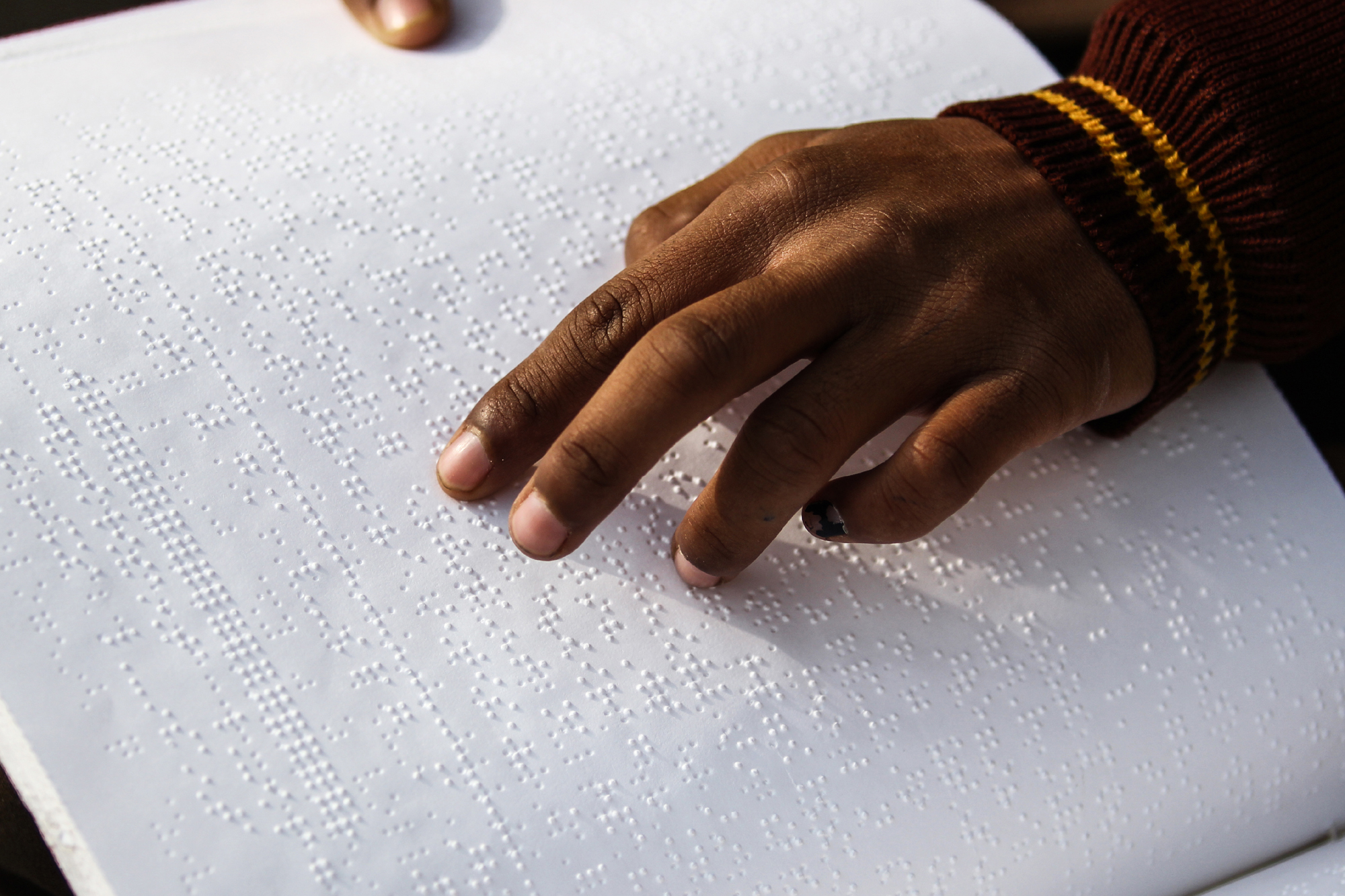 A student reads braille. Kabin Adhikari/TKP
Sudarshan Subedi, former president of the Federation of Disabled Nepal, however, said he was not sure if all the blind students were receiving the facility provided by the government. "Those getting accommodation, food and schooling at Kafle's hostel are lucky," Subedi told the Post.
Ananta Phuyal, a science teacher at the school and class teacher for eighth-graders, describes the students as sharp with the ability to grasp lessons.
"Those students who can see usually get distracted very easily, but these children who cannot see listen to lectures intently," Phuyal said.
Phuyal, however, admits the difficulties he and other teachers face, as they have to talk to and teach the blind children separately.
"When I write or draw something on the whiteboard for other students, I simultaneously explain for Rokaya," Phuyal told the Post. "Later, I write or draw on Rokaya's braille notebook with the stylus so that he can read it."
The school has also hired Bindu Neupane, 26, a blind teacher, whose help is often sought by teachers when they have to teach the blind students. Neupane often visits Kafle's hostel as well to help the students.
"When it comes to mathematics and subjects that require drawing diagrams, it's difficult for blind children," said Neupane, who has got a Bachelor's in Education. "But all of them have a hunger to learn."
But Neupane is concerned about their higher studies, as colleges in Nepal do not have facilities to teach blind students. Neupane herself had to go through a lot of struggle to complete her bachelor's using braille books, as there aren't enough libraries and professors to guide blind students.
Kafle, 56, said he will try to help the students in his hostel as much as he can but is not really sure how he can assist them when they go to college.
According to Kafle, the hostel receives around Rs 700,000 a year from the government through the school in instalments.
"But the annual cost of running the hostel is around Rs2 million," Kafle told the Post. "We are also getting support from Lions Clubs and some youth clubs. Members of the public also donate food and money. But I am still worried about the future of my students."
In two years, Rokaya will take the Secondary Education Examination. "Since I cannot see, I cannot become a doctor or an engineer," said Rokaya. "But I would like to join government service. If I can get into civil service, I will introduce programmes and policies aimed at blind people as well as people with disabilities in the country."
---
---