Late monsoon and critical shortage of chemical fertilisers likely to hit paddy production
With delays in fund release from the Finance Ministry, along with a failure to act promptly, fertiliser imports won't be available for plantation.

Late monsoon and critical shortage of chemical fertilisers is likely to diminish paddy production for the upcoming fiscal year. Post Photo: Elite Joshi
bookmark
Published at : June 21, 2019
Updated at : June 24, 2019 11:05
Kathmandu
With the agricultural sector already bracing for a late and "below normal" monsoon, a critical shortage of chemical fertilisers due to a delay in imports is expected to significantly affect paddy plantation during the peak season.
The Ministry of Agriculture and Livestock Development said that its stock of di-ammonium phosphate (DAP), the world\'s most widely used phosphorus fertiliser, is running out and imports have been delayed due to the Finance Ministry not releasing funds on time, said Agriculture Ministry officials. There are 10,000 tonnes of DAP in stock, not nearly enough to meet the country's demand for even 15 days.
The shortage is likely to diminish paddy production for the upcoming fiscal year at a time when monsoon has also been projected to be "below normal" in the key paddy producing region. Due to a favourable monsoon and ample supply of chemical fertilisers, the country recorded a bumper harvest this fiscal year.
Nepal's paddy harvest hit a record high of 5.61 million tonnes last season, up 9 percent, according to the ministry. This was on the back of a good monsoon and sufficient supply of chemical fertiliser.
Paddy plantation season is a four-month period from May to August, after which harvest continues until October.
As the Finance Ministry delayed releasing a payment of Rs 3 billion to the Agriculture Ministry to import additional fertilisers to make up for reduced purchases due to a stronger US dollar and a price hike in the global market, there is now a shortage, said an official at the Krishi Samagri Company Limited, the state-owned company that imports agricultural goods and materials. The official spoke on condition of anonymity.
The government imports chemical fertiliser worth Rs 16 billion annually that includes Rs 6 billion given for fertiliser subsidies.
The Agriculture Ministry had targeted to purchase 286,000 tonnes of chemical fertiliser this fiscal year, but due to the appreciation of the dollar and a price rise in the global market, it was only able to buy 225,000 tonnes. The four-month plantation period alone requires 150,000 tonnes of chemical fertiliser. However, there has been a deficit of 50,000 tonnes this year.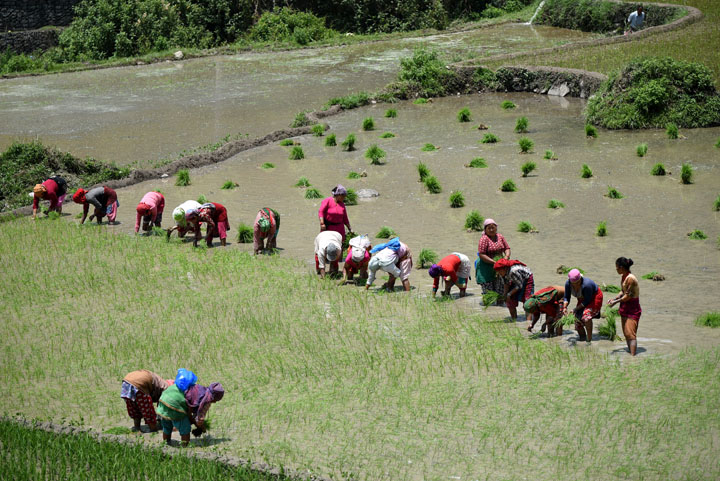 Women plant rice seedlings in Lapsiphedi, Shankharapur, along the fringes of Kathmandu Valley. As monsoon is expected to arrive late this year, farmers have diverted water from rivers through irrigation canals for plantation works. Post Photo: Angad Dhakal
In March, the Agriculture Ministry had approached the Finance Ministry for an additional Rs 3 billion to procure chemical fertiliser. The budget approval, however, was delayed, causing imports to also be delayed.
A consignment of 35,000 tonnes of fertiliser, primarily DAP, is expected to arrive soon, said Tej Bahadur Subedi, spokesperson for the Agriculture Ministry. "But that won't be enough to meet the demand for paddy this summer," he said.
In preparation for a situation like this, a Nepal-India treaty signed in 2009 had agreed for India to sell 100,000 tonnes of chemical fertiliser (60,000 tonnes of urea and 40,000 tonnes of DAP) to Nepal annually at international parity prices to avoid the lengthy tender process.
That deal expired in December last year, according to reports from the Indian media. Nepal had submitted the first draft of a proposed memorandum of understanding then and resubmitted it on May 2 after a meeting of officials from both the countries in January.
Spokesperson Subedi said that Nepal had sent all documents regarding the long-term deal two months ago but was still waiting for the Indian government's response.
As the deal has yet to be formally renewed, the Agriculture Ministry was forced to ask the Cabinet to approve an immediate import of fertiliser from India through government-to-government channels.
The Cabinet only gave an approval "in principle" on June 6, to import 50,000 tonnes of fertiliser (30,000 tonnes of urea and 20,000 tonnes of DAP).
An Indian inter-ministerial committee approved the immediate supply of the fertiliser to Nepal "to meet the supply shortages in Nepal for the upcoming paddy season", according to Indian media, and the Indian government assigned two state-run trading companies—Metals and Minerals Trading Corporation of India (MMTC) and State Trading Corporation Limited (STC)—to export fertiliser to Nepal.
"However, these companies informed us that they have run out of stock and can only supply fertiliser in two months," said Subedi. "As we need the farm input immediately, we asked them to arrange for the fertiliser as soon as possible. But we haven't heard back from them."
The ministry is also looking for alternative measures, said Subedi. But if the two companies do not provide the fertiliser by July, things would be very difficult for farmers during prime paddy plantation.
According to the Agriculture Ministry, the annual demand for chemical fertilisers currently stands at 723,000 tonnes while imports are just around 286,000 tonnes. Subsidised fertiliser covers only one-fourth of the country's total need, while the rest is met by informal imports or shipments smuggled through the porous border with India.
A study conducted by the Finance Ministry in 2006 put the share of informal fertiliser imports at 71.6 percent of total supplies. Private companies in Nepal are reluctant to trade in fertiliser due to high costs and risks, and all imports and distribution are conducted by the Krishi Samagri Company Limited and the National Trading Limited.
---
---