New channels of cooperation open
Nepal and India have agreed to open up new vistas of bilateral partnership and cooperation during the state visit of Prime Minister KP Sharma Oli to New Delhi where the two sides have agreed to link the two countries with a new railway line and waterway navigations.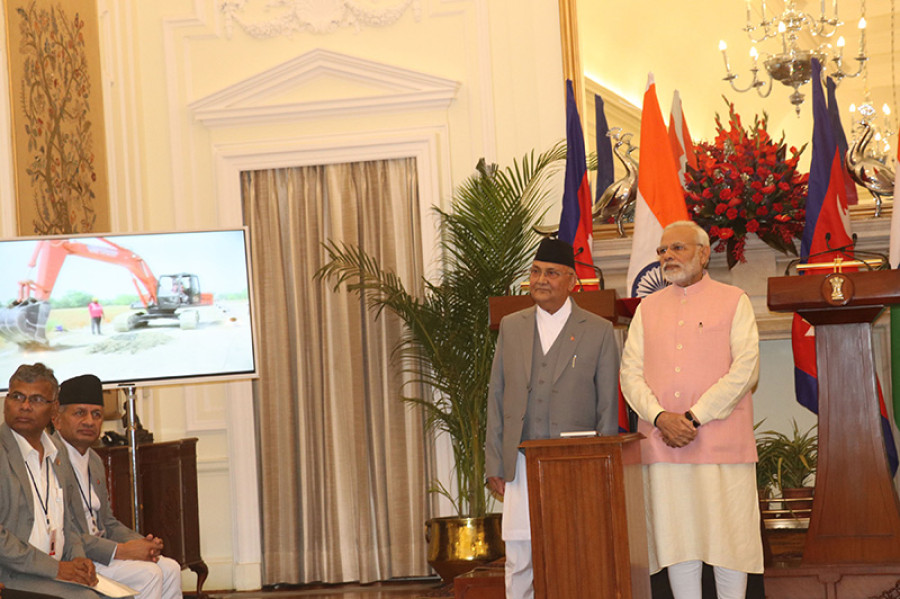 bookmark
Published at : April 8, 2018
Updated at : April 8, 2018 19:11
New Delhi
Nepal and India have agreed to open up new vistas of bilateral partnership and cooperation during the state visit of Prime Minister KP Sharma Oli to New Delhi where the two sides have agreed to link the two countries with a new railway line and waterway navigations.
Oli's visit was keenly watched as he publicly criticised New Delhi earlier for interfering in Nepal's internal affairs and blamed the Indian leadership for toppling his government in 2016.
India welcomed successful holding of the three tiers of elections and expressed
its readiness to support Nepal's bid to pursue development and prosperity as the process of political transformation that began in 2006 had been over.
During a joint press briefing with Oli after hours-long delegation-level talks and "restricted" meetings with the Nepali delegation at the Hyderabad House, Indian Prime Minister Narendra Modi said, "I have assured Prime Minister Oliji that India will continue to cooperate in Nepal's efforts for economic development and prosperity. As always, this cooperation in the future also will be based on the priorities and requirements set by the government of Nepal."
Hailing Nepal's political achievements, Modi said, "Last year, the people of Nepal once again expressed their confidence in democracy and the federal system. Successful conduct of the local level, state and federal parliamentary elections is a very big achievement for the government as well as the public of Nepal."
Remarking that Nepal had entered a new era of political history, the Indian PM said: "As a neighbouring friendly country, and as the world's largest democracy, this golden chapter of the history of Nepal is a matter of great joy for us in India too."
The two prime ministers held a one-to-one meeting on Friday evening at Modi's official residence. On Saturday, a restricted meeting was conducted where six officials from both sides were present. Soon afterwards, two PMs held the delegation-level talks.
Oil pipeline, Birgunj ICP inaugurated
The two prime ministers jointly inaugurated the Motihari-Amlekhgunj Petro-leum Pipeline whose construction is under way. They also opened the Integrated Check Post in Birgunj. The remote foundation laying of Arun III hydroelectricity project has been deferred until Modi visits Kathmandu possibly for the Fourth BIMSTEC Summit. The joint communiqué stated that the two prime ministers resolved to work together to "take bilateral relations to newer heights" on the basis of equality, mutual trust, respect and benefit.
"In our meetings, Prime Minister Oliji gave me detailed information about his bold vision for the rapid economic development of Nepal and the creation of a happy and inclusive society," said Modi.
"We also discussed how India can partner with Nepal to realise this vision. I understand that my basic principle of 'Sabka Saath, Sabka Vikas' [Together with all, development for all] for India's development and the vision of prime minister of Nepal for a 'Samridhha Nepal, Sukhi Nepali' [Prosperous Nepal, Happy Nepali] are complementary to each other."
PM Oli told journalists: "I have come to India with a mission to explore ways and means to enhance our relations, commensurate with the realities of the 21st century."
Stressing friendship between nations, Oli said: "With our neighbours, particularly with India, we first expect friendship... Neighbourhood realities make peaceful co-existence, based on the principles of equality, justice and mutual respect."
Asked about India's apprehensions about Nepal's participation in China's Belt and Road Initiative, Oli said, "I think we are neutral. Geographically, we are at the centre of the two countries."
On the decision of cooperation in inland waterways, Modi said: "With our assistance, Nepal will get an extra connectivity to the sea. And the country of Everest will be able to connect directly to the ocean. I believe this is a historical beginning."
In connection with the agreement to extend the Indian railway from Raxaul on the border to Kathmandu, the Indian PM said they had agreed to speed up all possible connectivity projects—be it an oil pipeline, or integrated check posts, or the Tarai roads.
On the matters of defence and security, Modi said: "We both agree to prevent the abuse of our open border, and to pursue our shared security interests. "The open border between the two countries has been a living bridge between the common people of both the countries. Along with development of Ramayana and Buddhist circuits, we will also increase our cooperation in the areas of skill development, education and health."
On the progress of the Eminent Persons Group on Nepal-India relations, PM Oli said he and Modi noted with satisfaction the ongoing works of the group mandated to review the overall situation of bilateral relations and to suggest measures for charting the future course.
On harnessing Nepal's vast hydropower potential, Oli sought more investment from India's public and private sectors. The prime ministers had underlined that early realisation of the ongoing mega projects like Pancheshwar, Arun III and Upper Karnali would generate "much desirable impetus and positive precedence" for such projects in future.
However, expressing reservations over proposed cross-border energy guidelines, PM Oli said: "I conveyed Nepal's desire to see an early realisation of the open market provision of the bilateral power trade agreement, which was concluded between us in 2014 thanks largely to Modiji's positive direction."
Discussions were held also on matters of energy banking and new transmission lines. Oli stressed the need for finding appropriate solution to the perennial problem of inundation in Nepal's plains.
"I shared with Prime Minister Modiji Nepal's concerns about alarming scale of trade deficit and stressed the need for implementing measures to expand Nepal's export."
Agreements signed between two countries
Rail link: Connecting Raxaul and Kathmandu
-The prime ministers of India and Nepal agree to construct a new electrified rail line, with India's financial support, connecting the border city of Raxaul in India to Kathmandu in Nepal.
-The Government of India would, in consultation with the Government of Nepal, carry out preparatory survey work within one year, and the two sides would finalise the implementation and funding modalities of the project based on the detailed project report
New connectivity through inland waterways
-The two PMs take the landmark decision to develop the inland waterways for the movement of cargo, within the framework of trade and transit arrangements, providing additional access to sea for Nepal
-The two leaders direct their respective officials to formulate and mutually agree upon the requisite procedures and modalities
New partnership in agriculture
-
Cooperation in agricultural science and technology, agricultural production and agro-processing in line with the memorandum of understanding between the two countries for mutual benefit of farmers, consumers, scientific community as well as the private sector
-Partnership will focus on collaborative projects in agricultural research and development, education, training and scholarships; research in seed technology; soil health; research in indigenous genetic resources; animal husbandry; veterinary research; agro forestry; bio pesticides, bio fertilisers; and cooperative farming
---
---