'Udaan': A journey of freedom and self-discovery
Released in 2010, this coming-of-age story swept the Indian film industry, garnering praise from critics and spectators alike.

Screengrab via Youtube
bookmark
Published at : July 19, 2023
Updated at : July 19, 2023 07:29
One day, during my leisurely hours, I googled 'films about writers.' I skipped past many titles, but one in particular piqued my interest. There was a movie poster in which a young guy—about my age—is sprinting. The title read 'Udaan'. Thinking the movie could be about striving to catch one's dreams, I clicked on it. Out of a million mundane clicks I've made on my computer, this one really pleased my soul.

Directed by Vikramaditya Motwane, 'Udaan' is an exceptional Hindi language film that delves into the themes of freedom, dreams, and the courage to break free from societal shackles. When it was released in 2010, this coming-of-age story swept the Indian film industry, garnering praise from critics and spectators alike. With its moving storytelling, brilliant performances, and mesmerising music, Udaan remains an unforgettable cinematic experience.
The story centres around Rohan Singh (played by Rajat Barmecha), a youngster expelled from boarding school and forced to return to his family's home in Jamshedpur in Jharkhand, India. Rohan's stern and authoritarian father, Bhairav Singh, aka Sir (played by Ronit Roy), expects him to follow in his footsteps and become an engineer. Rohan, however, wishes to be a writer and has goals that are very different from those of his father. As the story progresses, we see Rohan and his father's poor relationship, with Bhairav's oppressive nature smothering Rohan's agency.
Motwane's direction is flawless, demonstrating his ability to craft a visually spectacular and emotionally intense story. The film's strength lies in its ability to evoke strong emotions through its narrative and visuals. Amit Trivedi's music brilliantly matches the plot, providing emotional resonance to the film. A line from the song 'Pairon ki Bediyan' reverberates the word 'aazadiyaan' (freedom) time and again, asking us to break free from toxic familial cycles and unrealistic societal expectations. The verses, composed by Amitabh Bhattacharya, are moving and the sense of liberation you feel listening to them is exceptional.
Barmecha gives a remarkable performance as the protagonist Rohan. He sincerely depicts the complexities of his character, acquiring sympathy from the viewers. Ronit Roy shines as the strict and controlling father, displaying a wide range of emotions that make him both intimidating and deserving of sympathy.
Everything about the father, Bhairav, is linked to the way the older generation thinks about life and work. Although there is nothing in the film that excuses the cruelty Bhairav Singh shows to his son, eventually, we learn that he is simply passing on the ruthlessness he received as a child. Though Roy sometimes overdoes Bhairav's angry visage, but he nonetheless succeeds in aiding the viewers comprehend the character's messed-up headspace.
In one scene, Bhairav urges Rohan to run and compete with him on the very first morning after the latter's return. When Rohan expresses his dislike for competitiveness, Bahirav deflects his criticism claiming no one asked for his input and that he is simply supposed to do as told. That jog symbolises the lack of agency young individuals have in the decisions they make in their lives.
It shows that people rarely ask them for their thoughts; they are expected to run the race because they are told to. Bhairav discredits Rohan's plans to become a writer claiming that writers are either irresponsible drunkards or pseudo-intellectuals.
The film captures the essence of adolescence, portraying the emotional turmoils faced by young individuals when their dreams clash with societal pressures. It succeeds in showing what it intends to show—that one ought to break the toxic family cycle, decide your path for life, and let go of relationships that don't serve you. This is a must-watch for all audiences, but especially for the many Rohans out there who kill their dreams because others wish they'd rather join the rat race and settle for less.
Udaan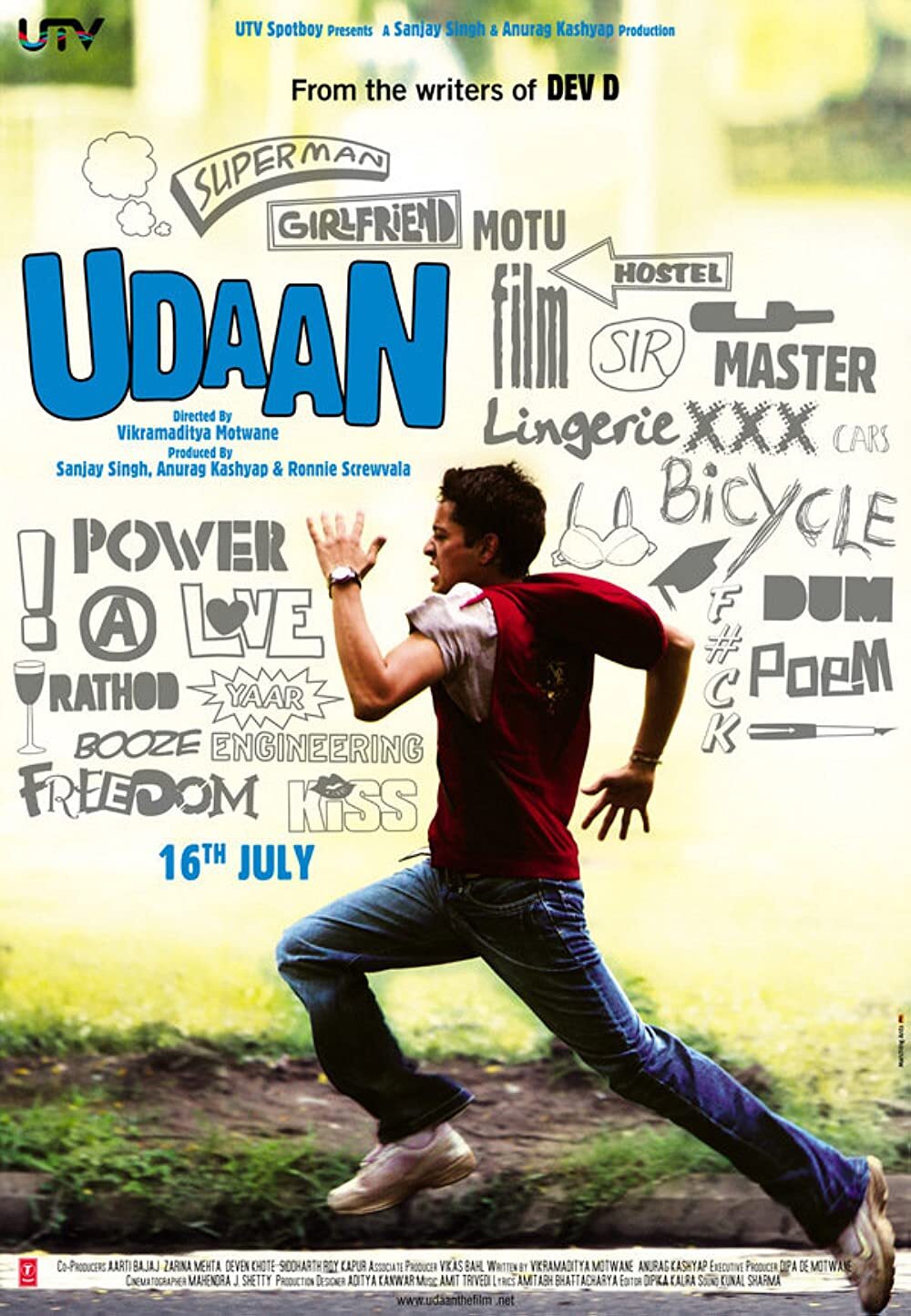 Language: Hindi
Cast: Rajat Barmecha, Ronit Roy and Aayan Boradia
Year: 2010
Duration: 2 hours 18 minutes
Available on: Netflix
---
---