Luxury mountain resorts lure leisure travellers
Here are some plush resorts along with a rundown of the amenities to help you find the perfect place to stay.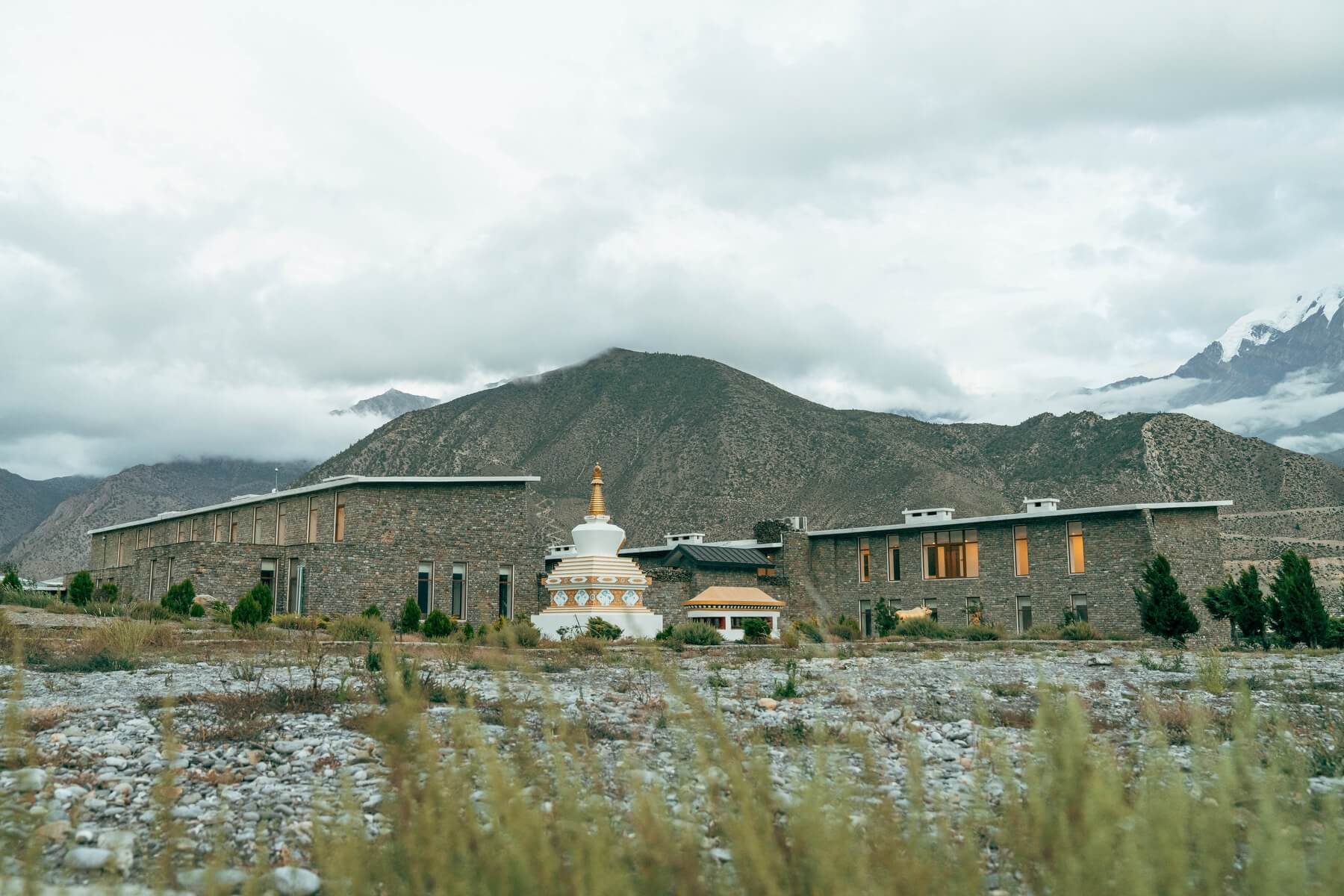 Photo Courtesy: Sherpa Hospitality Group
Published at : March 24, 2023
Updated at : March 26, 2023 12:50
Several luxury properties targeting high-end leisure travellers have opened in Nepal in the last few years, and more are on the way this year.

Here are some plush resorts along with a rundown of their architectural styles and the amenities, food and adventure opportunities they offer to help you find the perfect place to stay.
HMD Asia has partnered with Kathmandu-based Sherpa Hospitality Group, a subsidiary of Yeti World, to open their first internationally flagged Shinta Mani Hotel outside Cambodia in Jomsom, Mustang.
Shinta Mani Mustang - A Bensley Collection is perched high above the town of Jomsom at the gateway of Mustang, an isolated land previously forbidden to outsiders for centuries. The resort will open on August 1.
The property will be the new Bill Bensley Shinta Mani Mustang, the first Shinta Mani Hotel outside of Cambodia.
Each of the 29 suites, located at an altitude of 2,700 metres, measures 45 square meters. It is designed in the style of a traditional Tibetan home with an open-plan bedroom and is combined with a living area and a separate bathroom. Floor-to-ceiling windows offer majestic views of Mt Nilgiri.
A helicopter option is available.
Rates at the Shinta Mani Mustang resort for the all-inclusive programme will start from $1,500 per night. Rates for couples start from $2,000 per night.
Elena Sen, marketing manager at Sherpa Hospitality Group, told the Post that they have been receiving good inquiries from around the world.
"Our five-night package will give an awe-spiring experience in one of the most unique and preserved regions in the world."
The Tibetan wellness programme will be developed by a local 11th-generation Tibetan Amchi doctor, using traditional herbal medicine.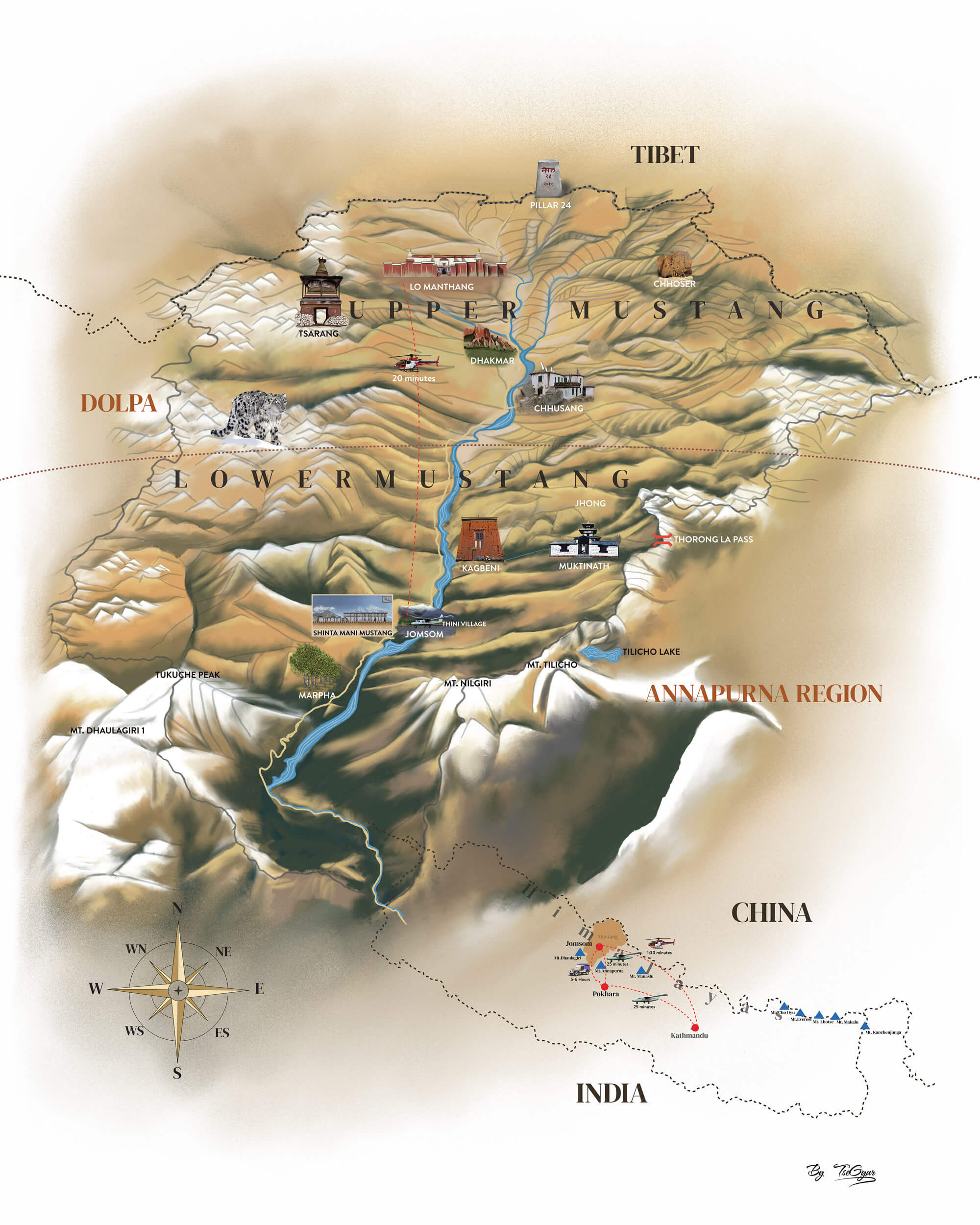 Photo Courtesy: Sherpa Hospitality Group
Shinta Mani Mustang resort is the perfect base for trekking and adventures in the surrounding area, exploring Buddhist monasteries and culture, in the lower and upper parts of Mustang.
This almost mythical region with its dramatic landscapes is hidden in Kali Gandaki Valley between the Annapurna and Dhaulagiri mountain ranges. It is one of the deepest valleys in the region, and one of the most unique and preserved regions in the world.
It is bordered by the Tibetan plateau with an elevation that rises from 1,372 to 8,167 metres above sea level.
Namgyal Sherpa, the owner of the Sherpa Hospitality Group, who is also the son of the late Pasang Lhamu Sherpa, the first Nepali woman to climb Mt Everest, said, "Our group has been promoting experiential travel in remote areas of Nepal for many years now. It was our dream to create world-class, luxury hotel experiences in the Himalaya, and we couldn't find a better partner than Shinta Mani Hotels to collaborate with on this vision as we share similar values.
"We are very excited to be pushing the boundaries and creating a new and exciting project that will position Nepal as a quality, luxury destination and not just for the budget traveller."
Dusit Thani Himalayan Resort
Thailand-based, global hospitality company Dusit International has signed a management agreement with Omstone Asia Capital Nepal to operate Dusit Thani Himalayan Resort & Spa, the first Dusit-branded property in Nepal.
The resort is located in Namo Buddha, a small village which houses the ancient Thrangu Tashi Yangtse Monastery, one of the most important Buddhist pilgrimage sites in Nepal.
The luxurious mountaintop resort has 54 well-appointed rooms and 18 exclusive villas, each providing magnificent views of the majestic Himalayan range.
"We are in preparation to open the resort by the third quarter of this year," said Sanjita Acharya, senior sales manager of Dusit Thani Himalayan Resort & Spa.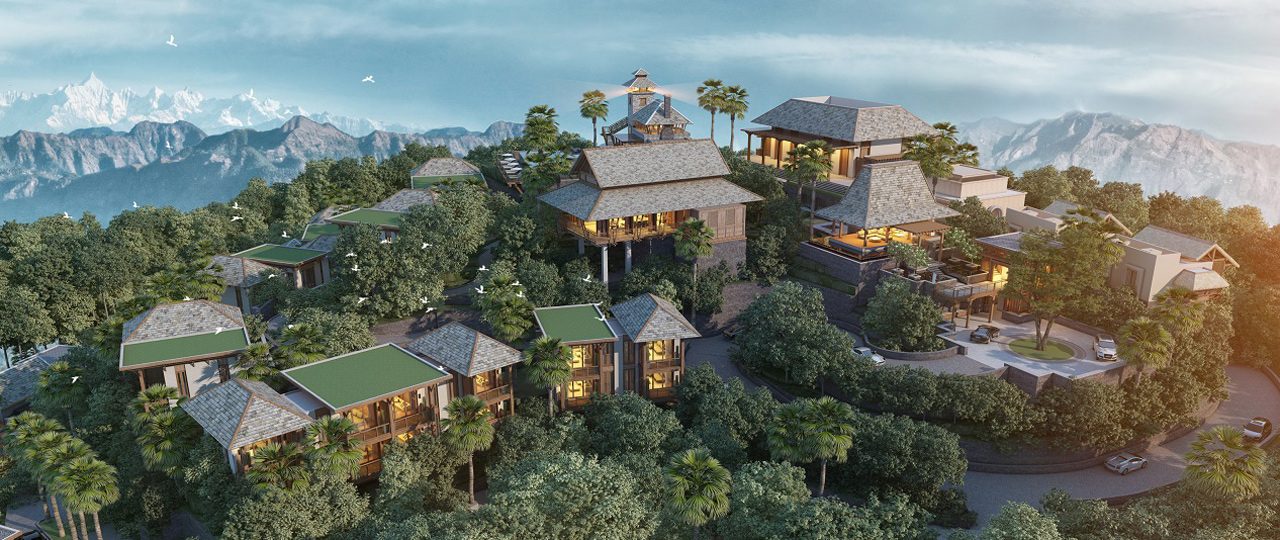 Photo Courtesy: Dusit Thani Himalayan Resort
The tariff may range from $300 to $1,800 per night.
Leveraging the natural beauty of its surroundings, with pristine air and good weather year-round, the new property will have a wellness spa concept created by Dusit's signature Devarana Spa, which provides luxurious, personalised treatments designed to promote emotional and physical well-being.
Other facilities will include an all-day-dining restaurant, a bar and lobby lounge, meeting facilities and a swimming pool.
The project construction started in July 2018 with a completion target of July 2021. However, Covid-19 delayed the construction timeline.
"We have targeted the high-end segment. We are getting a lot of inquiries for the opening date," said Acharya.
The Terraces Resort and Spa
The Terraces Resort and Spa in Lakuri Bhanjyang, a hill station located on the eastern edge of Lalitpur district just 15 km from Kathmandu Valley, started last October.
The project is a joint venture of Agni incorporated, authorised distributor of Mahindra utility vehicles and tractors, and Ang Tshering Sherpa, former president of the Nepal Mountaineering Association.
The 46-room resort has everything from an outdoor jacuzzi, gorgeous swimming pool, restaurant that emphasises organic and locally sourced ingredients, and spa that overlooks a lush protected forest to a semi-outdoor yoga hut tucked away in the middle of a forest.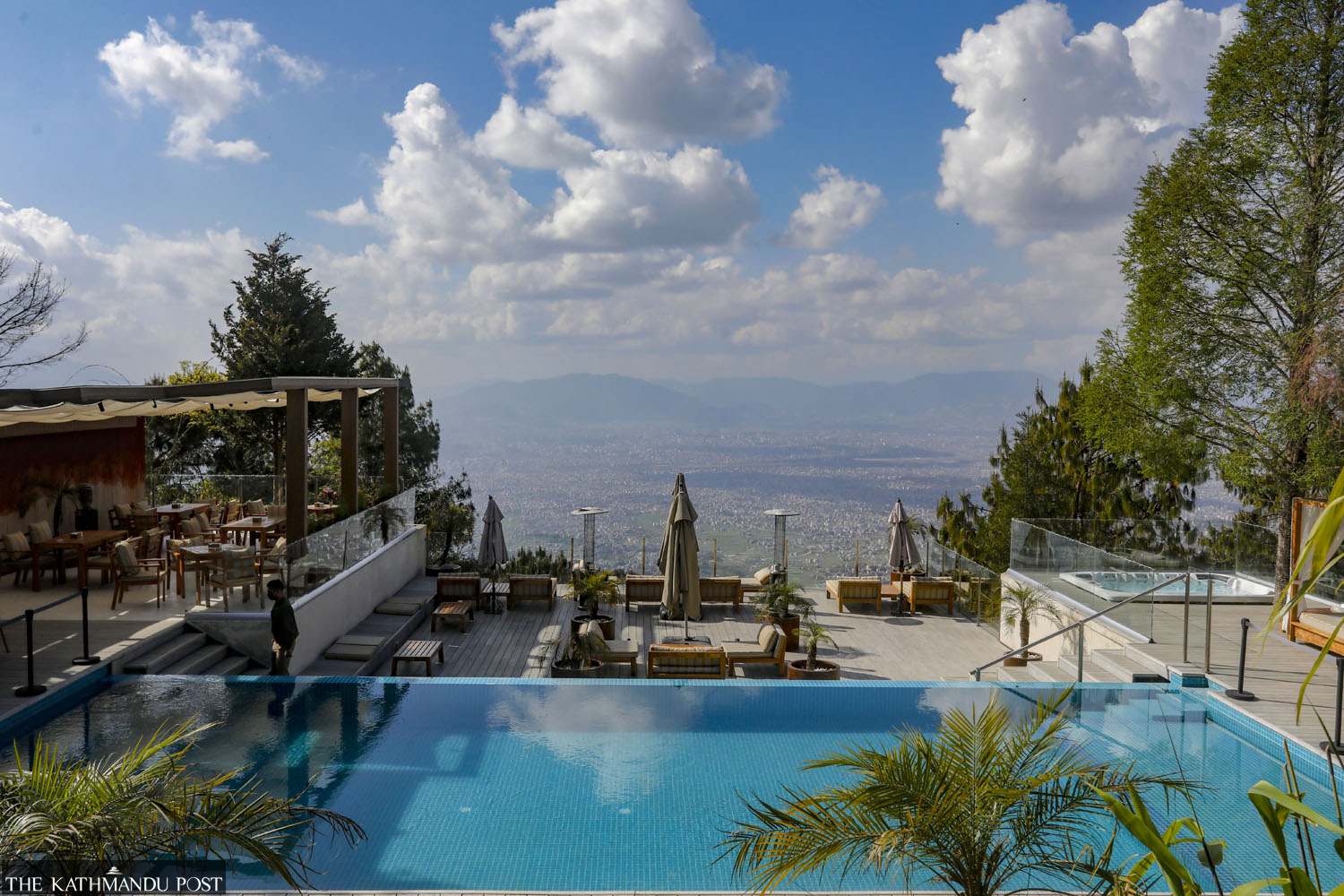 Elite Joshi/TKP
"There are also plenty of activities for guests to take part in. For those who love the outdoors, the hiking trails in and around the village are a great place to get closer to nature. The resort also has mountain bikes that guests can use to explore the village," said Tenzing David Sherpa, managing director of Terraces Resort and Spa.
Visitors can explore full-day trekking to Phulchoki, which is ideal for nature lovers to experience the dense forest rich in wildlife. There is an option for 1-2 hour treks.
"The basic concept of the resort is to provide tourists with a unique experience on the hilltop where there is fresh and clean air in contrast to the highly polluted capital city," said Sherpa.
The rooms are divided into three categories—16 deluxe rooms, 28 standard rooms and two suites.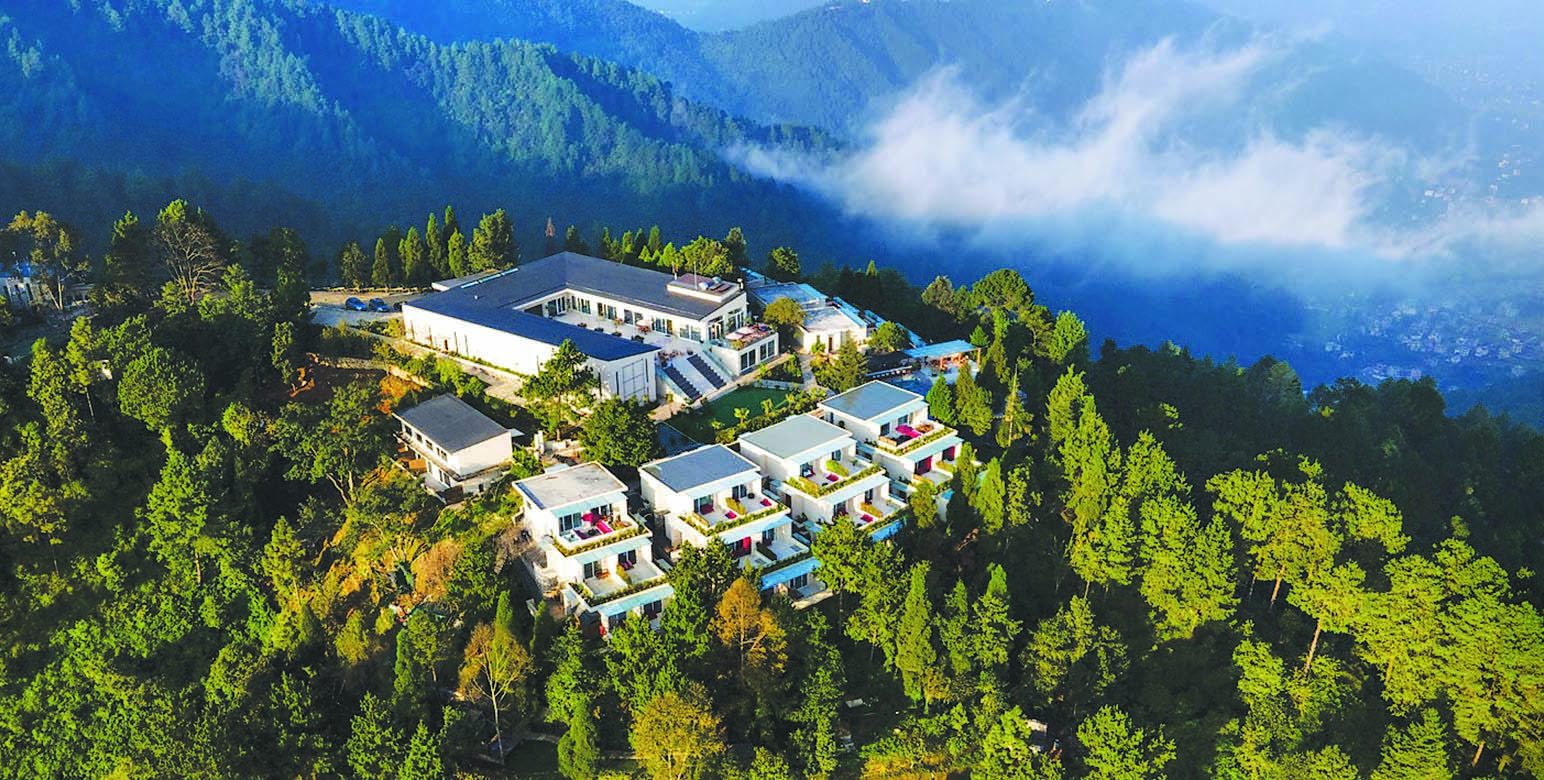 A view of The Terraces Resort and Spa in Lakuri Bhanjyang, Lalitpur. PHOTO COURTESY: The Terraces Resortand Spa
"The external appearance of The Terraces was inspired by millennia-old monastery architecture of ancient Himalayan kingdoms. The Terraces Resort is built like a Dzong – the Tibetan word for a fortress-monastery," said Sherpa.
The total investment for the project was Rs1 billion.
The price of a standard room begins at $255 per night. The suite costs $600 per night.
The resort has two suites that include a large private terrace with an outdoor Jacuzzi to leisurely wind down after a day spent out and about in nature. Facing north, the suites enjoy breathtaking views of the Himalayan range.
The suites each include a stylish living room with a mini-bar, outdoor dining and lounge area on the private terrace, and a separate guest toilet.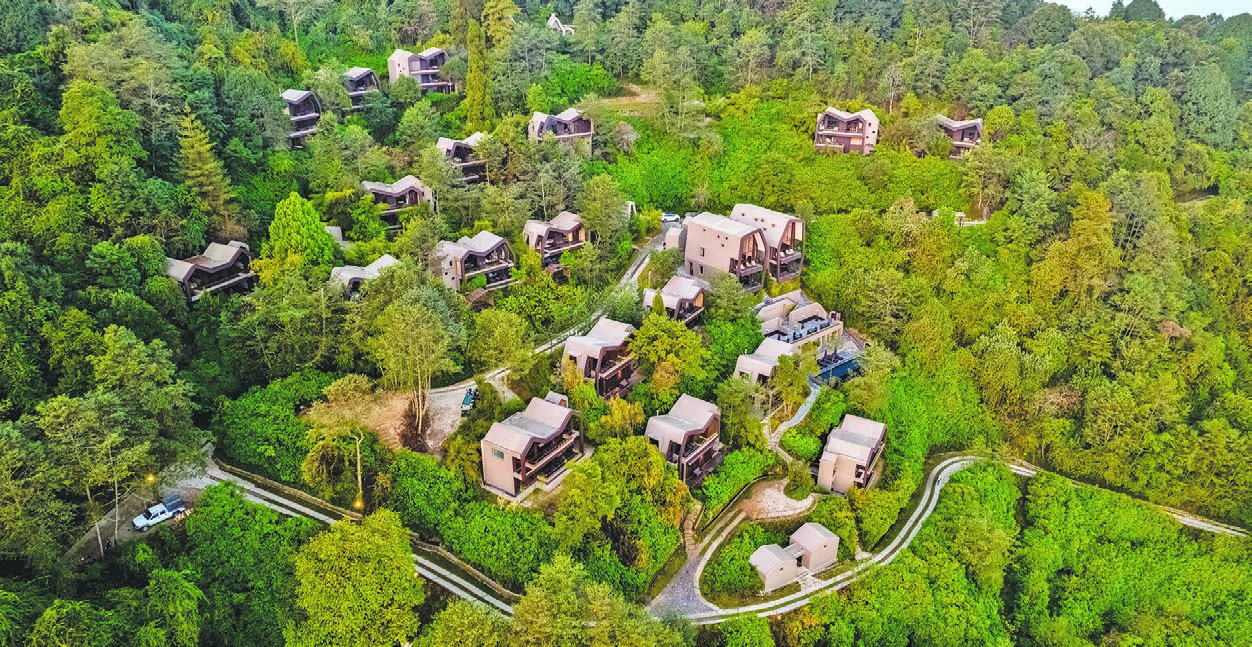 A view of Kavya resort in Nagarkot. PHOTO COURTESY: Chhaya Hospitality
Kavya in Nagarkot officially opened last July.
The Rs3 billion property spread over 175 ropanis has investments by Nepal Investment Bank Chairman Prithvi Bahadur Pandey (20 percent), Vishal Group (40 percent) and Golchha Group (40 percent).
Currently, this resort is managed by Chhaya Hospitality which manages the Thamel-based Chhaya Centre. The resort has 24 individual villas.
"We are currently operating 19 villas. We have planned to open the remaining villas within a year," said Sangay Tenzing Lama, sales and marketing director of Kavya.
The most attractive aspect of this resort is its design. The entire design, from the outside to the interior, is a new style and equally premium.
"It's a blend of modern and ancient architecture--a cave concept inside the jungle," said Lama.
"We aim to cater to both high-end Nepali and foreign tourists, offering a very high-class hospitality experience," he said. The per-night charge begins from $500 to $1,000.
---