Aircraft age is just a number
A well-maintained old aircraft has less time in the skies but it may be safe as a new one.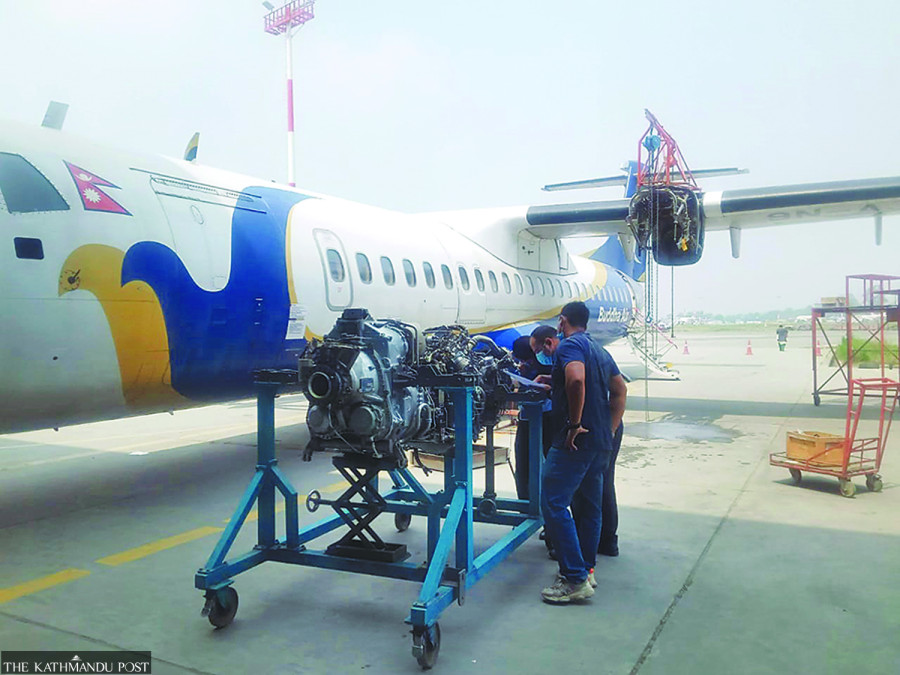 An aircraft engine being taken out for repair in Kathmandu. Post File Photo
bookmark
Published at : January 29, 2023
Updated at : January 29, 2023 07:14
Kathmandu
There's a common misconception that age might mean a plane is less reliable or unsafe. That's not the case.

Experts say an aircraft is airworthy as long as it is well-maintained. The airframe itself is the only piece that remains more or less the same.
Are planes old?
Sanjiv Gautam, former director general of the Civil Aviation Authority of Nepal, says parts ranging from fuselage, wings, engine, propeller and landing gear all have their finite lives—the period they are safe to fly before metal fatigue poses a safety threat.
"In aviation terminology, it is called a cycle." "If the cycle of the parts ends, it has to be changed or overhauled according to their calendar age. The overhauling means the aircraft becomes new again. So, planes are never old."
What about airframes and wings? Are they old?
Yes, they become worn out. Inspections should be conducted at regular intervals.
"Even if there are corrosion and hairline cracks in the airframes or wings of the aircraft, they can be fixed. They may be detected through x-ray and ultrasound screenings," says Gautam.
The main idea is to look if the aircraft is airworthy. The airworthiness division of the flight safety department of the Civil Aviation Authority of Nepal makes a due check of each and every aircraft and certifies them for a year, he said.
Why do companies buy old planes?
New planes are incredibly expensive. "The difference between the old and a new plane is that older planes need more frequent inspections and have higher repair costs," said Mangesh Thapa, chief engineer at Buddha Air. "Frequent inspections mean the cost will go up."
From a commercial viewpoint, an old aircraft has less time in the skies to carry passengers.
New planes, however, are cheaper to maintain and offer substantial fuel savings.
But planes are never old as long as they are maintained properly, he said. "Buddha Air sold its Beechcraft to a Canadian company recently after operating for 26 years. Why would a country like Canada buy old planes if aircraft would have been old?" Thapa argues.
How are aircraft inspected?
The Civil Aviation Authority of Nepal has an airworthiness inspection division which provides a checklist for approval and revision of the maintenance programme.
Under the programme, there are periods at which overhauls or replacements should be made.
The US Federal Aviation Administration doesn't set a mandatory retirement age for planes.
According to experts, there is no single criterion that defines an aircraft is old.
The age of an aircraft depends on factors, including chronological age, the number of flight cycles, and the number of flight hours.
In ageing aircraft deterioration and corrosion occur over time. If not managed, these ageing mechanisms can be a significant safety concern, says Gautam.
There are two basic approaches for managing ageing aircraft. The first is to replace the aircraft, the second is maintenance.
So, there is no age limit. If proper maintenance procedures are followed, chronological age is not a limitation.
Are old planes flown elsewhere?
According to flightradar24.com, aeroplanes built in the 1930s are still flying.
The DC-3 holds a special place in aviation history and that's in no small part due to the fact that many DC-3s are still flying today. The DC-3 was first introduced in 1936.
Since then many outstanding aircraft models have come and gone – but the DC-3 marches on, some with 70 or 80 years under their belt, according to flightradar24.com.
Looking at the older aeroplanes flying in the world, it is clear that good maintenance can keep them alive for a long time.
There are two "Air Force One" planes the president of the United States of America uses. Both are Boeing 747-200 aircraft and one fleet today has been in service since 1990. The "Air Force Two" plane, in service since 1998, carries the US vice president. The C-32 Air Force Two is a modified version of the Boeing 757-200 commercial passenger plane.
What's Nepal's policy to import old planes?
In the case of pressurised aircraft in which conditioned air is pumped into and exhausted out of the cabin, Nepal's Civil Aviation Policy 2006 prohibits the import of aircraft that are more than 15 years old or have completed 75 percent of the economic design life or 45,000 pressurised cycles, whichever occurs earlier.
In the case of non-pressurised aircraft, the import of that aircraft will be decided on a case-to-case basis and upon a full examination of the records of such aircraft.
Provided that, generally, permission is not granted to import aircraft that are more than 20 years old.
---
---