Store owners in Thamel smile as tourists return
The streets are crawling with vacationers even during the December-January season, which is normally known as the off season, traders say.

According to the Nepal Tourism Board, the country's official tourism promotion body, Nepal received 614,000 tourists in 2022. SHUTTERSTOCK
bookmark
Published at : January 2, 2023
Updated at : January 3, 2023 07:46
Kathmandu
Prakash Tamang sells boxes of tea leaves in his store High Mountain Tea at Thamel, Kathmandu's favourite tourist hangout. Tamang has good reason to smile these days.

The tourists are back, and the streets are crawling with vacationers even during the December-January season, which travel trade entrepreneurs normally describe as the off season because of the cold.
With a plethora of bars, clubs and restaurants, most of them operating 24/7, Thamel is back in business following years of Covid restrictions.
"I run two stores, one in Thamel and one in Pokhara. Both are doing well," said Tamang. According to him, Indian and Bangladeshi tourists are the biggest buyers this year.
Tamang is also a tourist guide, and he has been a Chinese translator for 17 years. The absence of Chinese tourists bothers him.
Nepali tourism entrepreneurs, based on information sent by their colleagues in China, say that Beijing may allow its citizens to visit Nepal from May. Beijing also plans to drop quarantine rules for incoming travellers in its latest policy softening.
But with Covid case counts soaring, fuelled by the highly contagious Omicron variant, businesses are once again fearing for their future.
"Things got better in 2022. I hope tourist numbers will rise this year," said Tamang.
According to the Nepal Tourism Board, the country's official tourism promotion body, Nepal received 614,000 tourists in 2022, still a long way from the pre-Covid arrivals of 1.19 million in 2019.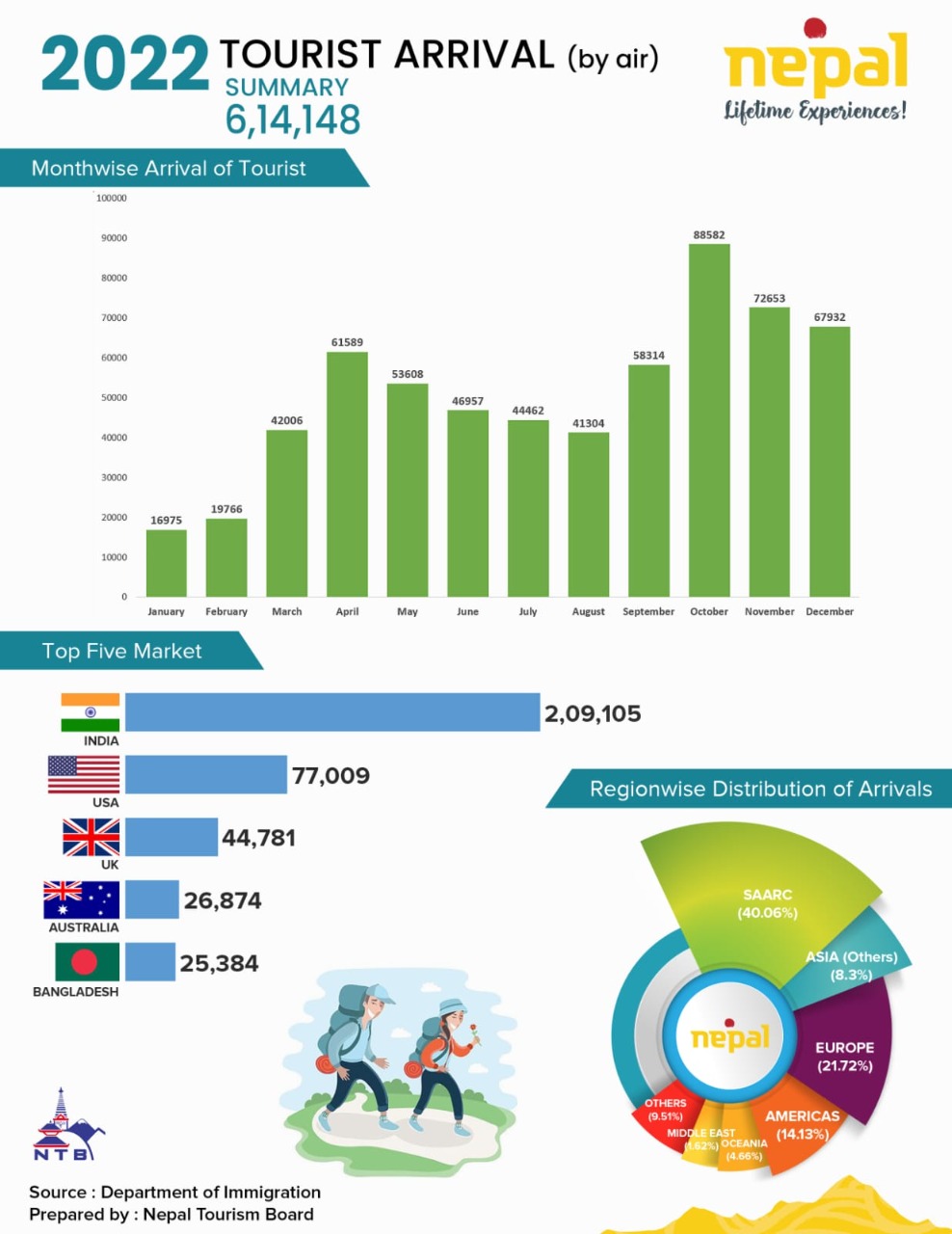 Rakesh Risal, owner of RR Jewellery in Thamel, says the number of tourists has increased. The roads and bars are humming once again. Rickshaw drivers and handicraft sellers are back to business as usual.
But there is one change. "The tourists are not spending as much as they used to during the pre-Covid period."
The Covid-19 pandemic with its lockdowns and subsequent Russia-Ukraine war have put the global economy into a recession. "That may have decreased the purchasing power of tourists," said Risal.
According to a report from the International Monetary Fund, global growth is forecast to slow from 6.0 percent in 2021 to 3.2 percent in 2022 and 2.7 percent in 2023.
This is the weakest growth profile since 2001 except for the global financial crisis and the acute phase of the Covid-19 pandemic.
Nepal opened its second international airport in the southern city of Bhairahawa in May 2022. The modern facility is the gateway to the pilgrimage site of Lumbini, the birthplace of Buddha. The country's third international airport was inaugurated in Pokhara on Sunday.
"We have targeted to bring 1 million tourists this year," said Dhananjay Regmi, chief executive officer of the Nepal Tourism Board. "For this to happen, we have to launch massive promotional activities. We have focused on Asian travellers this year."
The board has announced a plan to host a forum of international travel agencies and airlines in Lumbini where the Buddhist Travel Mart will be held at the end of March.
"There are two new international airports. We have to do proper marketing to make them financially viable," said Regmi.
Travel traders say tourists of different nationalities have different spending patterns. Visitors from the West come mainly for mountaineering and trekking. By the end of the season, they hardly have any money left to buy handicrafts and other souvenirs.
Indian tourists come mainly for pilgrimage. Their primary destinations are the temples like Pashupatinath and Muktinath. The Chinese come for trade and travelling.
Chinese visitors buy goods not only for themselves but also for their friends and families. They show photos of the items to their friends via WeChat, a video-calling app, according to Tamang.
Before Covid, the number of Chinese tourists was very high. They travel normally during January and February, their Lunar New Year holiday season. This had kept Nepal's winter season filled with Chinese tourists even though it used to be considered the off season.
The Post caught up with Yun Shan, a Chinese tourist from Beijing in Thamel. "I am going back to China to celebrate the Chinese New Year with my family, which falls on January 22," he said. He is worried about the rising Covid caseload too.
"If things go as planned, I may come back in three to six months," said Yun. "Many of my friends want to visit Nepal too. The business competition in China is intense, so Nepal is a new land of opportunity."
Yun came to Nepal for the first time in 2019. He had come on a month-long visit with his sister for business purposes this time, but remained stranded in Nepal due to the Covid travel restrictions.
China has adopted a zero-Covid policy. The Chinese government recently relaxed the rules by dropping the quarantine requirement for incoming tourists from January 8.
Nikesh Jaishwal of The North East Gear in Thamel is optimistic about higher tourist arrivals in 2023. He saw a greater presence of Indian, Israeli, Spanish, Japanese and American tourists in 2022.
"This year the number of tourists has grown. The number could be much higher, but the November elections in Nepal impacted travel plans. The month-long FIFA World Cup too diverted tourists to Qatar."
In terms of infrastructure, things are getting better. The local government has prohibited the entrance of large commercial vehicles into Thamel during peak hours to avoid disturbing the flow of tourists.
The Nepal Electricity Authority has also resumed work to move all overhead wires underground. The project had stalled during the lockdown. Thamel is looking better, but unmanaged public transport is still a concern for tourists.
Navin Dev Rana, a tourist from Uttarakhand, India, says the public transport system in Nepal is a mess. "There is no proper information. We have to depend on locals for information on routes and prices which is very confusing."
Rana had to drop his plan to visit Ghandruk from Pokhara after a local taxi owner asked for Rs17,000 to drive him up. "I spent most of the time in Pokhara. I have planned to visit Nepal again for trekking."
Alexai Devis, a tourist from Moscow, Russia shared a similar experience. "Kathmandu valley is polluted and unmanaged," he said. "So I spent most of the duration of my two-week visit trekking in the mountains. I visited Annapurna and Langtang."
Devis says he plans to visit Nepal again with his wife if the political situation gets back to normal in Russia.
The tourists generally return home to celebrate Christmas and New Year.
Birodh Pudasaini, who sells handmade bags in Thamel, said many traders left their shops during Covid because they could not pay the rent.
The monthly rent for a decent-sized shop in Thamel is Rs100,000 to Rs200,000. "How can anyone keep their shop open for years without customers? The rents are super high."
Gabriella and Davide Piro, a couple from Florence, Italy, came to Nepal on December 24. They were encouraged to visit Nepal through social media and word-of-mouth publicity.
"We visited Chitwan, Bhaktapur and Balthali at Kabhre. The people here are very nice and always have a smile on their faces. The villagers in Balthali even invited us to two ceremonies," said Piro. "But Kathmandu is really polluted. We have been using face masks to protect ourselves from the dust."
The couple was also amazed by the lack of separate bins for plastic and non-plastic wastes in Nepal.
"We have already been practising separate dust bins for plastic and non-plastic wastes in Italy for quite a long. It was quite surprising to see that only at the Bauddha stupa and nowhere else," added Piro.
The couple plans to visit Nepal again and go to the mountains.
---
---