Farmers reduce acreage for lack of adequate fertiliser
Drop in production could lead to food shortages and higher prices in a country already reeling from inflation, experts say.

Farmers spray herbicide on a paddy field in Shuklaphanta Municipality, Kanchanpur. RSS
bookmark
Published at : July 29, 2022
Updated at : July 29, 2022 08:29
Kathmandu/parsa/new Delhi
Nepali farmers have been reducing the paddy acreage because they can't get enough fertiliser for their crops, and this will very likely lead to a drop in output, experts say.

When Russian tanks charged into Ukraine, an unexpected fallout was a global chemical fertiliser shortage that has prompted agricultural experts to warn of widespread food scarcity.
Farmers in Nepal face annual shortages of the plant nutrients because of official ineptitude, and the war in Europe only added to their woes. Many farmers have been buying chemical fertiliser on the black market, insiders say.
"It looks like the next harvest will be a failure for Nepal," said economist Keshav Acharya. "A fall in production means food prices are going to soar."
With no solution in sight, farmers dread what the harvest season will bring.
Asarfi Sah, president of the Farmers Association in Parsa, said his crop yields would decrease due to a shortage of chemical fertiliser.
"We have been waiting for urea for a long time. It's not coming," Sah said. "The Agriculture Ministry had promised to supply urea by mid-July, but it did not happen. We don't see urea coming by the first week of August either."
Acharya said low performance of the agriculture sector may deal a severe blow to the country's food security.
The World Economic Outlook Update entitled "Global Economic Growth Slows Amid Gloomy and More Uncertain Outlook" released last week by the International Monetary Fund has forecast a poor harvest due to extreme heat and fertiliser shortage. This may push up food prices.
The update says that because energy and food are essential goods with few substitutes, higher prices are particularly painful for households. When the price of other items, such as electronics, furniture or entertainment, increases, families can simply reduce or even eliminate spending on them.
For food, heating and transportation, often essential to earn a living, this is much harder. As a result, the current situation poses a threat not only to economic but also to social stability, the update says.
The Nepal government, however, doesn't think things are so bad.
According to the Agriculture Ministry, paddy transplantation had been completed on 75.3 percent of the 1.5 million hectares of the available farmland as of July 22.
In the same period last year, the transplantation rate had reached 88.8 percent.
The ministry said paddy transplantation got off to a late start this year in Province 1, Madhesh and Lumbini, the country's food basket, because it took time for the monsoon to become active.
Paddy is transplanted in June, and depending on the availability of water, it normally extends to early September. The harvest period is October-November, before the winter sets in.
The ministry said that given the current rate of progress, the country could see transplantation on 100 percent of the rice fields.
But farmers have something else on their minds. Reports show that desperate farmers have been buying fertiliser on the grey market disregarding the price or quality.
In some districts, the local administration has been looking the other way when farmers sneak in contraband fertiliser from border markets in India.
Urea is the most important nitrogenous fertiliser, with the highest nitrogen content (about 46 percent) and is crucial during the first and second top dressing of the paddy crop because it boosts the plant's growth.
Agro experts say the first top dressing is done three weeks after paddy transplantation.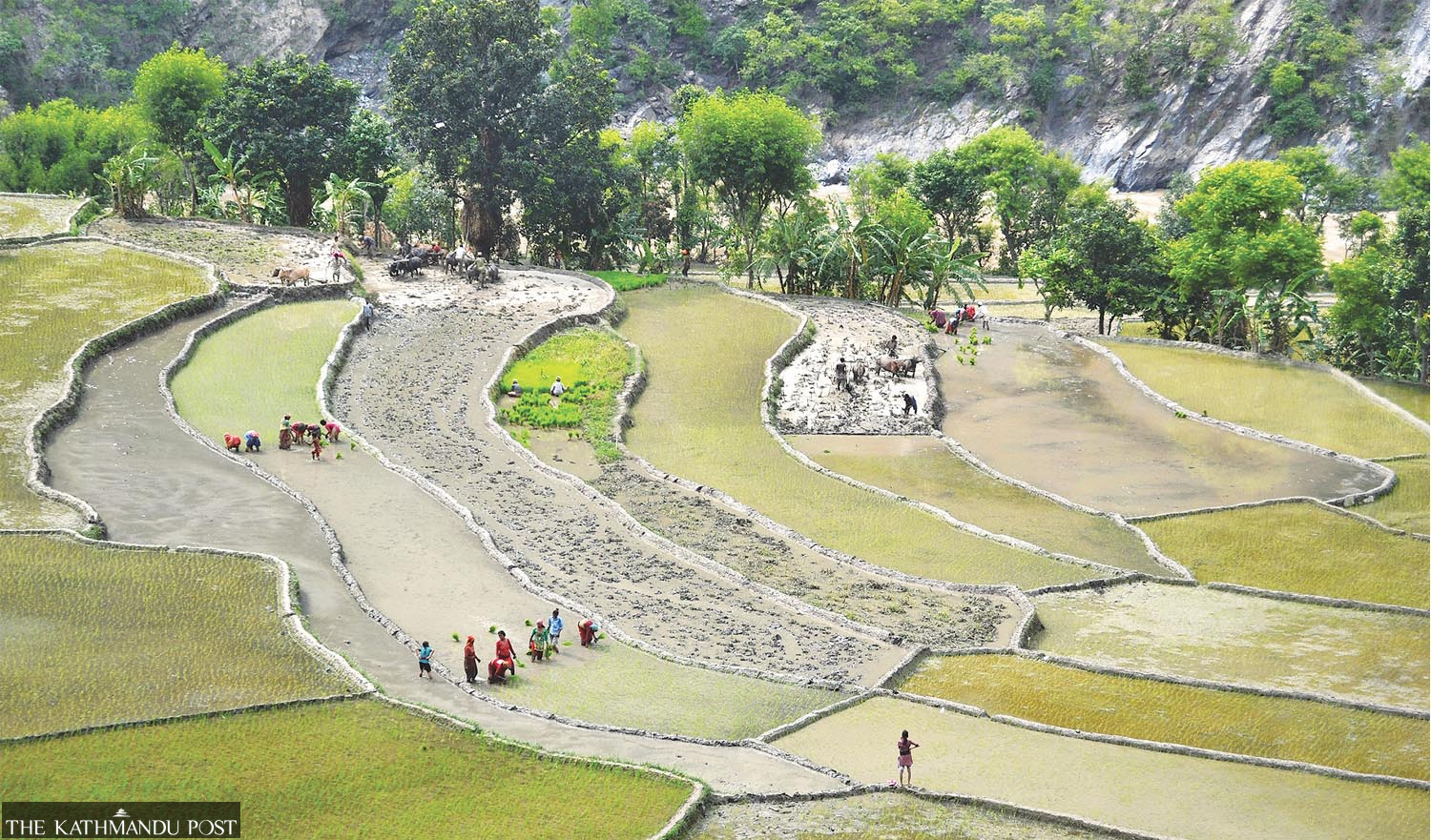 Nepal had been trying to bring fertilisers through a government deal, bypassing a lengthy tendering process, targeting the paddy transplantation season; but the two sides failed to sign a commercial agreement on time due to various legal hurdles. Post File Photo
Farmers had got their hopes up following news reports on Wednesday that Nepal and India had signed a pact for supply of fertiliser. But it turned out that the shipments would arrive only in time for winter crops.
Nepal's Agriculture Inputs Company and India's Rashtriya Chemicals and Fertilisers signed a commercial agreement to supply fertilisers to Nepal, four months after the two neighbours had signed a memorandum of understanding for supply of fertiliser under a government-to-government arrangement.
Nepal had been trying to bring fertilisers through a government deal, bypassing a lengthy tendering process, targeting the paddy transplantation season; but the two sides failed to sign a commercial agreement on time due to various legal hurdles.
The commercial agreement does not assure delivery of the farm inputs, particularly urea, for the top dressing of the paddy crop.
Last month, the House of Representatives had ordered the government to procure chemical fertilisers by any means necessary even as countries around the globe were scrambling to avert a seemingly inevitable drop in crop yields due to a worldwide shortage of nutrients.
The then agriculture minister Mahindra Ray Yadav met with Mansukh Mandaviya, Indian Minister of Chemical and Fertilisers in New Delhi in June, and requested an early supply of fertilisers, highlighting its urgency in Nepal.
Nepal had requested India to provide 50,000 tonnes of urea and 30,000 tonnes of DAP as a crisis mitigating measure by mid-July. The Indian government too agreed.
Nepali officials were then keenly hoping that the farm inputs would arrive by mid-July. But that didn't happen.
"After weeks of our request, the Indian side informed us that they would provide only 15,000 tonnes of urea. They told us that it would take 35 days for printing fertiliser sacks and packaging," said Rajendra Bahadur Karki, general manager of Agriculture Inputs Company.
"It was not possible to bring the products by mid-July. On top of that, the prices were too high. We immediately rejected the proposal because by the time the fertiliser committed by India would arrive, we would have our own consignment coming."
According to him, the commercial agreement would ensure fertiliser for winter crops.
"We have to place an order now and send the payment for the amount of fertiliser we require," said Karki. "The process will take a month. And in another three months, India will deliver the products as per the order we have made."
As per the memorandum of understanding, the fertiliser agreement with India, bypassing the tender process, is to meet Nepal's need during emergencies only.
On February 28, Nepal had signed a government-to-government deal with India to procure chemical fertilisers for five years, raising hopes that the constant nightmare of shortages during the planting season will finally end for Nepali farmers.
As per the memorandum, Nepal can buy 150,000 tonnes of crop nutrients—100,000 tonnes of urea and 50,000 tonnes of diammonium phosphate (DAP)—from the southern neighbour in the first year.
In the second year, Nepal will be able to procure 170,000 tonnes, in the third year 195,000 tonnes, and in the fourth and fifth years, 210,000 tonnes each.
Karki said that the fertiliser shortage was easing now as they would be importing 100,000 tonnes within a month and a half.
"A consignment of 30,000 tonnes of urea (600,000 sacks) has started arriving, and deliveries will be completed by next week," said Karki.
"As soon as our consignment arrives, Salt Trading Corporation will bring 27,000 tonnes of urea," he said. "The import cycle will continue. There won't be as much as demanded by farmers, but there won't be a severe shortage either."
But some officials say that the budget of around Rs15 billion allocated for this fiscal year would be enough to buy 200,000 tonnes of fertiliser, around one-third of the country's annual requirement.
The government, however, has no plans to fund the rest. "The budget is the issue," said Karki.
The Ministry of Agriculture and Livestock Development has estimated that the annual demand for fertilisers stands at around 600,000 tonnes.
"We have asked the government to allocate funds based on the quantity," Karki said. According to him, the cost of urea is $693 per tonne and DAP costs $1,203 per tonne.
The government sells urea at the subsidised rate of Rs15 per kg while it costs Rs127 per kg. Similarly, the cost of DAP is Rs165 per kg while the subsidised rate is Rs45.
The shortage of chemical fertiliser, a political commodity, has become a headache for the government ahead of the general elections scheduled for later this year.
If the farmers' demand for fertiliser is fulfilled, it will cost the government more than Rs75 billion.
"The government cannot make an unpopular move to increase the price of chemical fertiliser ahead of the election, and it cannot fund it either," said an official at Salt Trading Corporation. "The shortage keeps on happening. It's a perennial problem."
---
---