Gold price hits new record at Rs105,500 per tola
The demand for gold has increased in the global market due to the Russia-Ukraine war as investors see the yellow metal as a safe haven amid heightened uncertainties.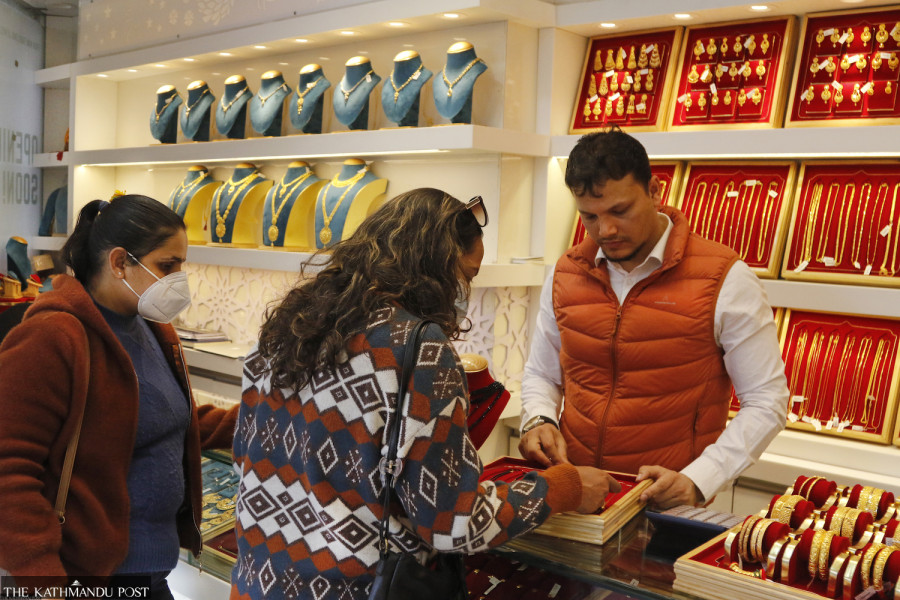 Customers shop for gold ornaments at a jewellery store in New Road, Kathmandu. Keshav Thapa/TKP
bookmark
Published at : March 9, 2022
Updated at : March 10, 2022 01:56
Kathmandu
Gold prices continued to soar, reaching an all-time high of Rs105,500 per tola on Wednesday in the domestic market, in the midst of escalating Russia Ukraine tensions.

According to reports, spot gold surged to $2,053.99 per ounce, after climbing to $2,069.89 an ounce on Wednesday, nearly touching its peak of $2,072.50 set in August 2020.
But in the domestic billion market, it set an all-time high price record, said Tej Ratna Shakya, former president of the Federation of Nepal Gold and Silver Dealers' Associations that determines the bullion rate in Nepal.
On August 7, 2020, the price of a tola of gold (11.66 grams) had set a record Rs103,500.
The yellow metal was hovering at Rs75,000 per tola before the Covid-19 pandemic started in Nepal.
Nepal imposed a complete lockdown on March 24, 2020.
"Globally, the demand for gold has increased due to the Russia-Ukraine war as investors see gold as a safe asset amid heightened uncertainty," said Sakhya. "Gold is often considered a safe investment in times of uncertainty."
Earlier in January, Goldman Sachs, an American multinational investment bank and financial services company, had raised their 12-month gold price forecast to $2,150 per ounce on impending US growth slowdown.
At the beginning of the Russia-Ukraine tensions, Goldman Sachs had suggested that the price may jump to $2,350 an ounce in 12 months.
"This scenario, it said, is now becoming real," said Shakya. "In the domestic bullion market, we have expected that the gold price may cross Rs110,000 per tola if the Russia-Ukraine tensions persists."
In Asia, the market in Japan opens at 4 am [Nepali time]. But according to Shakya, they set the gold price based on the Indian market which opens at 9:45 am [Nepali time]. "We observe the Indian market, particularly gold trade in Mumbai and Delhi for half an hour and set the domestic price at around 10:30 am," said Shakya.
"The rate fixed by a committee of the Federation of Nepal Gold and Silver Dealers' Associations works for 24 hours."
In Nepal, gold jewellery is a traditionally and culturally essential accoutrement during wedding celebrations when women put on their best ornaments. A middle class Nepali family usually buys 5 to 6 tolas of gold when there's a wedding.
In April 2020, Nepal Rastra Bank had slashed the daily gold import quota from 20 kg to 10 kg in a bid to stem the depletion of foreign currency reserves.
But responding to high demand, the central bank increased the quota to 20 kg on April 3, 2021 while bullion traders urged it to raise the limit to 30 kg.
On March 6, the central bank again slashed the daily import quota to 10 kg to stop the depleting foreign exchange reserve.
According to the Nepal Rastra Bank, gold imports jumped 90.4 percent to Rs23.25 billion in the first six months of the current fiscal year, from Rs12.21 billion in the same period last fiscal year.
The gross foreign exchange reserves decreased 15.9 percent to $9.89 billion in mid-January 2022 from $11.75 billion in mid-July 2021.
---