Nepal's central bank asks Nepalis to exchange old Qatari banknotes by May 10
The fourth series of Qatari bills won't remain legal tender after July 1, the oil-rich country has announced.

The newly launched banknotes. Shutterstock
bookmark
Published at : April 20, 2021
Updated at : April 20, 2021 14:47
Kathmandu
Nepal Rastra Bank has issued a notice for Nepali citizens holding the fourth series of Qatari banknotes to exchange the bills as they will become illegal and indemnified currency from July 1, 2021.
The central bank, through its notice, issued on Tuesday, has asked Nepalis holding the fourth series of Qatari banknotes to exchange them by May 10 through Nepal Rastra Bank's banking department, its provincial offices, and all the licenced banks and financial institutions and money exchangers across the country.
Qatar Central Bank has referred to the decision of the Governor of Qatar Central Bank No. 99 / of 2020 issued in the Official Gazette on 12/27/2020 regarding the withdrawal of the fourth series banknotes from circulation starting from December 18, 2020, after the launch of the fifth series.
Qatar is one of the top destinations for Nepali migrant workers.
According to Nepal Rastra Bank, in the fiscal year 2016-17, a total of 125,892 Nepalis had gone to Qatar for employment. The number dropped to 103, 174 in 2017-18. It further dropped to 75, 024 in 2018-19.
Due to the Covid-19 pandemic, Nepalis travelling to the gas-rich nation, also the host for 2022 FIFA World Cup, dipped to 60 percent to 29,835, thus slipping in the fourth spot after the United Arab Emirates [52,085], Saudi Arabia [39,279] and Malaysia [39,167].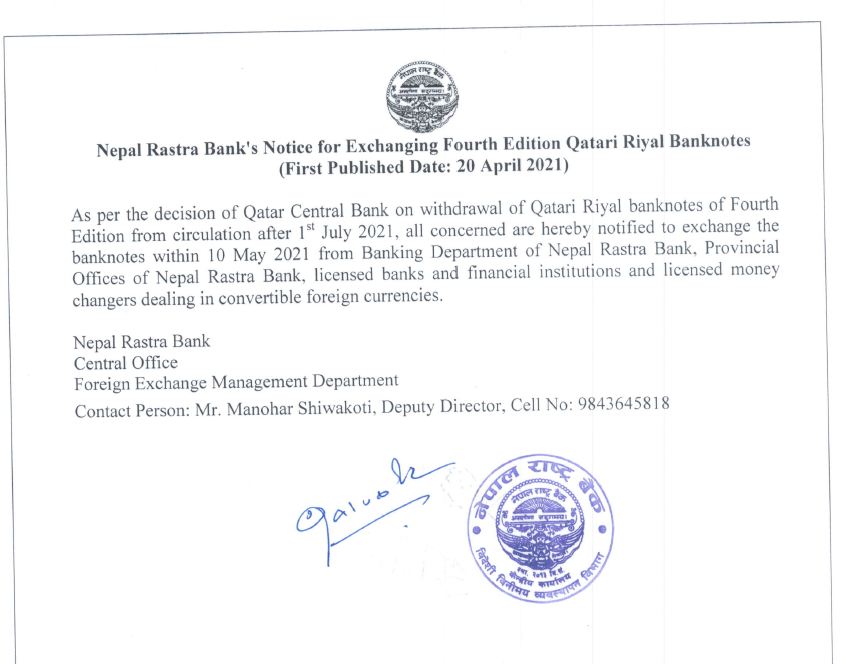 ---