'Nepal is on track to becoming a cashless society'
With mobile phones determining the uptake of digital banking, a planned roll-out of super speed 5G internet system by the next fiscal year will trigger a step-change in the digital banking industry.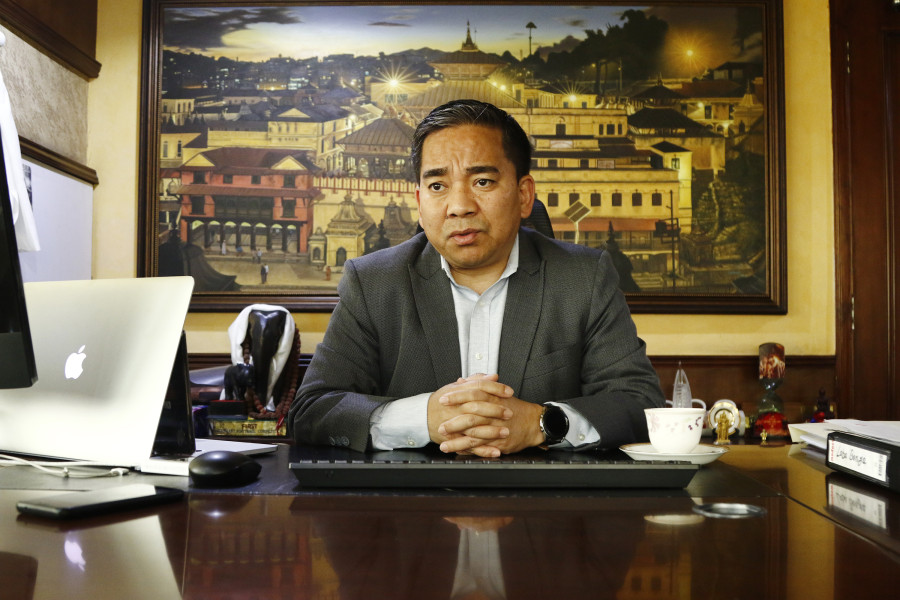 Ashok Sherchan, CEO of Prabhu Bank. POST PHOTO: KESHAV THAPA
bookmark
Published at : April 10, 2021
Updated at : April 11, 2021 11:36
Kathmandu
Stay-at-home orders and social distancing requirements in 2020 forced banks and financial institutions to promote cashless solutions. With mobile phones determining the uptake of digital banking, a planned roll-out of super speed 5G internet system by the next fiscal year will trigger a step-change in the digital banking industry. The Kathmandu Post's Krishana Prasain talked to Ashok Sherchan, an experienced banker and CEO of Prabhu Bank, about the future of mobile banking and payment apps including the banking industry's role in addressing the gender gap. Excerpts:
You have closely observed the success of the Nepali banking industry over the years. Are banks the forerunners in addressing gender inequality?

I think there are no gender inequalities in banking and financial institutions. Even Prabhu Bank has more than 50 percent women employees. Most of the banks in Nepal have more than 20 percent women employees. We are sensible towards gender inequality, and we think opportunities need to be equal. I think the number of women employees in the banking sector is high compared to other sectors. This is because the facilities are good in banks and there is always an opportunity to learn. And I expect the number of women employees to increase in the coming days as banks are expanding their branches. Women economic empowerment is critical to achieving gender equality.
Do you think narrowing the gender gap will foster greater stability in the banking system and enhance economic growth?
Yes, obviously. Including more women in the labour force stimulates economic growth. In a country like Nepal, the habit of saving is more common among females than males. Similarly, in managing the home financially, women are always ahead. This is why women are good managers. I believe there is an important role of women behind the success of every organisation. That's why engaging women in productive employment can have economy-wide benefits.
Is Nepal's banking industry strong enough to deal with calamities like Covid-19 in the future? Has the pandemic affected loan recovery?
We faced the pandemic. It was obviously difficult for all. Covid-19 had a huge impact on loan recovery as industries collapsed and shut down due to the lockdown. The industrial and business sector did not generate income for months. Around 50 percent of the industrial units have now resumed operation. The repayment of interest that stopped during the pandemic has gradually started. If a second wave hits the nation, the central bank might bring a relaxation policy on interest payment. But there will be no problem on the recovery side, if the Covid-19 caseload does not rise. Normal ups and downs are expected despite the threats that the pandemic brought. I feel that we are capable of facing such a situation in the future. The banking sector has shown that they are ready to face any uncertainties, challenges and untoward situations.
How do you assess the current banking industry? Is the economic outlook positive for the banking sector?
The banking industry is a productive sector in itself as it mobilises immobilised capital. And the banking sector is an important part of the economy due to which its future is always good. During the pandemic, the banking industry provided interest waivers to entrepreneurs, industrialists and traders, following the central bank's instruction, which amounted to around Rs14 billion. The banking sector's contribution in terms of taxes, and also from an employment generation point of view, is good. Yes, the economic outlook is positive for the banking sector. The recently published report by the World Bank also predicted that the economy would see a gradual positive recovery. There is a direct relationship between the economy—industry, agriculture, trading, transportation, tourism—and the banking sector. So, if the entire sector flourishes, the banking sector also grows. We hope that there will be positive economic growth.
Digital banking is gaining momentum in Nepal. Can Nepal become a cashless society? What is Prabhu Bank doing to promote digital payment?
Prabhu Bank has been providing all facilities in terms of digital banking that are available in the country—mainly mobile banking, quick response (QR) code, internet banking, card payment and wallet payment. The use of digital payment has been increasing across the country. The service also depends on the quality of service provided by telecommunication and internet companies. There is an equal need for imparting knowledge about digital payment. We think the future is digital. As technology, by its nature, changes rapidly, we have prepared accordingly. We are doing research, studies and experiments and adding features every month. We are spreading awareness about digital payment among our customers through different means of communications.
We will be targeting many sectors like the retail market such as grocery markets, pharmaceuticals, vegetable market, livestock market, restaurants and hotels. We are approaching them for the use of digital banking and promoting it through different media. Many customers already know about the service. The number of digital banking users will increase in the upcoming days. Digital banking will become a compulsory tool for providing banking service to customers in the future. Obviously, the pandemic forced people to adopt digital banking and it is spreading at a much faster speed. Our digital infrastructure was already ready and it became popular in a short span of time. The government also prioritised a digital economy and brought policies accordingly. As mobile access has covered almost all parts of the country, which is important for digital banking, we believe Nepal is on track to becoming a cashless society in the near future.
The central bank recently allowed the issuance of dollar cards to Nepalis so that can pay for foreign services. How is demand for such cards and has Prabhu also started to issue them?
Yes, we have also started issuing dollar cards as permitted by the central bank for a maximum annual payment of $500 for the purchase of goods and services internationally. The service can be obtained by anyone according to their need. It had become essential as well in recent times with many people making use of international services. Previously, users used to turn to illegal ways to make payment which will now stop. Being part of the global market, it is expected that the use of dollar cards will increase in the coming days. There is good demand for dollar cards as there are many consultancy services buying goods from international online companies and using international services like movie channels, among others. It will also help in generating income in a certain way as well while buying goods and services from the international market.
Lately, lending in the productive sector has grown due to the central bank's instruction. How is demand for loans from agriculture and other productive sectors?
As the central bank has made it mandatory to lend a certain percentage of loans in agriculture, hydropower and retail, these sectors are flourishing; and banks have also been introducing different schemes targeting them. There is enough demand for loans from these sectors. But there are problems also. Farmers who produce crops in a commercial way lack market access. The supply and distribution chain is also not good. The market situation needs to be studied by the government to facilitate sales of products. If this happens, loan demand in agriculture will increase rapidly. Besides a few cases of bad debt, which is normal, the recovery rate is good. Compared to other South Asian countries, the loan recovery rate in Nepal is good, which means our customers are responsible and repay their loans.
---
---