Nepal's tea exports thrive despite Covid-19 pandemic
Shipments to Germany alone were worth Rs52.7 million in the first half of the fiscal year, officials said.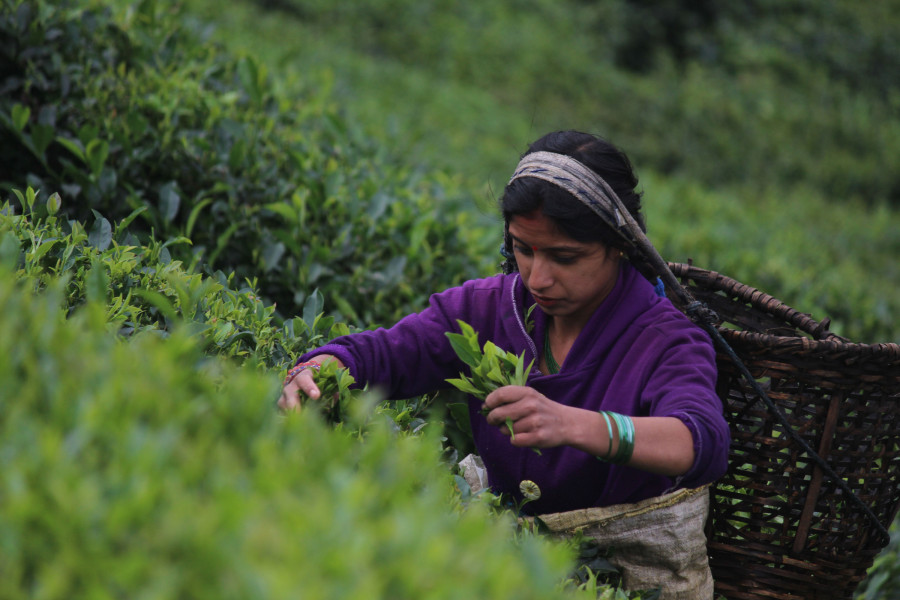 In recent years, Nepali orthodox tea has been gaining popularity in the international market mainly due to its quality, aroma and taste. POST FILE PHOTO
bookmark
Published at : March 11, 2021
Updated at : March 12, 2021 00:53
Kakarbhitta
Gorkha Tea Estate in Ilam, Fikkal has been exporting orthodox tea to Germany since 2009. The tea is sold under the brand name Sundarpani, which means beautiful water in Nepali, in 125 German cities.

Even amid the Covid-19-related restrictions last year, shipments of orthodox tea increased.
According to customs statistics, Nepal dispatched orthodox tea worth Rs52.7 million to Germany alone in the first six months of the current fiscal year (mid-July 2020 to mid-January 2021).
In the last fiscal year 2019-20, exports to Germany were valued at Rs46.5 million.
"There is huge demand for orthodox tea in Europe and the United States, but we have not been able to fulfil the requirement or meet their quality expectations," said Uday Chapagain, executive director of Gorkha Tea Estate.
Nepal grows two types of tea: Camellia assamica for crush, tear and curl (CTC) tea which grows at lower altitudes and in the hot and humid plains of Nepal, primarily in Jhapa district. This tea accounts for almost 95 percent of domestic consumption owing to its lower cost of production.
Camellia sinensis or orthodox tea is grown at altitudes of 3,000 to 7,000 feet. There are four eastern hill districts that are known for producing quality orthodox tea—Ilam, Panchthar, Dhankuta and Tehrathum.
Ideally, orthodox tea is produced from the top two leaves and a bud from each branch. 'Orthodox' refers to a traditional production process where the plucked tea leaf is partially dried ('withered'), rolled and then fermented to give a light colour, unique aroma and fruity flavour. It usually attracts a higher price than CTC tea in view of its quality, demand in the market and higher cost of production
Apart from the shipments to Germany, orthodox tea worth Rs10.8 million was exported to Japan last year, according to Chapagain.
"We started exporting orthodox tea to Finland last year," he said. "About 60 percent of the orthodox tea produced in Nepal is exported to Europe and Japan," said Chapagain, who is also the founding president of the Himalayan Tea Producers Cooperative that was established with the objective of introducing Nepali tea to Europe and the US.
Nature Himalayan Tea, another tea company owned by Chapagain, exported tea worth around Rs30 million in the first seven months of the current fiscal year. "Europeans are health-conscious and are interested in scientifically certified and healthy tea," he said.
In recent years, Nepali orthodox tea has been gaining popularity in the international market mainly due to its quality, aroma and taste.
Gorkha and Nature Himalayan of Ilam, Gurase and Jun Tea Estate of Dhankuta, Kanchenjunga Tea Estate of Panchthar and Himalayan Shangrila of Ilam are exporting orthodox tea to the US, Germany, France, Canada, Finland and Czech Republic, among other countries.
Gorkha Tea Estate alone exported about 41 tonnes of tea worth 500,000 euros to the European market last year. Himalayan Shangrila of Ilam shipped tea worth Rs26.8 million to the Russian market this year, said Chapagain.
Province 1 accounts for almost 95 percent of the tea produced in the country. Commercial tea production is being expanded to 13 districts besides the five districts in the eastern region.
According to the Mechi Customs Office, Kakarbhitta, tea worth Rs2.58 billion passed through the eastern border point during the period mid-July to mid-January of the current fiscal year.
Dhruba Raj Bishwokarma, chief customs officer at the Mechi Customs Office, said that most of this tea was destined for India. Only a small quantity is exported to the European, American and Japanese markets.
He said that out of the total exports valued at Rs2.58 billion, Rs90 million worth of tea went to countries other than India in the first seven months of the current fiscal year.
According to the Tea and Coffee Development Board, Nepal produces more than 25,000 tonnes of tea annually. Of the total production, CTC tea makes up 19,000 tonnes.
Commercial tea production is being expanded to Lalitpur, Lamjung, Nuwakot, Kaski, Bhojpur, Sankhuwasabha, Kabhre, Ramechhap, Dolakha and other districts, according to the Ministry of Agriculture and Livestock Development.
The government has also launched a novel project, Sustainable Export Promotion Project of Nepali Tea, to promote Nepal's tea in the international market and improve its quality by using a system that tracks the product along the entire supply chain.
The innovative scheme follows the implementation of the trademark Nepal Tea Quality from the Himalayas last September.
Nepal's orthodox tea got its own trademark on September 22 last year, 157 years after the country started growing it. The trademark is expected to help Nepal brand and market its tea, which has been facing an identity crisis for over a century, in the international market.
According to a government report, Nepali teas are often exported to India where they are blended with Darjeeling tea as the two are very similar in terms of quality. "This used to be done on a large scale before, and is still being done to some extent."
---
---