Calls grow louder to ease coronavirus curbs and reopen the economy
Government extends Covid-19 lockdown until June 14 amid relaxation demands by economists and businesspeople.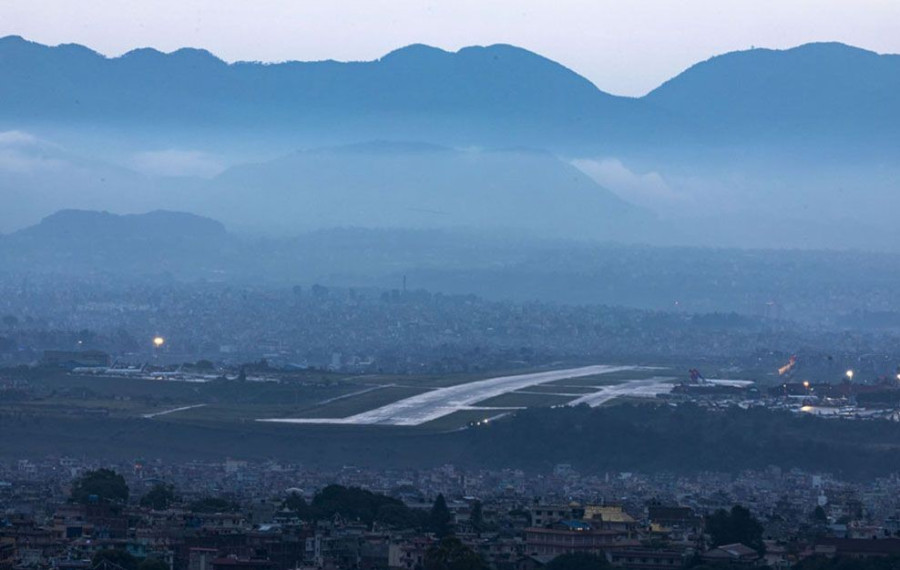 Kathmandu airport has not seen commercial flights for the last two months. Hemanta Shrestha/TKP
bookmark
Published at : May 31, 2020
Updated at : May 31, 2020 07:29
Kathmandu
When Roshan Neupane, a returnee migrant worker, started livestock and vegetable farming four months ago, his enthusiasm for his new venture had no bounds. The 24-year-old from Belkotgadhi Municipality in Nuwakot had just returned home after spending a year in Qatar as a migrant worker.

"I was not really happy with what I made there as an electrician so I decided to return and set up a business of my own," Neupane told the Post.
After installing the necessary infrastructure, he inaugurated his "RB Agriculture and Poultry Farm" in February. There were 1,200 broiler chickens and nine buffaloes of improved breeds. "I had a vegetable farm spread over 10 ropanis of land that I had taken on lease," he said. "I was sure I would do pretty well."
But the next month, the government imposed a lockdown starting March 24 to contain the spread of the coronavirus.
"Initially, I struggled to find chicken feed. Around 400 of my chickens died. Then I sold the remaining chickens at heavily reduced prices. I instantly lost around Rs250,000," he told the Post over the phone from his hometown. "It was a crushing blow to my hopes for a new venture."
He is now eagerly waiting for the lockdown to be relaxed, if not completely lifted, as he is struggling to find buffalo feed and a market for the vegetables he produces. "If the lockdown continues, it will be troubling for me," he said.


Small entrepreneurs like Neupane to big enterprises and industries have been hit hard by the ongoing lockdown that entered its 68th day on Saturday.
Economists and analysts say that concerns are now growing that such a prolonged lockdown with no relaxation plans could lead the country towards a humanitarian crisis.
Rameshore Khanal, a former finance secretary, said the government's decision to enforce a complete economic lockdown instead of social lockdown is costing the economy dearly.
"The government should have created an environment of trust to operate factories and gradually open shops by conducting Covid-19 tests on workers," Khanal told the Post.
The Covid-19 pandemic has already dragged the country's economic growth down. The Central Bureau of Statistics last month projected Nepal's economy to grow by just 2.7 percent on the condition that all sectors except hotel and restaurant and international travel move towards normalisation from mid-May.
The International Monetary Fund earlier this month projected Nepal's economy to grow by just one percent in the current fiscal year.
Amid expectations that the government would relax the lockdown after the current extension, applicable until June 2, a Cabinet meeting on Saturday evening decided to extend it until June 30.
Nepal's economy has been mostly inactive for the last 68 days.
"It has already done a huge damage, and if Nepal is unable to bring the economy back on track, millions of people could lose jobs," said Baburam Bhattarai, former prime minister who also served as finance minister, on Friday during a post-budget interaction with journalists. "Nepalis need to learn to live with the virus now, as the country can't afford to be under lockdown forever."
Even the World Health Organisation has said "this virus may never go away".
Many believe the government has been extending the lockdown because it has failed to come up with a tangible plan to fight the virus and is employing the restrictions to cover up its failures on multiple fronts.
And the private sector is getting increasingly jittery.
"Lockdown is not a permanent solution. It should have been aimed at preparing logistically to combat the disease," said Shekhar Golchha, senior vice-president of the Federation of Nepalese Chambers of Commerce and Industry, an umbrella organisation of the private sector. "The lockdown could have been lifted by now if the last two months had been properly utilised to come up with proper plans to combat the virus."
Since the number of tests has been increased lately, more cases are being reported, which public health experts say was bound to happen. What, however, the government did not pay heed to is building infrastructure like isolation and quarantine facilities and arranging necessary medical goods, including testing kits, according to experts and businesspersons.
"I am not sure how well the government utilised the lockdown period to build infrastructure," said Golchha.
As people are losing their means of livelihood, according to Golchha, the government should now open almost everything with the condition that there should be no big gatherings.
Finance and Communication Minister Yubaraj Khatiwada said on Saturday evening that the high-level coordination committee to prevent Covid-19 will come up with a new modality for the lockdown "in a few days".
"The lockdown will be strict in areas where there is more risk," Khatiwada, also the government spokesperson, said at a press briefing after Saturday's Cabinet meeting. "We have to continue with our daily activities while managing the risks of the coronavirus."
Economists and businesspersons say as the impact of the virus is likely to remain for at least six-eight months, there is no other way than to devise various modalities and ease the lockdown. Nepal can study how other countries, including India, are slowly reopening their economies, according to them.
"Rwanda has reopened its economy by increasing testing and strictly enforcing social distancing rules. We can follow this example here," said Sujeev Shakya, an economist who is also the founding chief executive officer of Beed Management, an international management consulting and financial advisory firm.
"The government should now start reopening the economy in areas outside the hotspots of Covid-19, ensuring that social distancing measures are properly implemented."
The Cabinet decision to extend the lockdown until June 14 was based on the sudden spike in the number Covid-19 cases, which reached 1,401 on Saturday evening. The country reported 189 new cases on Saturday itself, the highest for a single day. It also marked the fourth consecutive day with more than 100 cases.
The country so far has reported seven deaths from Covid-19.
According to Energy Minister Barshaman Pun, international flights will remain suspended and internal borders will remain sealed until June 30.
The suspension of international flights has hit the tourism sector hard.
Nepal's tourism sector has been the first casualty of the Covid-prompted lockdown, according to industry insiders.
Aditya Baral, country director of XcelTrip Nepal, a travel booking website, said that it's high time the government started thinking about opening up, just as some other countries are doing.
"Around six dozen countries are now considering gradually reopening their borders and economies," said Baral. "If we continue to sleep, it will be difficult for us to wake up."
---
---