Portal Bikes is here to give new meaning to bicycles
These new-age cargo bikes are sturdy, adaptive, customisable—and can grind your corn.

Established in 2013, Portal Bikes has been manufacturing these long-tailed cargo bicycles to serve as a utility product for people who depend on bicycles on a daily basis. All photos by Biju Maharjan
bookmark
Published at : August 12, 2019
Kathmandu
At Portal Bikes, a company based in Chobhar, parts of bicycles lay spread across the ground floor. In one corner, two rows of bicycles are stacked in the back of what seems like a storage facility.
On the first floor of the building, two mechanics are carefully assembling a brand new Portal Bike. All Portal Bikes are designed, tested and assembled at the workstation in Chobhar. But these bicycles are not the usual types that one sees on the streets. They are sturdy cargo bikes that have a longer body, comfortable saddles, spacious seats (yes, these bikes have seats big enough for three adults to sit on), and ample space for load-bearing.
Established in 2013, Portal Bikes has been manufacturing these long-tailed cargo bicycles to serve as a utility product for people who depend on bicycles on a daily basis.
Sajan Dhottel, 39, is a salesperson by profession. Every day, he cycles around town selling groceries and household items from his wholesale store. And for the past six months or so, he has been using his Portal, which he says has made life easier.
"My work requires me to go from one place to another the whole day, and riding a cycle with a huge load is difficult and time-consuming," says Dhottel, who has been a salesperson half his life, delivering goods on his bicycle.
To make things easier for himself, Dhottel had even tried delivering goods on a motorcycle. But that too had its own restrictions, he says. "Bikes get to places faster, and that is a big advantage, but traffic rules forbid motorcycles from carrying more than two boxes. Because of this rule, I had to do a lot of back and forths, which added to my fuel cost," says Dhottel.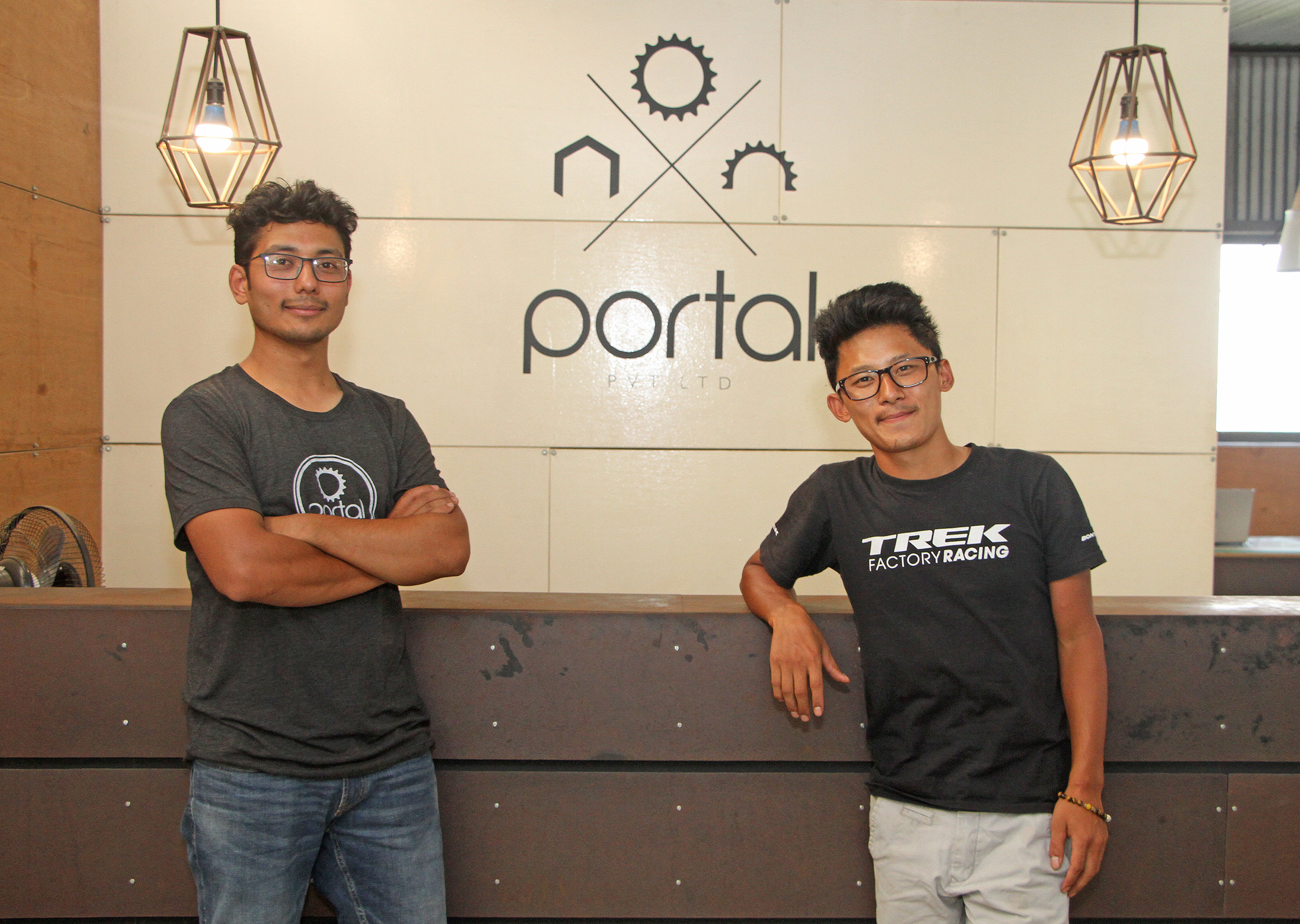 But after hearing rave reviews of Portal Bikes through his colleagues, Dhottel decided to give the bike a try. "It was sturdy, could hold a lot of loads and it was easy to ride. But most importantly it helped increase my sales," says Dhottel.
Like Dhottel, Chakupat's Bharat Koirala also uses the bike to sell and deliver his goods in the market. Every morning, Koirala stacks cardboard boxes of diapers, sanitary napkins and other household items on the back of his Portal and leaves his wholesale shop to deliver the items to shops around Lalitpur.
Koirala was one of the first people to own a Portal Bike in the city, according to the company's records. He came to know about the bikes through Tenjing Gurung, the sales manager at Portal Bikes, who told him about the cargo bikes. After testing the bike, and considering the change for a few days, Koirala bought the bike for Rs 30,000, at a subsidised rate.
"It is more expensive than normal bicycles in the market, but it is less expensive than other bikes with gear," says Koirala. "But the price is worth it because the bike has made my work a lot easier. I mean, it can hold as much load as a small van can, so I have no complaints."
But these bikes are not just limited to cargo delivery. They are also being equally used by people for other daily use.
Govinda Mishra, 35, says the bike is a perfect means to ride around the city with his kids. The bike's elongated rear end can accommodate three adults for a comfortable ride, so it's not a problem for his children to sit comfortably. "What's better is the cycle comes with gears. With my old bicycle, I had to get off the bike and drag it while riding uphills, but with this bike, I don't have to," says Mishra.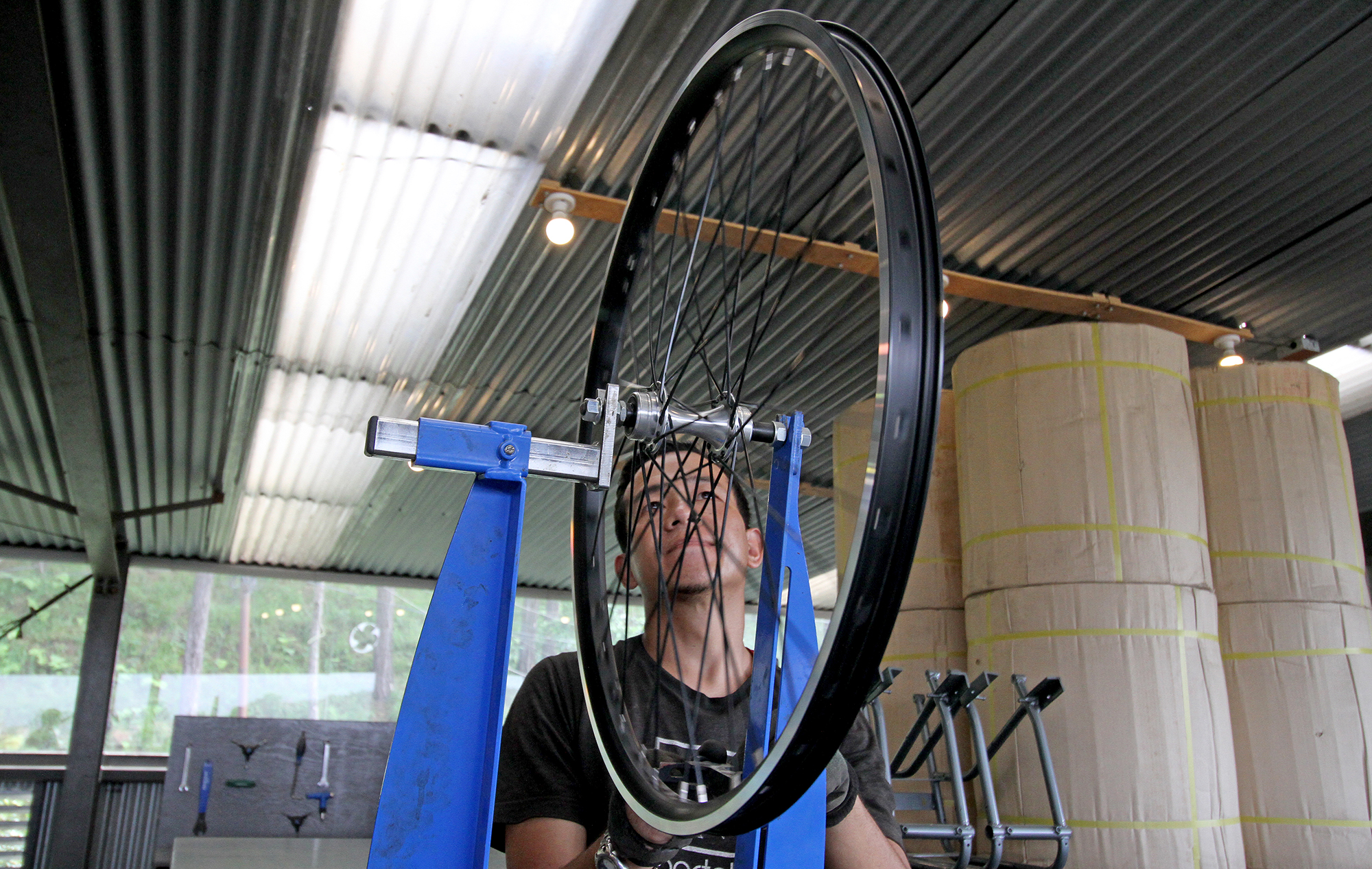 As for the price tag, the company says it can make adjustments.
"We provide subsidised prices for entrepreneurs from low-income bracket to empower them, because at the end of the day that's our motto," says Daniel Pradhan, head of operations at Portal Bikes. This is because the company identifies itself more as a social enterprise than an entirely profit-orientated business. They want to give back to the community while sustaining themselves. And that's their motto: transforming lives through innovation.
According to Pradhan, these efficient bikes are a result of years of observation and meticulous planning.
"We designed the bike keeping in mind the people and the bicycle riding culture in Nepal. Since Kathmandu has a lot of up- and down-hill roads, riding a bicycle isn't preferred in the city. That's why the bike has seven gears," says Tenjing Gurung, sales and marketing manager at Portal Bikes. "Also many people carry huge loads on motorcycles, which is not ideal for safety reasons. These cargo bikes are the solution for them."
These bikes, however, can further be customised according to the needs. In addition to its function as a cargo bike, these bikes also serve as a Power Take-Off (PTO), which operates small machines like grinders and blenders with its pedal power. And how this innovation was made also has its own backstory.
The founder of the company, Caleb Spear, fell in love with the beauty of Nepal, which is why he used to frequently visit Nepal. During one of his trips to rural Nepal, he came across people removing corn kernels manually by hand, which he thought was very time-consuming. That's when he came up with the idea of PTO.
"In places where there is no access to roads suitable for riding bikes, portal bikes can be used to operate different machines," says Pradhan. "People even operate washing machine through the PTO unit attached at the backside of the bicycle."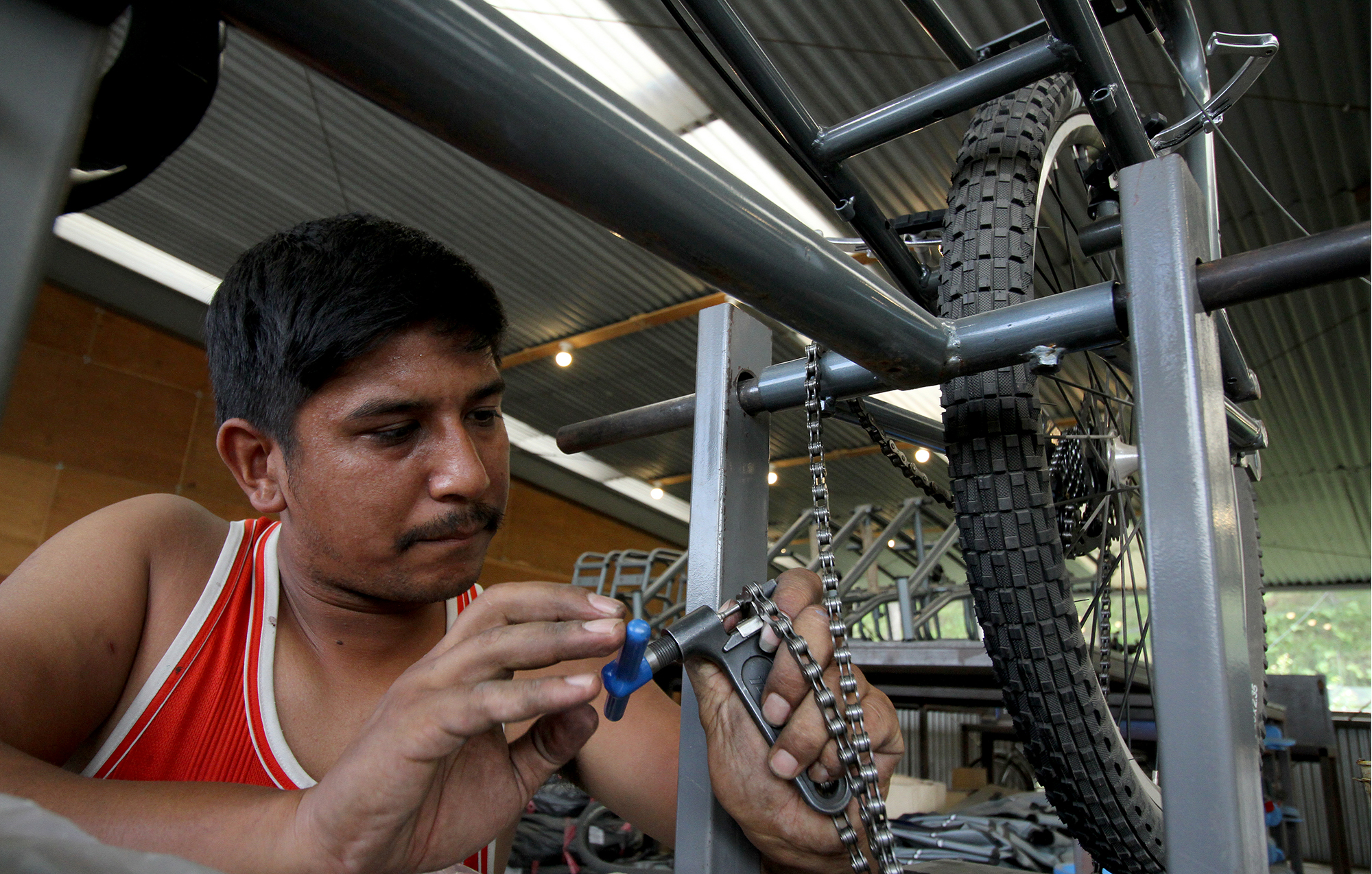 The company that started out with two members, from a small space in Jhamsikhel in 2013, has now expanded to 10 members and a warehouse, workshop and office space in Chobhar and two sister companies Portal Prefab and Portal Shelters.
The company today may be doing well, but initially, as it is with all start-ups, its founders did go through a few hiccups.
"Initially, we didn't just assemble the parts but built everything from scratch. But it just wasn't cost-effective. So we decided to import the parts from Taiwan," says Gurung. "We don't get many parts for the bicycle in Nepal, and importing them were a problem as we had to buy them in bulk. We didn't have that kind of financial capacity."
Today, to reduce costs and to provide the bikes at an affordable price, the company imports the body parts from Taiwan and sells the bikes in Nepal.
However, Pradhan believes that people aren't used to the new concept of Portal bikes here in Nepal and many people find it somewhat expensive too.
"We have come across two types of people who ride bicycles in Nepal: those who ride for leisure and those who ride them with a purpose," says Pradhan. According to him, those who ride for pleasure prefer sleek bikes and those who ride for work prefer cheaper alternatives.
"Our bikes are priced at Rs 40,000. People don't want to invest such a big amount on a bicycle; they rather prefer to buy a second-hand motorbike," says Pradhan. "To change this perception, we still have a long way to go."
---
---