Nepal Airlines to resume Japan service in Sept
Nepal Airlines Corporation (NAC) is preparing to resume its Japan service in September after a 10-year break with three weekly flights to Tokyo.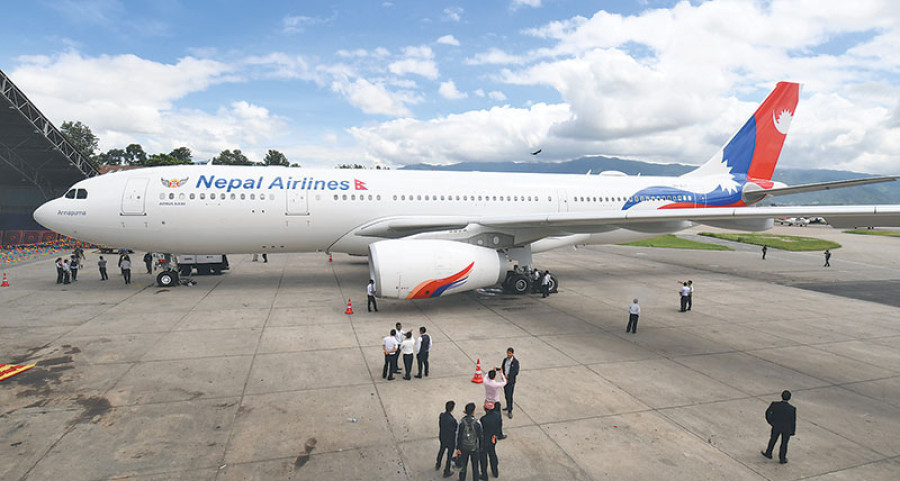 bookmark
Published at : July 5, 2018
Updated at : July 5, 2018 18:44
Kathmandu
Nepal Airlines Corporation (NAC) is preparing to resume its Japan service in September after a 10-year break with three weekly flights to Tokyo.
The Tourism Ministry on Monday designated seven weekly flights for NAC to Narita International Airport, also known as Tokyo Narita Airport. The national flag carrier wants to fly to Japan after receiving two long-range Airbus A330 jets, one of which arrived on June 28.
"After the government gives the go-ahead, the national flag carrier will formally apply for operating authorization at Narita International Airport with the Japanese government," said Pramod Nepal, under secretary at the ministry.
NAC spokesperson Rabindra Shrestha said that they would be operating three flights per week to Narita International Airport. "We are making necessary arrangements like appointing general sales agents to begin flights by September."
Earlier, NAC had begun preparations to operate flights to Kansai International Airport in Osaka as it was not allowed to serve other airports in Japan under the old air service agreement (ASA), said Nepal.
On June 18, Nepal and Japan revised the ASA, increasing the number of flights seven-fold from twice weekly to 14 weekly flights with any type of aircraft on a reciprocal basis. The revised ASA also allowed NAC to fly to Narita International Airport and other airports in Japan.
As per the old ASA signed on February 17, 1993, Nepali airlines were permitted to operate 400 weekly seats or two weekly flights out of a single airport. After Nepal and Japan signed the ASA in 1993, the national flag carrier launched its Japan service in 1994, flying to Osaka via Shanghai, China. In 2007, it was forced to suspend the route due to lack of aircraft.
A Nepal Air Traffic Analysis conducted by Airbus in 2015 forecasts a traffic growth of 77 percent in five years from nearly 48,000 one-way travellers from Japan to Nepal. Narita International Airport and Kansai International Airport account for 68 percent of the traffic from Japan to Nepal. The country received 27,326 Japanese tourists last year.
According to the Ministry of Foreign Affairs, the number of Nepalis living in Japan has swelled to more than 60,000 compared to only 31,531 at the end of 2013.
The Nepali community is the fifth largest foreign community in Japan. As the 2020 Olympic Games approach, Japan will be an attractive destination for Nepalis, with the number of Nepalis in Japan likely to grow substantially in the coming years, the ministry said.
Every year, more than 10,000 Nepali students go to Japan to pursue higher studies and learn the Japanese language. Japan is the second most preferred destination for Nepali students looking to study abroad, the ministry said.
Buddha gets 3 daily flights to Delhi
KATHMANDU: The Tourism Ministry designated three daily flights for private carrier Buddha Air on the Nepalgunj-Delhi route after it applied to serve the Indian capital from western Nepal. Last June, Buddha Air had announced connecting New Delhi from Nepalgunj by ATR 72 aircraft to draw Indian travelers for Kailash Manasarovar Yatra in China and several other pilgrimage destinations like Swargadwari in Pyuthan and Khaptad.
---