Nepse in Dashain hangover, down 32.63 points
Nepal Stock Exchange (Nepse) plunged 32.63 points last week as investors opted to spend their money elsewhere, celebrating Dashain, the main festival of Hindu.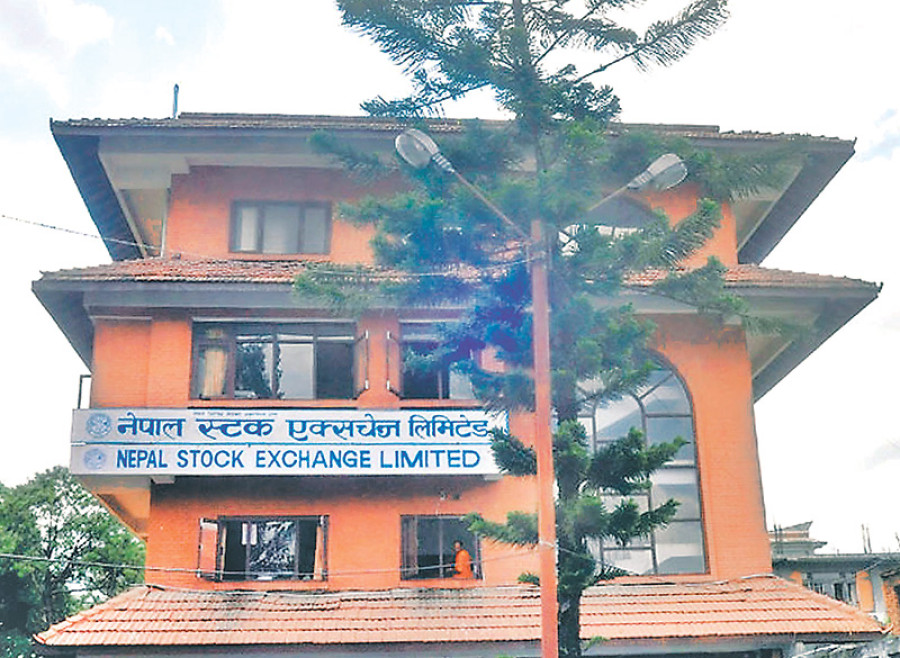 bookmark
Published at : October 15, 2017
Updated at : October 15, 2017 08:58
Kathmandu
Nepal Stock Exchange (Nepse) plunged 32.63 points last week as investors opted to spend their money elsewhere, celebrating Dashain, the main festival of Hindu.
The secondary market that opened at 1,542.65 points on Sunday fell 32.64 points to close at 1,510.01 points. On Monday, the market further shed 8.12 points to close at 1,501.89 points. On the following three days of trading, the market inched up by marginal values of 0.74 points, 3.36 points and 4.03 points respectively.
As a result, the overall market index fell by 2.11 percent.
Bharat Ranabhat, managing director of Kohinoor Investment and Securities, opined that the market regained stability last week. "Although on the first day, the market index fell as an impact of Dashain, the small fluctuations in market index in the latter days show that the market is gaining stability," Ranabhat said.
Ranabhat added that the market might have been buoyed by the appointment of Chandra Singh Saud as the new general manager of Nepse and the increasing likelihood of provincial election being conducted on time.
The sensitive index that measures the performance of Group 'A' companies also dropped 6.24 points to close at 317.63 points.
With a fall in the market index, the average value of shares listed on the stock market also dropped Rs37.87 billion with market capitalisation reaching Rs1,752.54 billion from Rs1,790.41 billion over the review period.
Stockbrokers expressed their hope that the stock market could rise next week. According to them, falling interest rates on bank loans, the ongoing zeal shown by political parties for the upcoming elections and financial institutions increasing their limit for loan against shares could take the market to new heights.
Except for the sub-index of 'others,' the rest of the nine trading groups posted a loss in their respective market index.
Insurance fell by 209.1 points, the largest of all, to close at 8,249.25 points. Ranabhat considered the fall a market correction for the individual group. "The fallen value is nominal compared to the high level market index that the group has attained."
Likewise, hotels lost 72.31 points to close at 2,322.39 points. In the losers' lists, development banks shed 69.75 points, manufacturing 44.45 points, hydropower 37.49 points, commercial banks 36.73 points, finance companies 21.96 points and trading witnessed a fall of 13.6 points.
'Others' was the only group that witnessed a gain of 47.43 points in its index to close at 779.72 points.
Regarding individual companies, Chilime Hydropower posted the largest transaction of Rs135.63 million. Ranabhat said the arriving book close of Chilime after announcing 15 percent bonus shares and 10 percent of cash dividend had attracted investors into purchasing shares of the hydropower company.
Standard Chartered Bank was in second place, with transaction amount worth Rs65.03 million. Nepal Doorsanchar Company, Nepal Bank and Nepal Life Insurance were also among the top five companies in the segment.
Similarly, Nepal Bank was the company with most number of traded shares, at 162,000 units.
Last week, stocks of 172 listed companies were transacted. The total turnover amount stood at Rs1.76 billion from trading of 3,943,810 units of shares.
Right Shares/Bonus Shares
Company Type Units
Lumbini General Insurance Right 3,900,000
NB Insurance Right 2,700,000
Purnima Bikas Bank Right 66,911.82
---