Number of women trek guides on rising trend
Women are showing greater interest in becoming trekking guides with rising numbers of adventure seekers hitting the trails in the Himalayan foothills.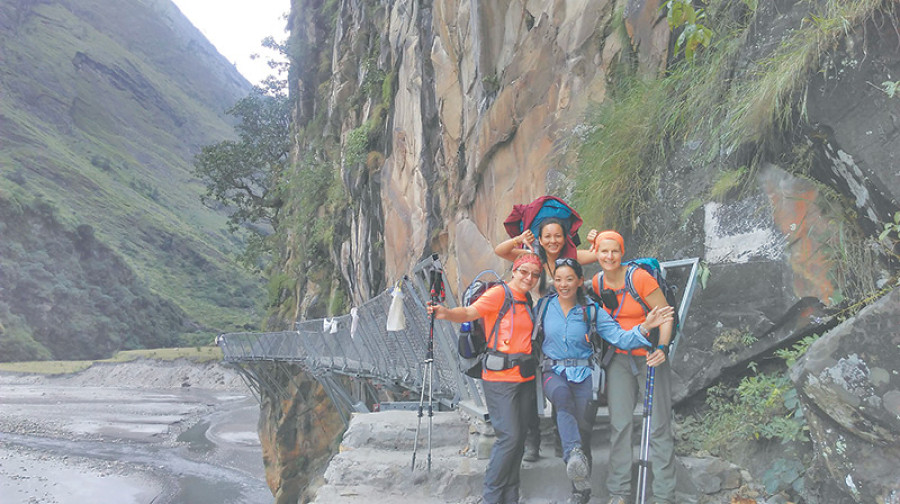 bookmark
Published at : September 4, 2017
Updated at : September 4, 2017 08:42
Pokhara
Women are showing greater interest in becoming trekking guides with rising numbers of adventure seekers hitting the trails in the Himalayan foothills.
There were very few female guides in the trekking industry until some years ago, but now their numbers have increased notably.
Babita Rai and Mina Rai from Solukhumbu are currently training to be trekking guides. "It's an easy profession and gives us an opportunity to travel across the country," said the Grade 12 students. Following the advice of friends and family members, they have come to Pokhara.
There are currently more than 150 women trekking guides in Pokhara. The growth in the number of female guides in the few past years shows that their interest in the industry is growing day by day.
Durga Rawal from Mugu has been involved in the trekking industry for the last 10 years. She started her job as a porter, and now she is a full-time guide.
Rawal has been guiding tourists on the Annapurna, Langtang, Everest and other trekking routes. She studied up to Grade 6 and speaks fluent English. "I had never imagined that my life would take a turn. I got a chance to travel. I got an opportunity to learn foreign languages and observe the lifestyles of people from all over the world," said Rawal. She has also been on a visit to the US.
Three Sisters Adventure Trekking and Women Empowerment Nepal have jointly started giving trekking guide training to women. Now many women have been encouraged to become trekking guides. Every year, about 50 women join the training programme.
The training course includes English speaking, tourism and trek related information, first aid, knowledge about cultural, historical, ecological and geographical features, emergency rescue operation, altitude sickness and other illnesses and their cures, leadership developing activities, rock climbing and ice climbing.
Lucky Chettri, a member of Three Sisters Adventure Trekking, said more than 1,500 women had received training till date.
In the past, families wouldn't allow girls to stay away from their home and travel around, but these days they are breaking this societal boundary and making their place in an occupation that was believed to be a male preserve, she said.
"This is helping to build their confidence besides making them economically independent."
Lucky and her sisters, Dikky and Nikky, started working as trekking guides. She is proud that she proved everyone wrong by showing that the job of a trekking guide could be done by women too. This has brought a positive change in the minds of people.
"The involvement of women in trekking and mountaineering has brought a ray of hope to women who believed that they couldn't do anything. It has also helped locals to use local materials effectively," she says.
"In the beginning, it was difficult to find women willing to receive training as a guide, but nowadays, we are having trouble because many women are eager to participate. Hence, we take an interview and select only a few," Rawal says.
Mann Kuwar of Palpa, Daanu Gurung of Tanahu and Laxmi Sunar of Jumla are some of the women who have completed their training from Trekking Guide. "We are very satisfied with our occupation," they said.
Deepak Adhikari, president of the Trekking Agencies' Association Nepal Western Region Chapter, said that demand for female trekking guides had been increasing. "Female guides are very committed to their work," he said.
---
---