'NRB will introduce measures to reduce lending rates to 9 to 10pc'
The Nepal Rastra Bank (NRB), the central bank, has gradually started rolling out its Monetary Policy for 2017-18, with the commencement of the new fiscal year on July 16.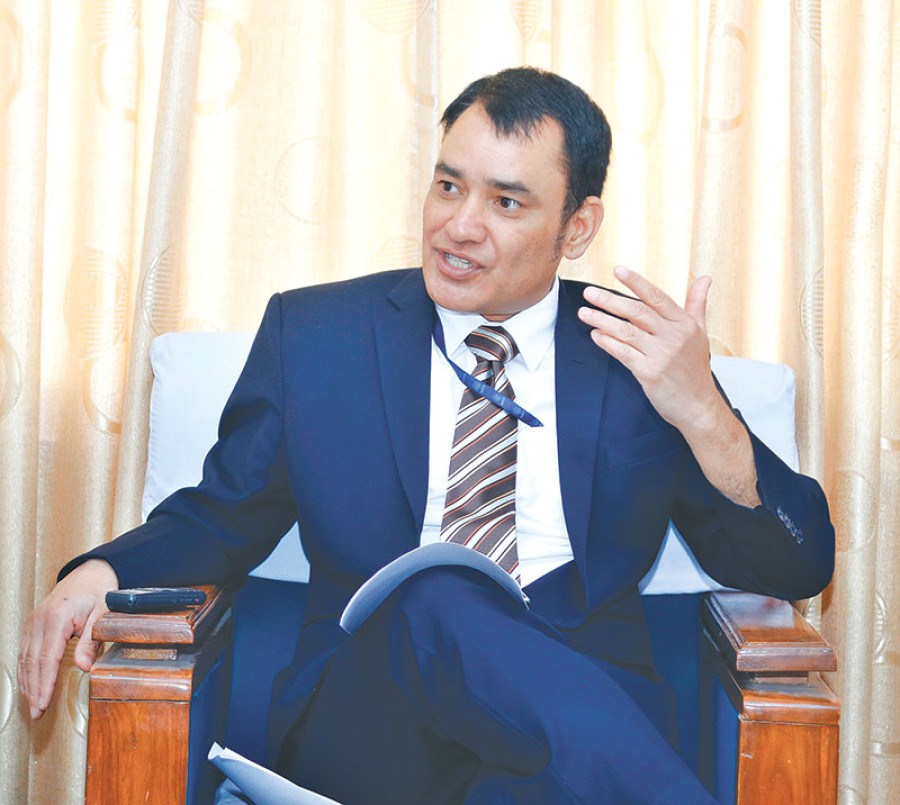 bookmark
Published at : July 24, 2017
Updated at : July 25, 2017 19:33
Kathmandu
The Nepal Rastra Bank (NRB), the central bank, has gradually started rolling out its Monetary Policy for 2017-18, with the commencement of the new fiscal year on July 16. The Policy, which was first made public on July 9, has not received scathing criticisms. Yet many have complained that it has failed to bolster the confidence of the private sector and address the problem of rising lending rates. Many also say the Policy has rewarded financial institutions that deliberately violated regulatory provisions. Rupak D Sharma of The Kathmandu Post caught up with Nara Bahadur Thapa, executive director of the Research Department of the NRB, to get answers to these concerns. Excerpts:
The new monetary policy has set a target of increasing money supply by 18 percent and private sector credit by 20 percent. The central bank believes these targets, which are similar to that of the last fiscal, will help the government attain economic growth target of 7.2 percent. How confident are you?
The new monetary policy has focused on economic growth and stability. This is because without stability economic growth cannot be sustained. In order to meet economic growth target of 7.2 percent, the Nepal Rastra Bank has set a target of expanding money supply by 18 percent in the current fiscal year, up 1 percentage point than in the last fiscal year. We have also set a target of expanding domestic credit by 27.8 percent, as against the target of 25 percent in the last fiscal year. Also, target for private sector credit growth has been fixed at 20 percent, which is the same as that of the last fiscal year. These targets were fixed on assumption the government will not maintain treasury surplus as in the last two financial years, which had hit domestic sector credit expansion. Domestic sector credit has three components. First two are credit extended by the banking sector to the private sector and public enterprises. The third is credit extended by the banking sector to the government. Banking sector provides credit to the government by purchasing credit instruments, like treasury bills and bonds, floated by the state. So, whenever there is cash surplus, the government does not feel the need to raise debt from the banking sector, which limits domestic credit expansion. Our assumption is that this will not happen this year. If our prediction turns out to be true, money supply growth and economic growth targets can be met.
Are you implying that government's credit expansion, and not credit extended to the private sector, plays a bigger role in spurring growth?
No, I didn't intend to say that. What I'm trying to say is that government's capital spending should gather pace to attract private investment. We have set private sector credit growth target of 20 percent for the current fiscal year. This amount is more than adequate to stimulate economic activities. Along with this, capital spending should also go up because underutilisation of available public funds tends to stifle growth.
But public spending, especially capital spending, has historically remained low in Nepal, isn't it?
It appears this trend will be bucked this year because local bodies, where local elections have taken place, are all set to get Rs225 billion, or 17.6 percent of the annual budget, in the current fiscal. Also, the government has pledged to accelerate spending in big-ticket projects such as Kathmandu-Tarai expressway, Pokhara International Airport and other national pride projects. Also, the flow of foreign direct investment has lately been increasing. This will also support growth. So, economic activities are expected to gather pace this fiscal year even if private investment remains subdued.
In fact, private sector credit growth and economic growth do not have any relation in Nepal. For instance, private sector credit growth stood at 19.4 percent in 2014-15 and 23.3 percent in 2015-16. In those years, nominal economic growth rate stood at 8.4 percent and 5.5 percent, respectively. In 2016-17, private sector credit growth stood at 21.8 percent, which is not very different from previous two years, but nominal economic growth rate hovered around 15.7 percent. Doesn't these data show disconnection between private sector credit growth and economic growth?
A number of factors contributes to economic growth. Private sector investment is only one of them. The others are government spending, foreign direct investment and structural reforms. Private sector borrowing has gone up in the last few years. Yet low capital spending of the government has been preventing the economy from reaching its potential. Low capital spending was the result of the government's failure to introduce structural reforms. This happened because there were bottlenecks in the economy such as shortage of electricity which resulted in power cuts and headwinds such as strikes and disruption in supply of raw materials.
Let's go back to the content of the new monetary policy. One of the purposes of the monetary policy is to ensure price stability. But inflation target of 7 percent set by the central bank for the next fiscal year contradicts findings of a survey, which showed the country cannot tolerate inflation of over 6.4 percent. What is your take on the issue?
A study on optimal rate of inflation conducted by the central bank showed that inflation threshold should not exceed 6.4 percent. This means inflation should be contained within that limit to ensure growth is not inhibited. Yet we have fixed inflation target of 7 percent for this fiscal year because inflation base fell to below 5 percent in the last fiscal year. This low price base is expected to create some problems going forward. Also, international commodity prices are expected to go up this year, building inflationary pressure. Further, India is also expecting prices to heat up this year, which will affect prices in Nepal. Moreover, monsoon in the current fiscal is not expected to be as good as in the last fiscal. This is expected to affect agricultural production and raise food prices. All these factors were taken into account while fixing the inflation target.
India has fixed inflation target of 4 percent with upper tolerance level of 6 percent and lower limit of 2 percent. But Nepal's inflation target is 1 percentage point more than India's upper tolerance level of 6 percent. Won't the wider inflation gap make the same consumer good expensive in Nepal than in India? Won't this lead to real appreciation of Nepali rupee and erode the country's competitiveness?
Nepali currency's peg to the Indian rupee serves as an anchor for monetary policy. This fixed exchange rate system has helped us transfer low prices from India to Nepal because a big chunk of our imports come from India. But to bring in goods from India, Nepal has to bear transport and insurance costs, among others. This automatically raises prices in Nepal. But it is our belief that price differential of 1 percentage point will not critically erode Nepal's competitiveness, including export competitiveness, and hit economic growth. However, the inflation difference should not exceed 1 percentage point.
Another area of focus of monetary policy is fiscal stability. But the private sector has complained that the central bank has failed to address the issue of lending rates, which have exceeded 18 percent in some cases. What is your take on the issue?
Two largest umbrella bodies of the private sector, the Federation of Nepalese Chambers of Commerce and Industry, and Confederation of Nepalese Industries, have complained about higher interest rates. To normalise interest rates the central bank has introduced several policy measures. First is the hike in priority sector lending. From this fiscal year onwards, banks and financial institutions must extend 25 percent of the total loan to priority sectors. The previous ceiling was 20 percent. This provision will compel banks and financial institutions to expand credit to the productive sector at cheaper rates. We have also directed banks and financial institutions to extend certain percent of credit to certain sectors. As per this plan, 10 percent of the total credit should go to agricultural sector, 5 percent to hydroelectric sector, another 5 percent to tourism and the remaining 5 percent to other priority sectors. Also, the funding pool for refinancing facility has been expanded by almost 100 percent to Rs20 billion from Rs10.8 billion. Interest rates on refinancing facility are lower than general lending rates, as they are subsidised. This means we are discouraging credit expansion for speculative purposes, while supporting borrowers who intend to invest in productive sectors. To discourage speculative investments, we have also reduced loan-to-value ratio for real estate investment in the Kathmandu Valley to 40 percent of the total value of the asset. The previous ceiling was 50 percent. The savings generated from this new provision can be extended to the productive sector. Another measure introduced to stabilise interest rate is reduction in share of institutional deposit of commercial banks to 45 percent of the total deposit from 50 percent. This will prevent banks from engaging in cutthroat completion to secure institutional deposits at higher interest rates. Savings made from this can be passed on to borrowers. Having said this, the central bank has taken serious note of concerns expressed by the private sector regarding higher lending rates. We believe lending rates will come down once the ongoing cycle of higher rates completes. If that does not happen we will soon introduce policies to reduce them to 9 to 10 percent.
You just said the central bank has made it mandatory for banks and financial institutions to extend certain portion of loans to priority sectors. This directed lending model became obsolete after countries started liberalising their economies in 1980s. Why rely on this outdated model now?
No, we are not introducing the regime of financial repression. The only reason why we introduced this measure was to link the financial system with the national economy. Until this happens, our financial system will not be stable and the national economy will not be robust. Over the years, financial sector has grown tremendously, but the productive sector has not grown in a desired manner. The objective of this measure is to boost domestic production, create jobs, bridge widening trade deficit and curb labour flight. By the way, Nepal is not alone in this endeavour. India, for instance, has directed banks to extend at least 40 percent of total credit to the priority sector. In Sri Lanka, the regulatory requirement is 45 percent.
But won't this provision make banking institutions less efficient and competitive, and discourage them from becoming innovative? Japan, which had adopted directed lending policy after the Second World War, faced this problem, isn't it?
Without this provision, more and more credit will be used for speculative purpose. Speculative investors place their bets on sectors like real-estate assuming their prices will continue to rise. But what if prices stagnate or start falling. This will prompt borrowers to default on their loan payments. So, credit obtained for speculative purpose only creates bubbles in the economy, posing a big threat to financial stability.
Talking about real-estate, the monetary policy has reduced loan-to-value ratio for real-estate lending in the Kathmandu Valley to 40 percent of the total value of the asset. This basically means banks will only finance 40 percent of credit required to purchase real-estate. Won't this hit the construction sector, which creates lots of jobs?
The central bank wants banks and financial institutions to operate beyond the Valley as well. Financial resources in Nepal are concentrated in the Valley. For example, the Valley accounts for 69 percent of the total deposit collection in the country, while 53 percent of credit is extended in the Valley. We want financial resources to be mobilised in other parts of the country as well to promote inclusive and sustained economic growth. This will only reduce poverty and create jobs. Policymakers should also think along this line because the local bodies that were recently created are new growth centres. So, why not decentralise economic growth as well.
Financial resources are concentrated in the Valley and other urban centres because of lack of presence of banking institutions in many rural parts, isn't it?
The government has just created 744 local bodies. So far, commercial banks have expanded their footprint to only 297 local units, whereas the government wants presence of at least one commercial bank in every local unit. The central bank has already directed banks to fulfil this requirement. Since then, commercial banks have expressed commitment to open bank branches in additional 222 local units. This means 225 local units will be left without a commercial bank. To encourage banks to expand their operation to these units, the central bank is offering interest-free loans of Rs10 million to each branch. Also, interest-free loan of up to Rs10 million will be provided to banks and financial institutions that rope in 2,500 new depositors in village councils. If banks fail to expand their presence in rural areas despite these incentives, we will have to take action because they have been directed to move to rural areas.
Coming back to the topic of financial stability, the monetary policy has revamped the interest rate corridor to stabilise interest rates. Will the new corridor be able to achieve its goal or disappoint many as in the last fiscal year when interest rates fluctuated wildly?
When we introduced the corridor for the first time in the last fiscal year, we had used floating interest to calculate repo and reverse repo rates. We have now fixed the repo and reverse repo rates at 5 percent and 3 percent, respectively. So, the corridor now has three fixed rates ranging from 7 percent in the higher end to 5 percent in the middle and 3 percent in the lower end. This means all interest rates should move between 3 percent and 7 percent in the current fiscal year. Also, we expect short-term interest rates to hover around 5 percent. This, we hope, will enable savings deposit rate to float in the range of 5 percent, encouraging retail depositors to park funds in banks. So far, higher interest rates are only being offered to institutional depositors like Employees Provident Fund, Citizen Investment Trust and insurance companies. Because of this, depositors are reaching out to cooperatives to get better returns. This is helping shadow banking industry to grow. This should end because cooperatives are not well regulated and depositors can lose money.
But for the interest rate corridor to function properly, the central bank should float adequate instruments to mop up or inject liquidity. This didn't happen in the last fiscal year, which made the corridor defunct. Will this change in this fiscal year?
We did introduce adequate instruments to mop up and inject liquidity in the first half of the last fiscal year. But after the second half, commercial banks started breaching the regulatory limit on lending, or credit to core capital-cum-deposit ratio of 80 percent. This happened because they were heavily dependent on institutional deposits, while many banks took excessive risk while extending loans. At that time, overdraft loans of commercial banks had reached 18 percent of credit portfolio. Also, there was big exposure to hire-purchase sector as well. In that abnormal situation, we couldn't use the corridor because the corridor was introduced to manage liquidity in normal situation.
Despite knowing some of the banks were deliberately breaching the regulatory lending requirement, the central bank gave them relaxation on calculation of credit to core capital-cum-deposit ratio. This relaxation, which was in place till mid-July, has now been extended till mid-October. Why? Won't this kind of reward to rule breakers promote moral hazard?
Yes, we have been charged of rewarding those who failed to meet the regulatory requirement. But we refute those charges because the situation was scary at that time. At such juncture, regulatory action would have destabilised the market. We don't want to destabilise the system at the moment because all commercial banks are systemically important for the time being as they are resorting to various means to raise their paid-up capital to Rs8 billion. This is why the relaxation was offered for a limited time. Most of the banks that had breached the lending limit have now made amendments; and their credit exposure is within regulatory limit. However, two banks are yet to bring their CCD ratio within the regulatory limit. That's why we extended the relaxation till mid-October. This measure, we hope, has prevented interest rate war from taking place, which would have posed threat to the financial sector.
Can you name the two banks?
No, I cannot disclose their names. This is because all commercial banks are systemically important for us for the time being.
Lastly, there are talks about abolishing CCD ratio. Is it true?
No, that is not true. CCD ratio, which was introduced in 2009-10, has served Nepal well. The CCD ratio in Nepal is the liquidity ratio and this has helped us to maintain financial stability. So, we will give continuity to this system for some years until we introduce liquidity coverage ratio and net stable funding ratio as per the provision of Basel III. We are currently laying the groundwork to introduce liquidity coverage ratio and net stable funding ratio.
---