Farmed fish dying due to mystery disease
Nearly 50,000 fish have perished in the past one month in different parts of Bardia due to a mystery disease.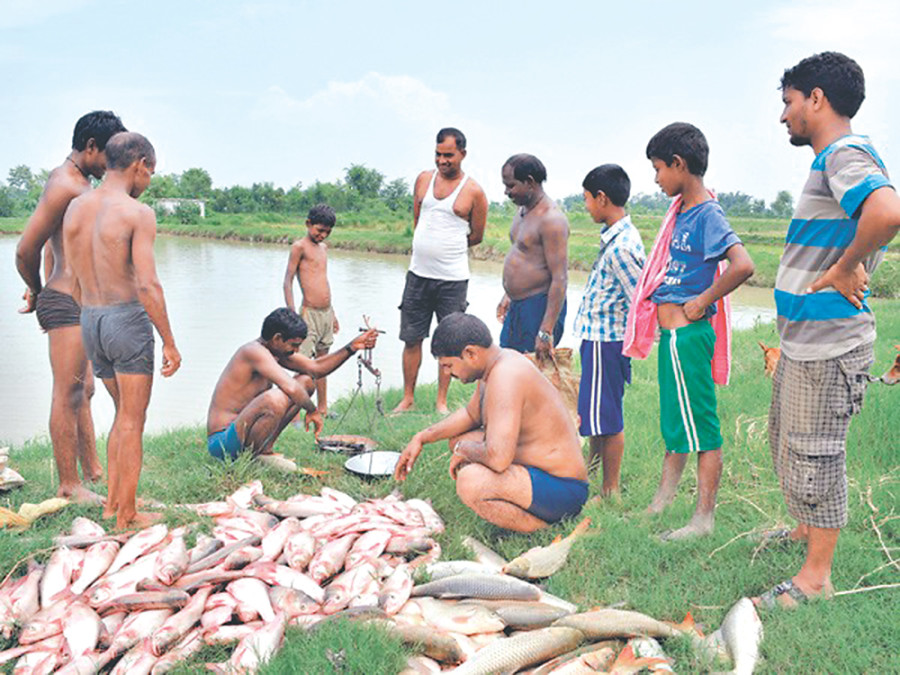 bookmark
Published at : September 10, 2016
Updated at : September 10, 2016 09:15
Bardia
Nearly 50,000 fish have perished in the past one month in different parts of Bardia due to a mystery disease.
Most of the deaths have been reported from Sorahawa and Basgadi which are known as fish pocket areas. Fish farmers said that around 1,000 fish farmed in ponds and lakes were dying daily.
Fish ponds are filling up with dead fish and farmers have not been able to identify the disease that may cause their ruin. More than 20,000 fish raised on 75 hectares in Bardia Lake have died.
Pushpa Bhusal of Sorahawa has been rearing fish in the lake. He has leased the lake from the district development committee to rear fish. Local fish farmer Lallu Ram Tharu said he was losing 200 to 300 fish daily.
The District Agriculture Office has started to spray medicines on the ponds and lakes to control the disease. There are no labs in the Mid-Western Region to identify the disease, said fisheries development officer Ram Awatar Harijan.
He said that the fish could have died due to low oxygen levels in the water and lack of nutrition. "The agriculture office has recommended spraying herbicides."
The office has been distributing herbicides to fish farmers free of cost. A team of technicians from Kathmandu had visited the area and they have suggested to the farmers to apply medicines on their ponds.
"However, the fish are still dying," said Ramnath Tharu, a local farmer. "The disease has been witnessed mostly in silver carp and naini species," he said.
Farmers said that red spots were also seen in other fish species. Three weeks ago, agro technicians had suspected ammonia poisoning, one of the biggest killers of aquarium fish, as being responsible for the deaths; but it has not been confirmed.
"A research team has been studying the affected areas," said senior agriculture officer Parshu Ram Raut. Bardia produces 1,500 tonnes of fish and ships fish worth Rs350 million annually to other districts. Farmers in Bardia became attracted to rearing fish as it provided double the income from growing crops.
According to official statistics, commercial fish farming started to boom in the district after the government launched a fish mission a decade ago.
Under the programme, the government provides Rs100,000 as a subsidy to dig a pond on a hectare of land. Sorahawa, which is a major fish pocket area in the district, has 270 ponds covering 155 hectares. Fish farming is also conducted in Bardia Lake which is spread over 70 hectares. Currently, commercial fish farming is done on 380 hectares in the district.
---
---