Low price hits poultry farmers
Sujan Adhikari of Tori Khet, Bharatpur, has been involved in poultry farming for the past 14 years.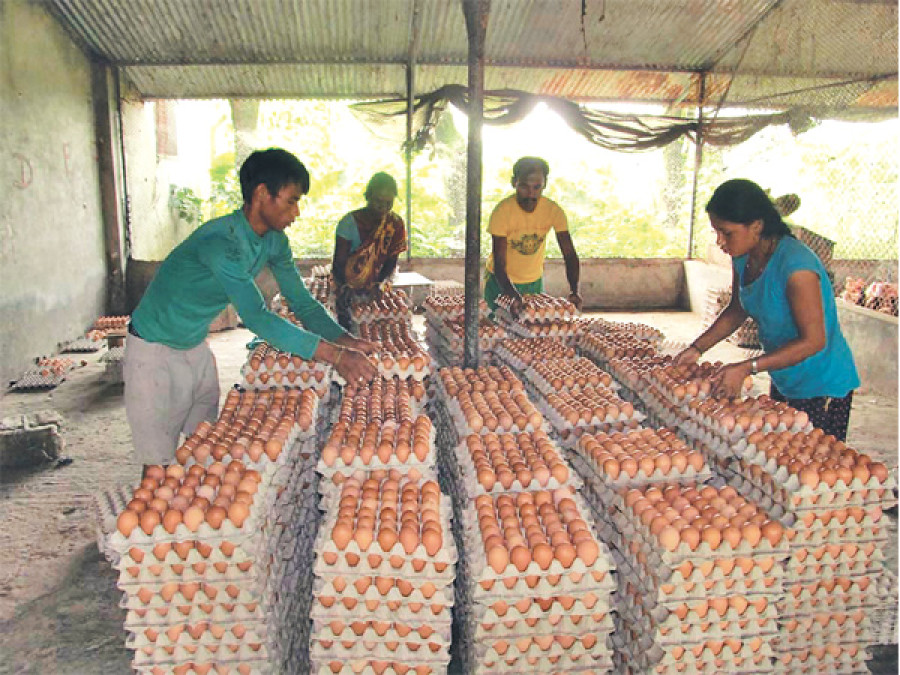 bookmark
Published at : September 27, 2015
Chitwan
Sujan Adhikari of Tori Khet, Bharatpur, has been involved in poultry farming for the past 14 years. Initially, his farm had 4,500 layers chickens, which has now reduced to 1,700.
"There is no point in increasing the number of chickens," Adhikari said.
"It's difficult to recover investment."
He said the business, which was badly affected by the April 25 earthquake, was yet to recover. "I had started expecting a good rate of return. But things do not look good now," he said, adding it has become difficult for him to even feed the chicken. Adhikari has investment of Rs1.6 million.
Other poultry farmers share a similar story. Indra Lal Shrestha has 14,000 chickens in two separate farms. He has invested over Rs20 million. "The production cost stands at Rs9 per egg. However, the middlemen offer us just Rs6.5 per unit," he said.
He said both the consumers and farmers are at loss due to the middlemen. While the farmers do not get the right price, consumers pay high. Middlemen take all the profits. Shrestha farm produces 87 cartons of eggs every day. "The suppliers take eggs with us at cheaper rates and sell at higher rates," Shrestha said, adding the involvement of middlemen should be discouraged to create a win-win situation for consumers as well as producers. The Tarai unrest has added to the woes of the poultry farmers. Not only the supply of eggs to the markets has been affected, the farmers are facing a shortage of feed.
"Although the demand is high, the traders are reluctant to pay us more," Krishna Pradhan, proprietor of Surya Binayak Poultry Firm, said. He said the unavailability of feed has worsened the situation further. "My stocks are enough for a week," he said, adding most of the raw materials required to prepare the chicken feed come from India.
According to the Nepal Egg Manufacturers Association, if the same situation continues, the famers involved in the business might fold up soon.
"The government and stakeholders concerned should be serious towards the situation," Shivaram KC, president of the association, said.
---