Fake Student Union (FSU)
Tribhuvan University (TU) plans to hold the Free Student Union (FSU) elections on February 25.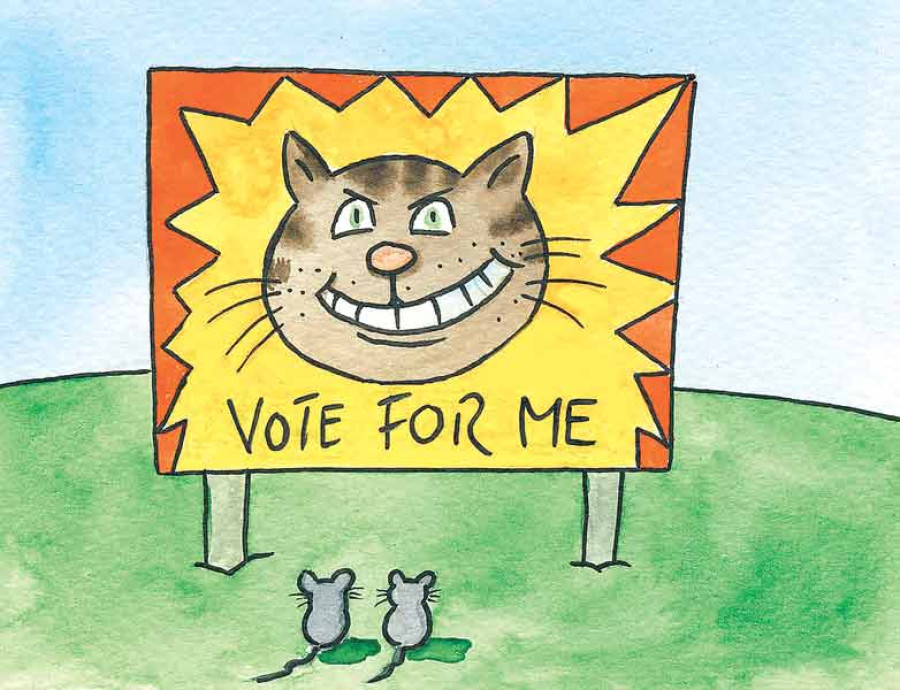 bookmark
Published at : February 4, 2017
Updated at : February 10, 2017 17:42
Tribhuvan University (TU) plans to hold the Free Student Union (FSU) elections on February 25. It has been eight years since the last FSU election and we never know if this one will also be called off at the last moment when one of the student unions of our major political parties decides to do some dhunga-muda and padlock TU offices to show their so-called strength.
If you are studying at any of the TU-affiliated colleges, please be advised that it is better not to be seen around the campus vicinity until the elections are over. If you need to go then get ready to be swarmed by cadres of student unions of our major political parties asking for votes and promising you everything. Just tell the so-called student netas that you will vote for all of them and accept the offer of free chiya every time they meet you for their vote-begging nataks.
And come election time, our student unions will hire mundrey gundas and battle it out inside the campus premises using rods, khukuris and some will even try to use pistols to scare each other. But of course, first you need the notes to win the votes and also use muscle power to disrupt the voting process if you figure out that you are going to lose anyway.
Our student unions are now busy sending out 'voluntary donation' letters to businesses across the country. It seems that when it comes to fundraising, our political parties and their sister wings only know how to extort from the byaparis instead of asking common folks to help them. And our byaparis have no choice but to fudge their books, evade taxes so that they can make a profit after paying off mundreys and politicians. And if you are engaged in illegal activities, then put aside some chiya kharcha for our cops as well.
This time, TU has announced that candidates who are older than 28 years cannot contest the elections and some of our student unions are not happy about it. After all, most of our student union netas are folks in their thirties and forties while the real students at TU are below the age of 24. Maybe, our student leaders just love TU and want to continue to do triple Masters or complete a decade in the same programme because he or she fails to pass the exams.
Even the UN wallahs tell us that youth are people from the age of 15 to 24. But here in this land, you can still be a youth leader of any political party until the day you become a mantri. Yes, 50-years old nautanki netas still go around calling themselves youth leader. It seems that 40 is the new 20, in this land of ours!
Our student unions are used by our political parties for their protest programmes. Most of the protests during price hikes of essential items are organised by our student unions. Our student netas and their cadres may number less than a dozen but when you add mundreys for hire then the protest gets rowdy, and you burn tyres and throw stones at the police and do whatever it takes to be on the news.
Our student leaders get to be mantris in a decade or two if they continue to be in the good books of the old fogies who run the parties. It's about time we had age limit for our politicians as well. Yes, you have to be 25 to contest general elections in this land but why not have a cut-off age at 65? But of course, the House is not going to pass any bill that prevents our current batch of thieves from enjoying the loot.
Our incompetent government tells us that we will have local elections soon. It's been more than two decades since we had local representatives in our wards and municipalities. I think it would be better if our politicians sorted out the province natak first instead of just wasting billions of Rupees on another election. We all know that the banda season will begin soon once the government finalises the dates for the local elections.
Let us continue to enjoy the dhulo mulo on the streets of Kathmandu until the Nepali New Year and then we can all stay home and watch our political parties shut down the country for their own self interest. Why not hold the local, state and general elections at the same time? Yes, please save us billions of Rupees and it will be easier for our fake-VAT bill byaparies to set aside their voluntary contributions as well. We all know that our lives will not get better even once we are done with the 'province natak'. We will pay more taxes while our politicians will use the taxes to fund their own perks and benefits.
Yes, we need student unions in our campuses but they should work together with the administration to provide better facilities and resources for the students. But our student unions and their netas only know how to shut down the campuses, padlock the offices of the administration and use their time to practice giving speeches to fool the students so that one day, they can become netas in the national scene and continue to fool us all with their hawadari speeches and nautanki nataks.
---
---