Meet the plant ladies of Kathmandu
Collecting and growing indoor plants is not a new culture in Kathmandu, but a few women are taking it to the next level.

Rekha KC, 54, a homemaker and avid plant collector, tending to her plants. Elite Joshi/TKP
bookmark
Published at : March 12, 2022
Updated at : March 12, 2022 12:13
Kathmandu
The sight of flower buds blooming and young green leaves on plants never fail to bring a smile on Rekha KC's face. An avid plant lover, KC has varieties of plants, orchids, spider plants, snake plants, syngonium, and cactuses on the balcony of her house in Dhobighat, Lalitpur. Some of the plants are hung in pots, while some rest on the ground housed in painted bottles.
"To witness a flora's growth from a small leaf to a full-grown plant gives a greater sense of fulfilment to me. These are not plants. They are my babies and my life's most prized possessions," says KC, 54, a homemaker and an avid planter who has plants all over her house.
KC is just one of the many women in Kathmandu who make up the city's growing number of plant ladies, a term given to women who take their passion for indoor plants seriously.
Over the years, as more buildings crop up in Kathmandu, open green spaces have become rarer, and many who love greenery and gardening plants have resorted to creating their very own indoor garden.
Although there is no concrete data on the number of plant growers in the city, enthusiasts who spoke with the Post say that the community is mostly led by women whose numbers are increasing daily.
According to botanist Chandrakala Thakur, the culture of growing indoor plants has always existed in Nepal. But the culture, Thakur admits, has gotten much more popular in the last few years.
"From purifying the air to acting as a stress reliever, indoor plants have many benefits, and more people are now aware of these and thus getting into indoor plants," says Thakur, who is also a scientific officer at Plant Research Centre.
KC agrees with Thakur. In 2001, when KC first started collecting plants, Kathmandu wasn't the concrete jungle that it is today, and she knew of only a few women who planted floras in their homes and took great care of them.
"In those days, one of the most common indoor plants people had was money plant. People believed that having the plant in their homes would bring financial gains. Only a very few people had plants other than the money plant," says KC.
But now, things have changed a lot, and indoor plants are not just limited to one species.
Inside KC's two-storey house, there are more than 300 plants, and they are everywhere, on the dining table, on cabinets, in the bathroom.
"My mother is truly a plant lady. Sometimes, I think she loves her plants more than she loves us," says a smiling Reeti KC.
The scene is similar in Bina Shrestha's house as well. Shrestha has over 250 plants in her home in Bhaisepati, and some of her plants are imported from Indonesia, India, and several European countries. She has gone a step further with her passion for indoor plants and built a small greenhouse for her plants.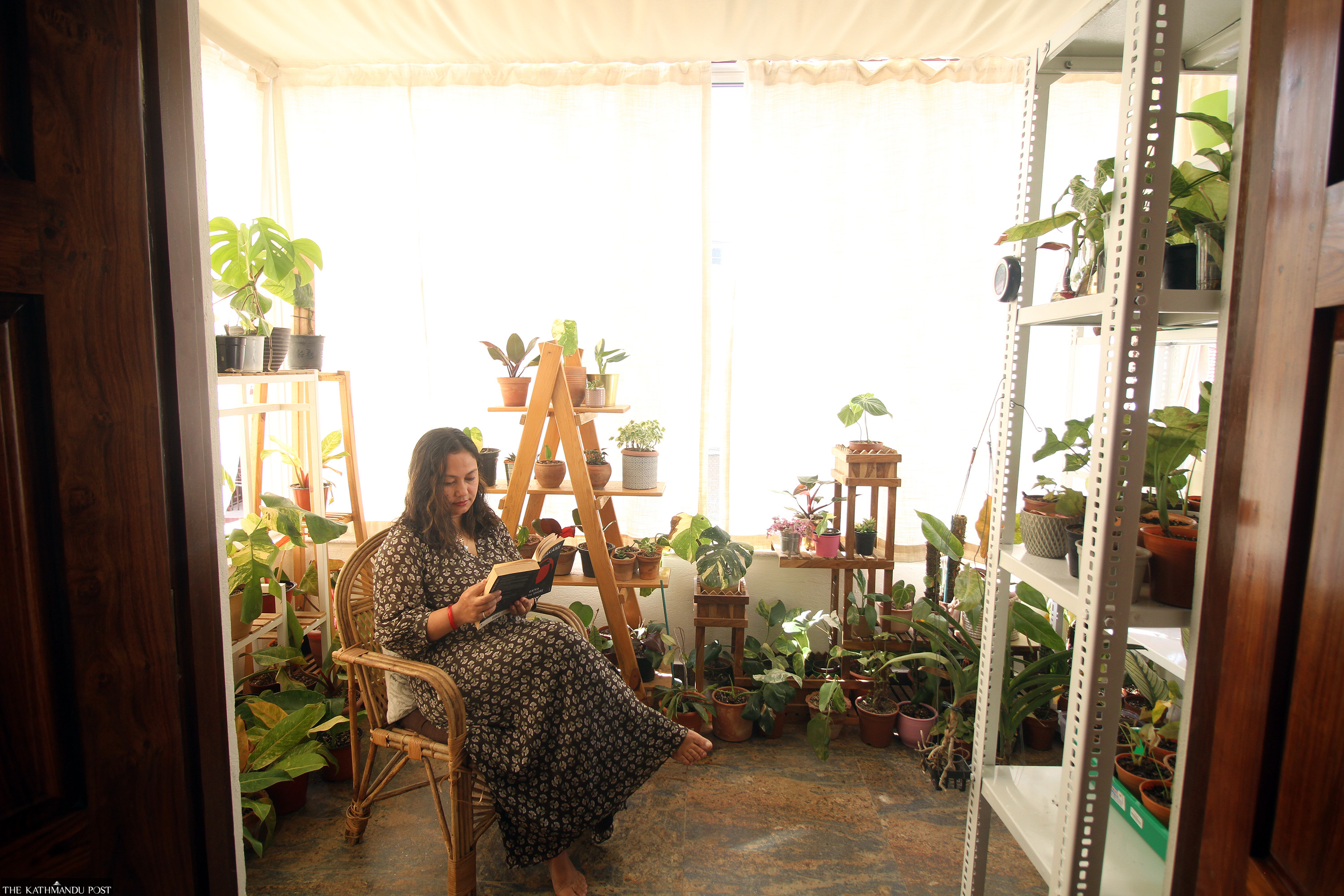 Bina Shrestha, one of the most popular plant collectors in the Valley, has built a greenhouse for her plants. Beeju Maharjan/TKP
"The major reason behind creating the greenhouse was to have more control over temperature and humidity so that my plants can grow without having to face any difficulties," says Shrestha, who's one of the most popular plant collectors in Kathmandu's indoor plant growers' community.
It was 2017 when Shrestha, 44, also an entrepreneur, started taking care of her plants.
"I started this journey in the same way many did. When I bought my first indoor plant, I had no clue that I would get completely into the culture. Five years later, here I am with over 250 indoor plants," says Shrestha.
What got Shrestha hooked into collecting indoor plants, she says, is the therapeutic power of tending to plants.
"In 2017, I was going through one of the worst phases of my life. I was depressed and often anxious. I spent my days just staying home doing nothing," says Shrestha. "One day when I visited a nearby nursery, I bought pelia, an indoor plant and started taking care of it, and I really started enjoying tending to the plants and found the whole process very calming. Since then, I have bought hundreds of plants."
It was last June when 23-year-old Sweta Adhikari first began collecting plants. Like Shrestha, Adhikari had no clue that she would find tending to plants therapeutic.
"Back then, I was a short-tempered person. But tending to plants every day has made me a calmer person," says Adhikari, who holds a degree in civil engineering and documents her plant journey through her Instagram account, Plant Aunty.
In her tiny bedroom in Kalanki, Adhikari has collected more than 50 plants. Some of the plants she has are neon pothos, strings of rubies, peace lily, and spider plants.
"After a long and tiring day, it feels great to come back to my room and see my plants. They make me calmer and have become my source of happiness," says a gushing Adhikari.
But with more people developing an interest in plants, there has also been an equal rise in plant lovers getting addicted to amassing plants. Collectors the Post spoke to say that some go beyond their means just to collect exotic and expensive plants.
"There's a lot of unhealthy competition in Kathmandu's plant community," says Shrestha.
Some like Shrestha, who documents her love for plants on her Instagram page, Urban Jungle Home, have even turned their passion into a business.
"I began by selling a few extra plants that I had. Given that the prices of plants have gone up exponentially, I thought the revenue I generate from selling my extra plants would allow me to support my passion," shares Shrestha.
But as more people started buying plants from her, Shrestha says that she became so obsessed with the sales figures that her passion for plants began stressing her out.
"I kept on buying more and more. Some plants even died. I was so fixated with selling more, and that was all I ever thought," says Shrestha.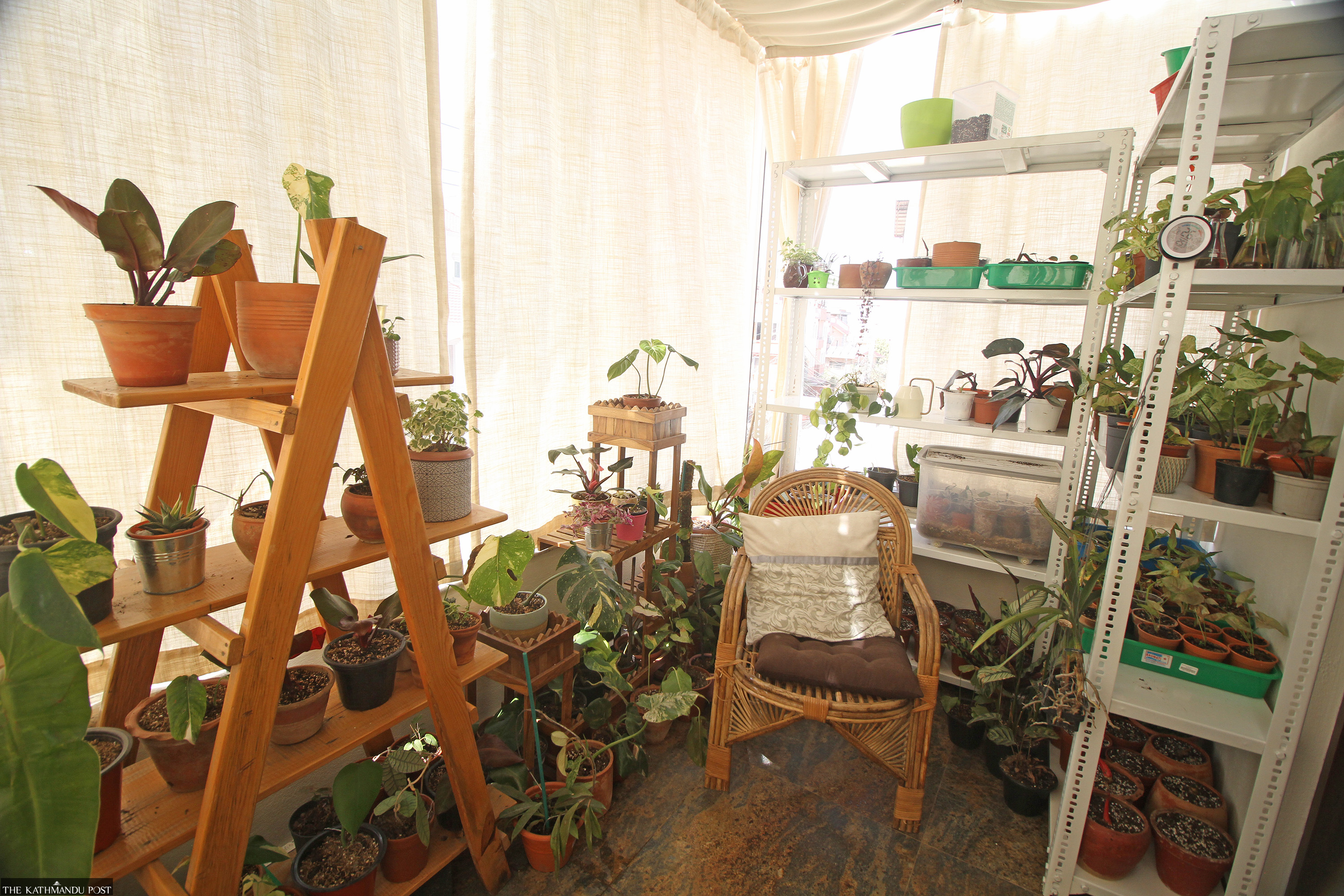 Bina Shrestha has over 250 plants in her home in Bhaisepati, and some of her plants are imported from Indonesia, India, and several European countries Beeju Maharjan/TKP
Two years later, after a lot of self-reflection, Shrestha says she has found a good balance. Even though she sells almost 50 to 75 plants every month through her Instagram page, the joy of taking care of plants means more than anything else to her.
"Selling plants isn't my primary goal anymore; it is secondary and will always be. I am more interested in taking care of plants. It's my passion and has helped me to grow positively," says Shrestha, her eyes twinkling with joy.
While tending to plants is a rewarding experience, plant collectors and enthusiasts who spoke to the Post say that being a plant lady requires hard work and dedication.
Each day, Adhikari spends around 45 minutes looking after her plants. As soon as the clock strikes 10, KC starts inspecting her plants and tending to them. The process, she says, takes around four hours daily. Among the three plant ladies the Post spoke to, Shrestha spends the most amount of time tending to plants.
"I dedicate six to seven hours every day to take care of my plants," says Shrestha.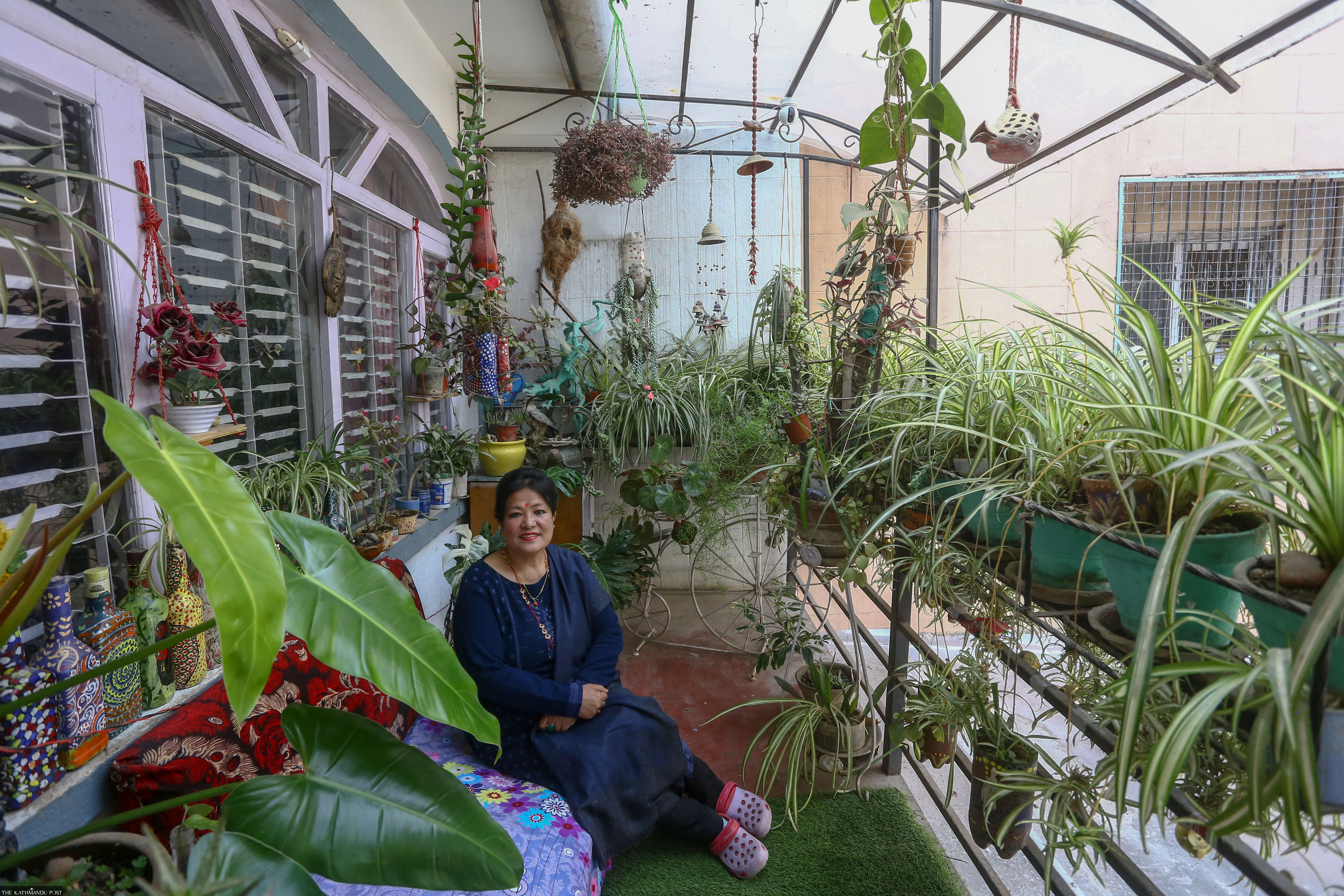 Inside Rekha KC's two-storey house, there are more than 300 plants, and they are everywhere, on the dining table, on cabinets, in the bathroom. Elite Joshi/TKP
Regardless of all the challenges of taking care of so many plants, the three plant collectors the Post spoke to say that their love for plants makes all the hard work worth it.
"My favourite plant is syngonium. But I love all of my plants. I am so protective of them that I have fought with my friends, family, and my visitors, who have touched them and tried to destroy the leaves," says KC. "I mean, as a parent, you always fight for your babies and want the best for them, right?"
---
---