Live music is all the rage in Butwal
Besides food and beverages, restaurants are now serving live music—as per popular demand.

Photo courtesy: Infinity band Facebook page
bookmark
Published at : September 11, 2019
Updated at : September 11, 2019 07:43
Rupandehi
On most Friday evenings, Ishwor Malla visits Lime and Lemon, a cafe in Butwal. There, he likes to unwind with his friends while listening to the band performing live.
"It's always relaxing to meet up with friends, but the live music is what takes me to the cafe every week," he says.
Malla is a representative of the many young people in Butwal, who regularly head to cafes. These young people are bringing in a cafe culture in the area—which has lately become a part of the youth's lifestyle.
Astik Koirala, of Manigram, too is a regular at these cafes. "I study all day, and in the evenings, a cafe becomes a place for me to take a break from studies and socialise with friends," he says.
Sagar Poudel, the owner of Lime and Lemon, started live band performances in his cafe from 2014. In the beginning, he hadn't planned to accommodate live music at the cafe but when he realised that his customers were more attracted to live band performances than the variety of food items that the cafe offered, he had to make quick changes to his plans.
"More than 100 customers visit the cafe on the weekends, and live music is definitely a catalyst for the growing numbers," says Poudel. "Of course, the service should also be good."
Nilkantha Adhikari, the owner of Galaxy Cafe, agrees with Poudel, who says he started organising live musical performances in his cafe following the suggestions of his customers.
"Our customers range from 18-to-40 years old and live music has definitely helped the business," says Adhikari. "It's the most popular trend among restaurants and customers."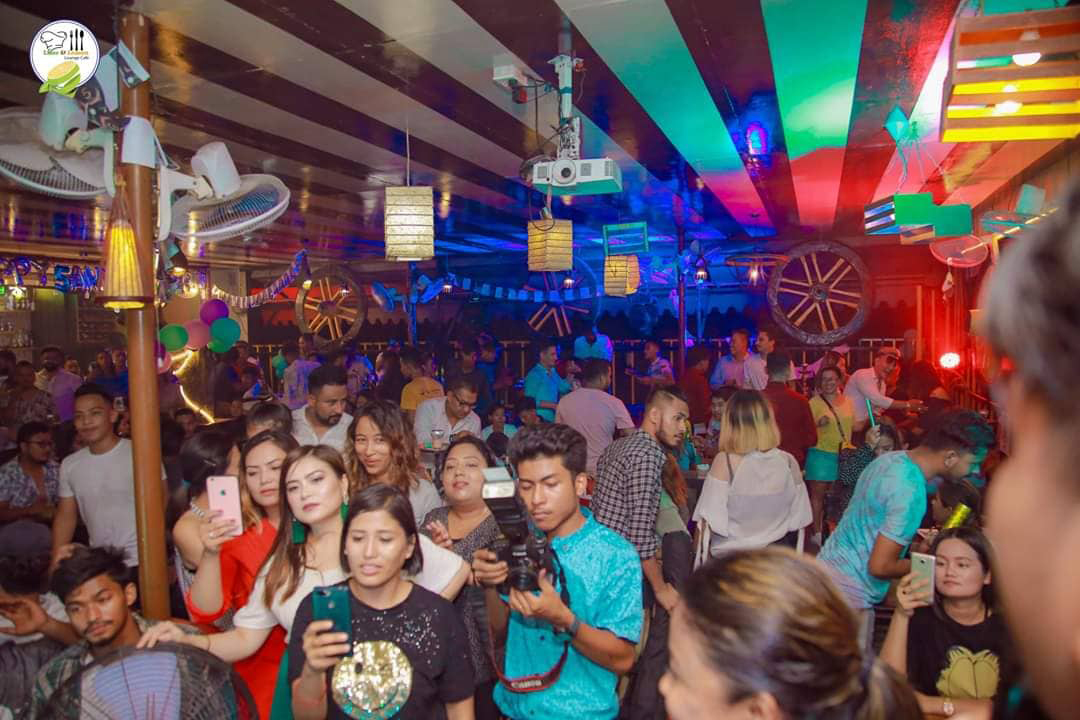 Photo courtesy: Lime and Lemon Facebook page
Due to the rising popularity, these restaurants which host local bands in their space have also started inviting other famous bands from the capital and surrounding districts.
The popularity of cafe culture has contributed to increasing the popularity of local bands, say members of local bands. With the opportunity to play in cafes and restaurants, new bands have been forming and old bands are also reconciling and resurfacing. As they get paid for such gigs, they say that they have been motivated and encouraged.
"It has increased our source of income but since the number of new bands is also increasing the competition has been tough," says Vishal Atreya, the vocalist of Naad band, a local band from Butwal.
Ankita Pun and her band members also spend their evenings playing in the cafes, which has become a part-time job.
"Performing in restaurants has provided me with an extra income and also has made me popular among the local people," she says. "And it doesn't even feel like work because I'm having fun with my bandmates whenever performing."
"I like singing and playing musical instruments. It has provided me with an opportunity to earn money and become a known face among the local people. Cafe culture has attracted many people," says Pun.
"If this trend keeps rising, it can be a good source for us to sustain while pursuing our music," says Atreya.
Concept, another popular restaurant in Butwal, has taken up a notch further and by organising DJ sessions and dance parties. Similarly, taking a cue from the growing demand of such spaces, and a variety of tastes of their customers, Ojas Lounge and Club have live music for those who enjoy watching bands play their favourite music, a dancing space for those who want to dance and acoustic music for those who prefer a more soulful environment, says the owner Suman Kharel.
"From teenagers to middle-aged people, everyone prefers a musical environment," says Kharel. "We just tapped into everyone's interests."
This trend has opened up new avenues for restaurant owners too. Along with good food and service, live music has become an important aspect of the restaurant business. It has become commonplace for restaurant owners to design or redesign their space in order to accommodate live music performances.
Nowadays live music has slowly become an essential part of the cafes and restaurants operating in the district. The new businessmen entering the industry design their restaurants to accommodate live band performances.
The trend of live music is relatively new in Butwal but with such positive response from the young crowd, local bands and restaurant owners are hopeful that the trend is here to stay.
---
---