Poverty keeps children in Mugu out of school
Around 60 percent of children in Sayakhola, Kotilla and Mundu of Chhayanathrara Municipality are out of the school system.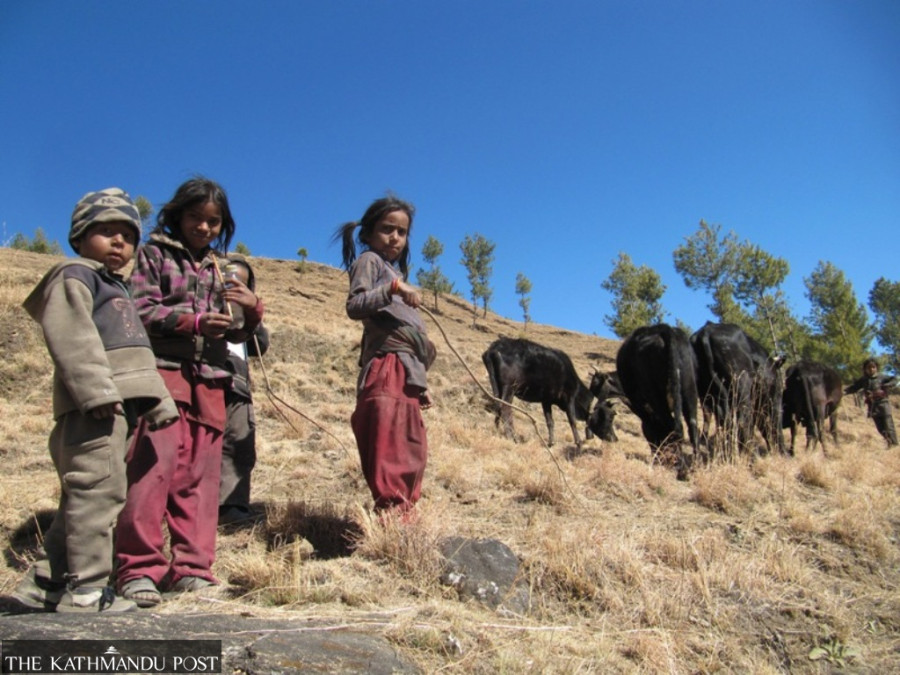 There are around 3,000 children of school-going age in Mugu who are deprived of education, according to data. Post Photo
bookmark
Published at : December 27, 2021
Updated at : December 27, 2021 08:15
Mugu
Sarjan Rawal of Chhayanathrara Municipality-9 in Mugu is a third grader at Nepal Rastriya Primary School in Karkibada but he hardly has time to attend classes. Household duties bind the eight-year-old to the house and he can rarely manage time to go to school or study at home.
Sarjan's family rears cows and goats for a living and Sarjan, the second among three siblings, is expected to lend a hand.
"I have a lot of work at home and never get time to do homework. I sometimes herd cows and goats and collect fodder for them at a nearby forest," said the boy. "I do okay at school. But if I have more time and attend classes regularly, I can do better."
Most children of school-going age in the rural parts of Mugu stay out of school because they are expected to help their parents in the fields and sometimes even take odd jobs around the village for extra income. This leaves little time for the children to focus on their education.
Sarjan's uncle, Dhanraj Rawal, says families like theirs have no option but to depend on children to run the household.
"We know the children should be in school but we need all hands we can manage since we can't hire help to collect fodder or take care of animals," he said.
As the children grow up to become young adults, they leave the villages to seek employment in India or the Gulf countries. Most of these youths land up with labour jobs for a lack of education.
"The meagre agricultural production a family generates in a year is not enough to see the family through, therefore, the vicious cycle of children staying out of school continues as rural families struggle to make ends meet," Bishnu Kumar Bham, the ward chairman of Chhayanathrara-4, told the Post.
Nine-year-old Harichandra BK of Rugagaun walks for one-and-a-half hours to Gamgadhi, the district headquarters of Mugu, every other day to sell the firewood he collects in the forest near his house. He sells firewood at Rs 450 a load and hands over the money he earns to his parents.
"If my family and I don't sell firewood, we will have nothing to eat," said BK. "I can't afford to go to school because if I do, there is one less person at work and that greatly affects our income."
According to the education and youth unit of Chhayanathrara Municipality, around 60 percent of children in Sayakhola, Kotilla and Mundu in the local unit are outside of school due to poverty.
Khadak Rokaya, chief at the education unit, says that the local unit has tried to enroll every child of school-going age to the community schools but they haven't been successful.
"We tried our best to get every child to attend school but we haven't been able to do so," said Rokaya. "The academic performance of the students who manage to attend school is very poor. All the students work in the fields or do odd jobs to help their families financially so they don't have the time to focus on their studies."
Jaya Singh Tiruwa, 11, of Shreenagar village tends to the fields, manages fodder and herds his family's cattle.
"There are only a few children in the village who attend school regularly. I wish I was one of them. But my family needs me to work in the fields so that we don't have to hire extra hands," said Tiruwa.
Ranga Bahadur Karki, a teacher at Saraswati Primary School in Syakhola of Chhayanathrara-3, says the poor school attendance rate of children is the main reason behind the low number of students appearing for Secondary Education Examination in Sayakhola. The Dalit settlement has only four students who have passed SEE so far, according to Karki.
Twelve-year-old Mintuk Lama of Chhayanathrara Municipality-7 is a sixth grader at Mahakali Secondary School in Gamgadhi. Mintuk says she wants to attend school regularly and sit for SEE but her family's weak financial status leaves her with no choice.
She has been unable to go to school for the past two weeks because she's accompanying her parents to the highlands to collect medicinal herbs.
"Our primary source of income is medicinal herbs. I help my parents collect herbs so we can earn more money," said Lama. "I haven't been able to go to school or focus on my studies because of my duties at home."
According to Surya Khatri, chief at the district education coordination committee, there are around 3,000 children of school-going age in Mugu who are out of the school system.
"Some of them are school dropouts while many others have not been enrolled for formal education at all," said Khatri.
---
---