Covid-19 infections in health workers could pile pressure on hospitals
Major hospitals in the Valley say dozens of staff have contracted virus, as the country sees rapid surge in cases.

A scene at the Armed Police Force Hospital, Balambu. Doctors say Nepal is facing its third coronavirus wave. Prakash Chandra Timilsena/TKP
bookmark
Published at : January 15, 2022
Updated at : January 15, 2022 07:13
Kathmandu
Omicron's high transmissibility rate amid Delta's presence in Nepal has led to a rapid surge in coronavirus cases for the past few days, fuelling hospitalisations. And there is a new worry now. Doctors, nurses and technicians as well as hospital administrative staff who form the first line of defence against Covid-19 are contracting the virus.
Tribhuvan University Teaching Hospital reported around 75 infections among healthcare workers while Bir Hospital and Patan Hospital have reported around two dozen infections each by Friday morning, according to senior officials at the hospitals.
They said it would be challenging for hospitals to provide services if the number of infections among health workers and other hospital staff surges, even though they have managed to handle the situation so far.
"If the majority of staff from the same department are infected at the same time, it will be very difficult to provide related health services," said Dr Ravi Shakya, director of Patan Hospital. "Due to the highly infectious nature of the Omicron variant, chances of health workers from the same department getting infected are very high."
As the health workers need to stay in isolation after being infected, doctors said shortages of health workers could emerge as a big challenge amid the rising number of coronavirus cases and increased hospitalisations.
As many as 41 Covid-19 patients have been hospitalised at Patan as of Friday morning, up from around 30 a week ago, according to Dr Shakya.
After over five dozen health staff were infected, the Tribhuvan University Teaching Hospital is providing services to Covid-19 patients by drawing staff from various departments. The infected health workers have been allowed to stay in home isolation.
"We are not facing a human resource crunch at the moment but we could soon see such a situation if the coronavirus continues to spread at the current rate and infects other health workers," said Dr Santa Kumar Das, coordinator of the Covid-19 management committee at the hospital.
The teaching hospital has 170 medical officers and nursing staff recruited temporarily on contract basis to work at Covid wards. "We plan to increase the number of healthcare workers if the caseloads and hospitalisation continues to grow," Das told the post.
According to him, as many as 37 Covid-19 patients have been hospitalised at the teaching hospital, up from a dozen last week.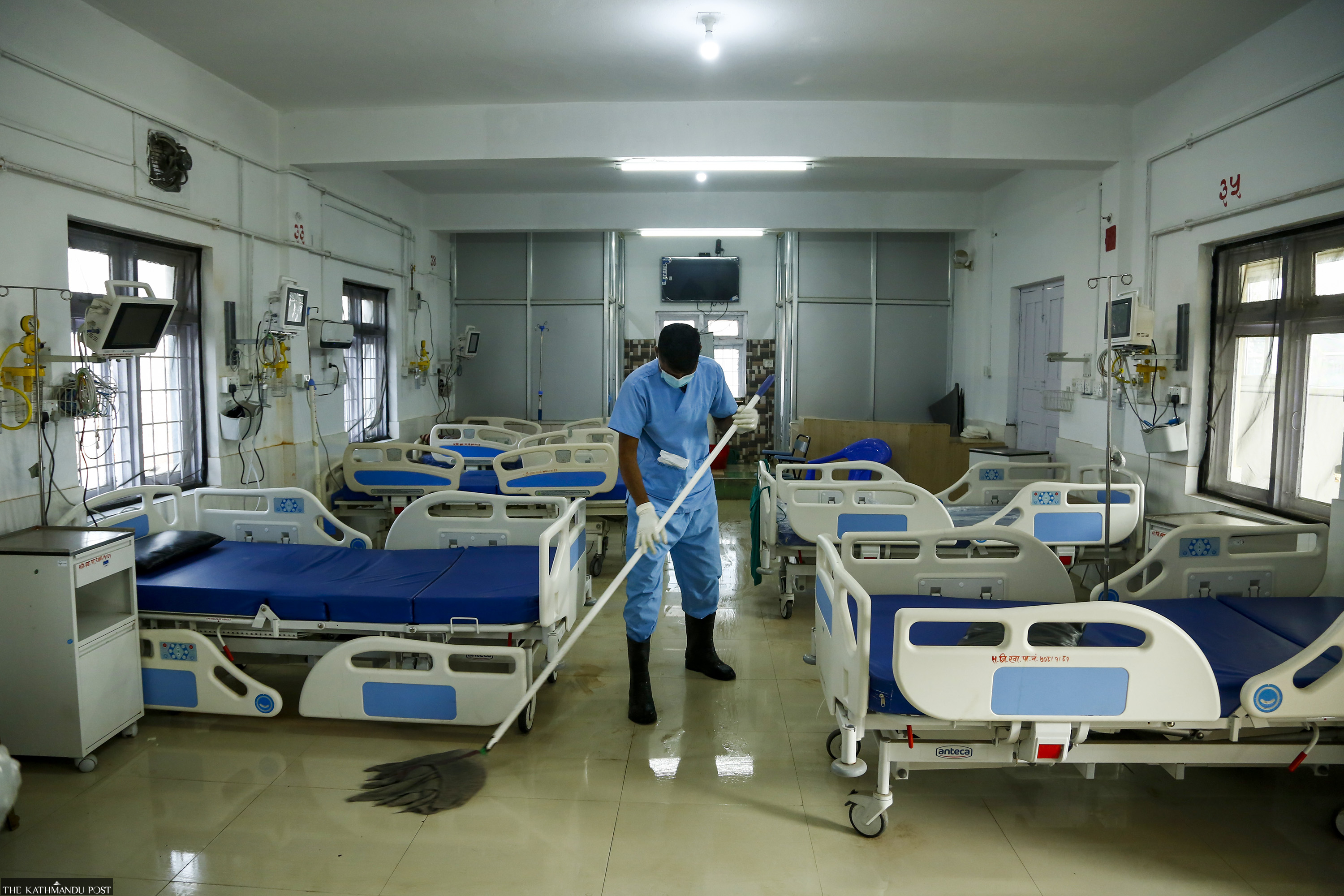 Prakash Chandra Timilsena/TKP
After Nepal reported 24 new Omicron cases on January 7—three were reported in December who were later cleared of the virus—cases have been rising at an exponential rate.
On Friday, Nepal reported 5,087 new cases—4,204 in 13,474 polymerase chain reaction tests and 883 in 7,086 antigen tests.
In the last 12 days, cases have risen from 326 on January 3 to 5,087 on Friday. Total Covid-19 deaths in the corresponding period number 14.
Total deaths from Covid-19 since the pandemic began stand at 11,613.
The daily positivity rate on Friday jumped to 31.2 percent from 27.8 percent a day before and from 3 percent 12 days ago on January 3.
The number of active cases on Friday stood at 18,235. Since one fourth of the total cases have been attributed to Omicron, the number of infections by the new variant of the virus, which is said to be super contagious, should be 1,272.
Doctors say Nepal is facing its third coronavirus wave, this time driven by Omicron and Delta, the variant which caused devastation in the second wave in April last year, claiming more than 6,000 lives.
Prakash Chandra Timilsena/TKP
Dr Bhupendra Kumar Basnet, director of Bir hospital, said that he is concerned about possible shortages of human resources amid surging Covid-19 cases.
Bir Hospital has hired 55 medical officers and 152 nurses on contract basis to provide dedicated services to Covid-19 patients.
"More health workers will be required if the Covid-19 hospitalisation rate goes up," Basnet told the Post. On Friday, Bir Hospital admitted 52 patients, according to Basnet. A week ago, there were 19 Covid-19 patients admitted to this hospital, according to data made available by the country's largest hospital.
After cases started to rise, the government put some measures in place, but experts warn that no substantial steps have been taken to check the spread. In Kathmandu Valley, gatherings of more than 25 people have been banned. The District Administration Offices of Kathmandu, Lalitpur and Bhaktapur have issued notices making the proof of vaccination mandatory for the members of the public to enter public places—hotels, restaurants, cinema halls, stadiums and parks—and to access government services. Similar measures have been taken by other local authorities as well.
Meanwhile, on Friday, a Cabinet meeting issued a monthlong "Covid-19 Pandemic Third Wave Prevention and Control Directive". The directive includes most of the measures recommended by the Covid-19 Crisis Management Coordination Committee. The directive will be applicable for the month of Magh (January 15 to February 12).
Experts, however, say the virus has already penetrated communities and without effective contact tracing, it will be difficult to check the spread. On top of that, the government has failed to boost the vaccination drive.
Nepal so far has received 40,388,840 doses of Covid-19 vaccines.
As of Friday, 11,869,974 people, or 39.1 percent of the over 30 million population, have been fully vaccinated. Estimates suggest there are around 13 million doses in stock.
Scientists across the world have said that vaccination is the only weapon against Covid-19, just as they stress the need to take safety precautions—wearing masks, using sanitisers and avoiding crowds, among others. The mask mandate, however, appears to have collapsed in Nepal, and there has been no control on crowds. Authorities have failed to enforce the pandemic protocol.
Doctors say the current rate of the rise in cases suggests hospitalisations will continue, even if they do not reach the scale of the second wave last year.
According to them, the concern is what if health care providers in huge numbers get infected. The system could buckle under pressure, they express their worries.
Shakya of Patan Hospital said hospitalisations have been relatively lower this time despite rising Covid-19 cases. Hospitals could manage their health facilities without significant strain if the hospitalisation rate does not increase.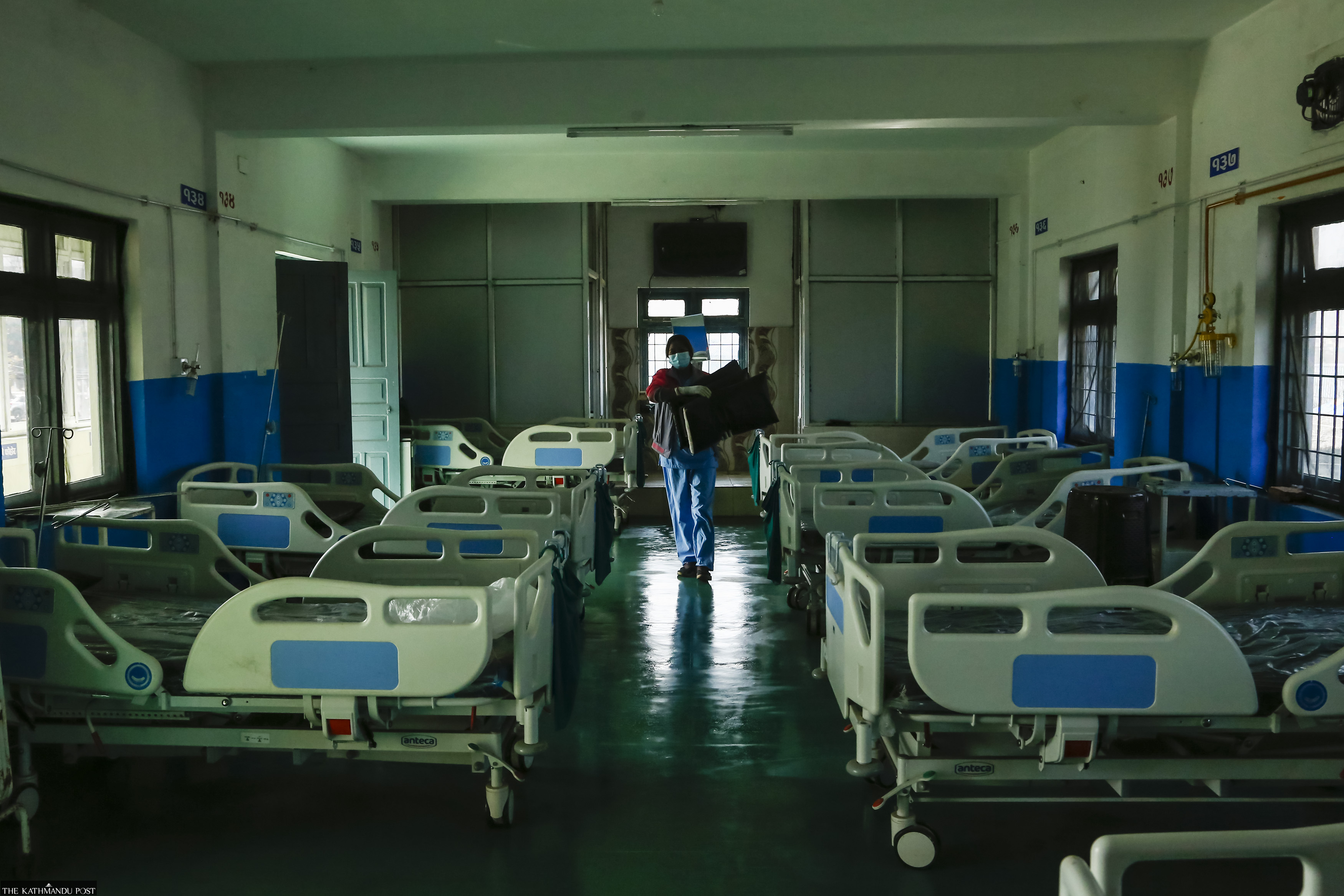 Prakash Chandra Timilsena/TKP
Considering the possible shortage of human resources, the Health Ministry said this week that the contract of the temporary staff hired for Covid-19 has been increased by three months. Their contracts are set to expire on Friday.
But Dr Sangita Kausal Misra, spokesperson for the Health Ministry, said that she does not see any problem in delivering services if 10 to 15 percent of health workers are isolated and quarantined after catching Covid-19.
As of mid-July 2020, Nepal had 90,946 health personnel, including doctors, specialist doctors and health workers. But the number decreased to 90,369 by mid-March, 2021, according to the Economic Survey 2020-21. However, this does not count the health workers temporarily recruited.
"If half of the health workers are infected, service delivery will be definitely affected," she said.
The ministry also announced on Friday that the government would provide booster doses of vaccine to frontline workers including health workers starting Sunday.
According to Misra, the ministry trained many health workers during the second wave and they could be mobilised to attend to Covid-19 patients.
"If the shortfall of health workers deteriorates, we may have to stop non-essential health services," said Mishra.
---
---