Thirteen dead and dozens missing as heavy rains trigger landslides across Gandaki Province
Rescue teams have yet to reach the disaster site in Myagdi as roads have been blocked by both landslide debris and flash floods.

In Myagdi, the worst-affected district, two bodies were recovered while 32 people have been reported missing as of Friday evening. Ghanashyam Khadka/TKP
bookmark
Published at : July 11, 2020
Pokhara
Pinki Thapa Magar of Sarangkot, in Kaski, celebrated her 22nd birthday on Thursday. Her family had invited a few relatives to celebrate the occasion and the birthday party had continued amid the downpour, until the household and its guests went to bed around midnight. A few hours later, while everyone slept, a landslide buried the house, killing five. Magar survived, and is currently receiving treatment at the Manipal Teaching Hospital in Pokhara with three other survivors.

At least 13 people have died, 32 are missing and hundreds are injured as landslides triggered by the rains swept away homes and settlements in four districts across Gandaki Province on Thursday night and Friday morning.
In Myagdi, the worst-affected district, two bodies were recovered while 32 people have been reported missing as of Friday evening. The landslides had rained down on settlements in Dhaulagiri and Malika rural municipalities, destroying at least 39 houses. According to the District Crisis Management Committee, more than 240 people have been displaced in the district.
The rains had subsided by Friday afternoon but rescue workers had yet to reach the disaster site in Marang village by the evening as the rocky roads are all blocked. Two helicopters aiming to land at the village returned owing to bad weather on Friday afternoon. A team of personnel from the Taakam Police Post in Dhaulagiri Rural Municipality, however, reached the nearby Kallani village on Friday afternoon, and rescued 70 people.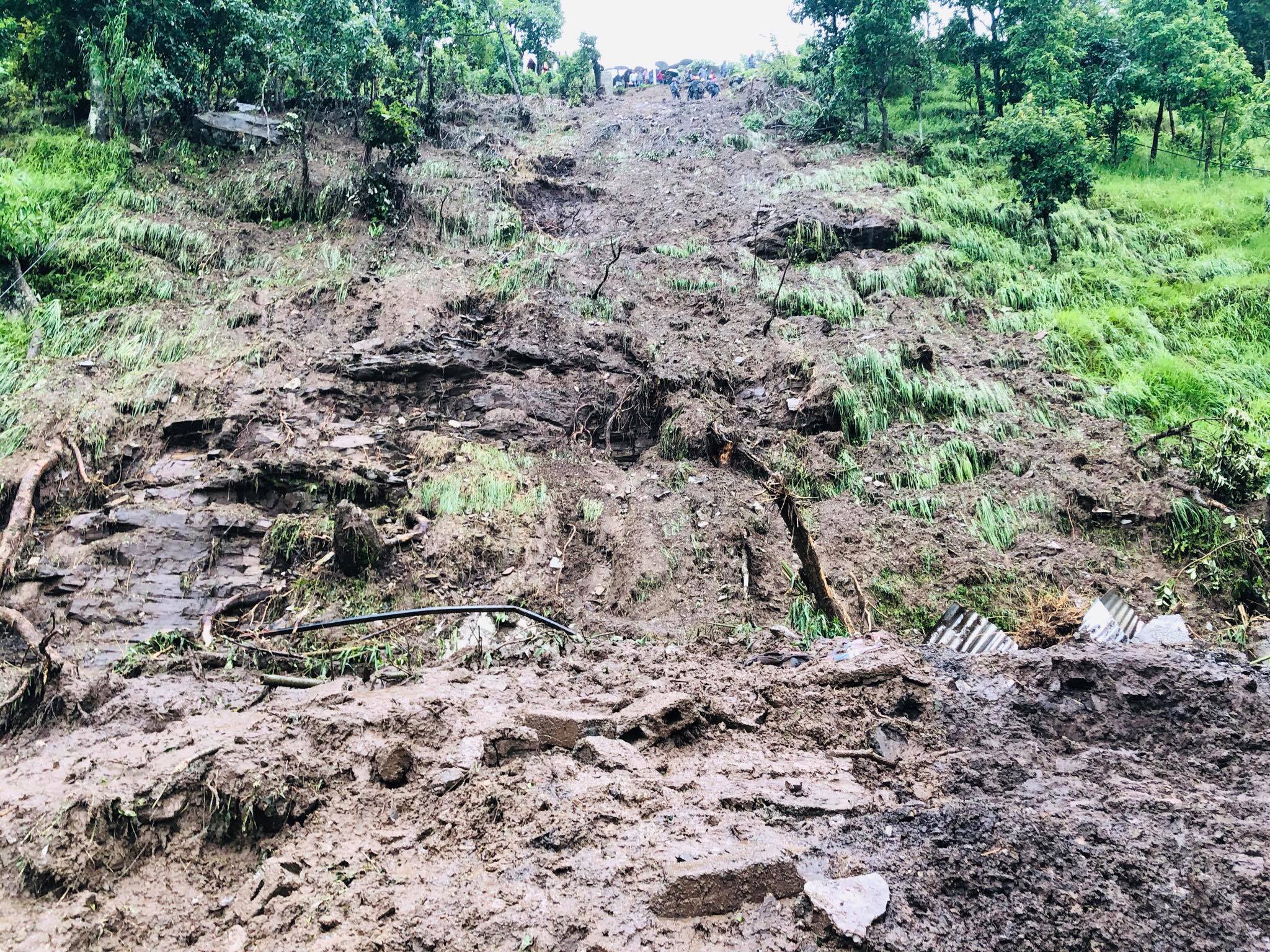 Five people including three children were killed in the landslide that swept away one house in Sarangkot Gothadi in Pokhara Metropolitan City at around 2:30am on Friday Lal Prasad Sharma/TKP
The rural area of Marang lies some 40 kilometres west of the district headquarters, Beni. The Post was not able to contact any of the survivors in the village where at least 20 houses have been swept away.
Landslides have also buried the 20KW micro-hydropower plant in Magardang of Malika-5, leading to a power outage in the neighbouring villages.
"All the roads to Marang are blocked," Gyannath Dhakal, chief district officer of Myagdi, said on Friday evening. "Police and rescue teams are trying to cut through the debris to reach the accident site but have yet to succeed."
The district administration is yet to collect detailed information about the disaster and all preliminary information had been received from people's representatives in the area, said Dhakal.
According to Thamsara Pun, chief of Dhaulagiri Rural Municipality, a school, a post office, a health post and hundreds of ropanis of paddy fields have been buried.
Meanwhile, in Galeshwor of Raghuganga Rural Municipality, a Bailey bridge was swept away by a flash flood on the Rahughat River, obstructing the Beni-Jomsom road section. Floods swept away three houses in Dwari village, according to Bhav Bahadur Bhandari, chief of the rural municipality. Twenty-one households in Piplegaleshwore village have been relocated to temporary shelters, according to Bhandari.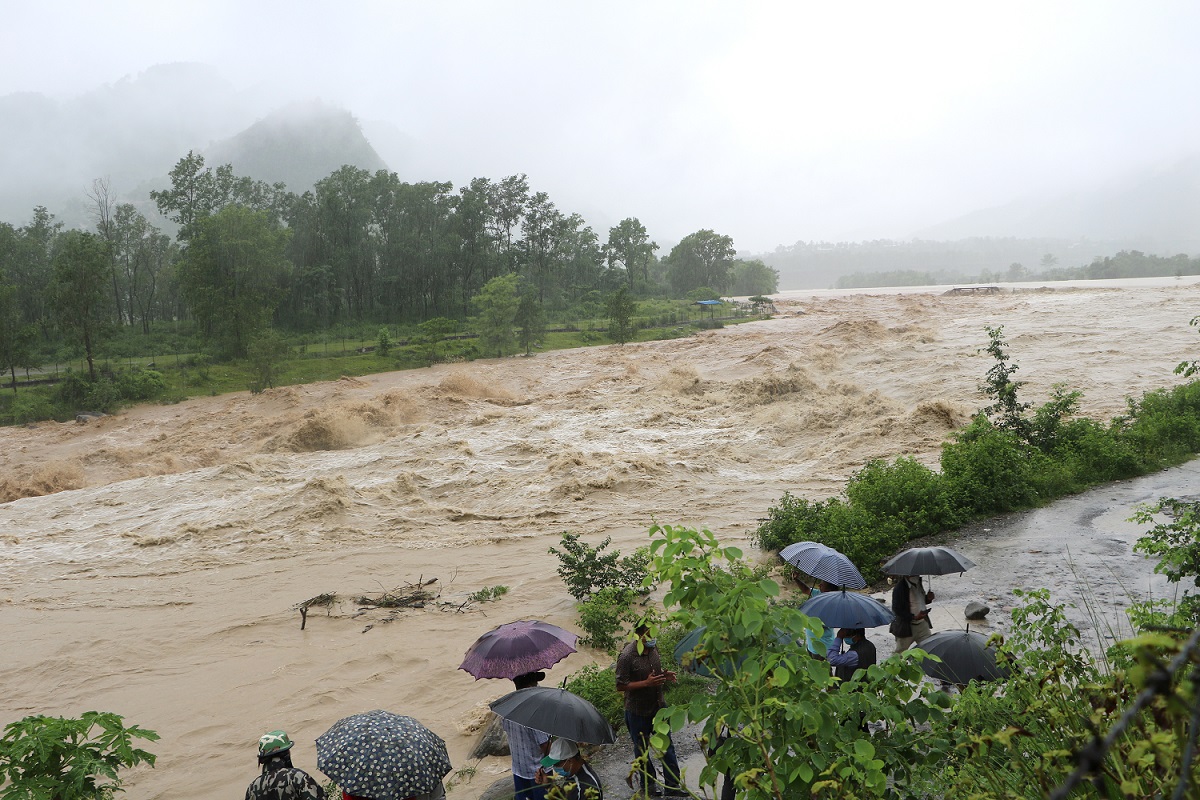 In Tanahun's Shuklagandaki Municipality, a flash flood on the Seti inundated 42 riverside houses. Samjhana Rasaili/TKP
Landslides have also affected settlements in Kaski, besides Sarangkot where Magar's house once stood. A landslide in Hemja's Melbot village killed two while a separate landslide in Chhorepatan in Pokhara left three injured. The Kaski District Crisis Management Committee will provide Rs100,000 for the families of the deceased and to treat the injured, according to the district administration.
Natural disasters claimed three people from a single family in Lamjung's Besisahar Municipality-10, according to Deputy Superintendent Ganga Bahadur Thapa of the Lamjung police. The district crisis management committee has decided to provide Rs300,000 for each family of the deceased as relief. In other parts of the district, at least 15 households have been displaced by landslides and floods.
In Tanahun's Shuklagandaki Municipality, a flash flood on the Seti inundated 42 riverside houses. The residents have been rescued and moved to temporary shelters, according to Kisan Gurung, the Shuklagandaki mayor.
Amina Khatun, a survivor of the floods, said that she had to leave in the wee hours of Friday along with her family members when the flood suddenly submerged her house.
"We couldn't retrieve any belongings," she said. "We had to run quickly from the house to save our lives."
Ghanashyam Khadka in Myagdi, Deepak Pariyar in Kaski, Aash Gurung in Lamjung and Samjhana Rasaili in Tanahun contributed to this report.
---
---