Machhindra enter final in Jhiljhile
Machhindra beat Army 2-0 to set up their title clash against Three Star Club.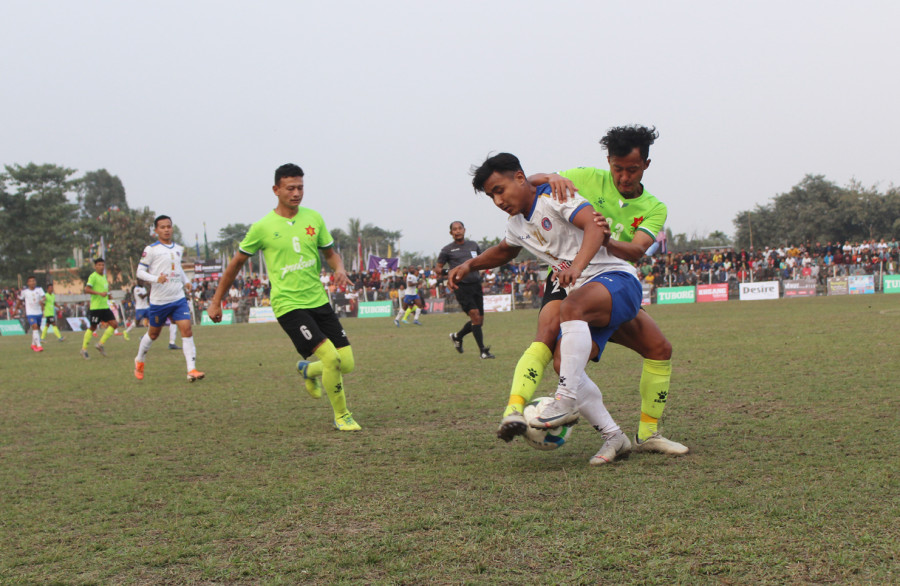 Arjun Rajbanshi/TKP
bookmark
Published at : February 21, 2020
Updated at : February 21, 2020 20:28
Birtamode
Tribhuvan Army Club faced their second defeat in a week against Machhindra Club after they were whipped 2-0 in the semi-final of the third Satashi Gold Cup football tournament in Jhiljhile, Jhapa on Friday.

A first-half goal from Rejin Subba and an own goal in the second half from Bikash Khawas was enough for Machhindra to set up a title clash against Three Star Club, on Saturday. Machhindra had defeated Army 1-0 on Saturday in the decisive match of Martyrs Memorial League. Coincidentally, it was Army defender, Khawas who had gifted the solitary goal to Machhindra in a game where a draw would have secured the first league title for the departmental team.
Army started with an offensive approach, as skipper George Prince Karki's first-minute scorcher sailed inches above the bar. Bimal Gharti Magar replied for Machhindra in the sixth minute, forcing the Army custodian Bibash Chaudhary to punch the 25-yard strike to safety.
Subba put Machhindra in the driving seat in the 21st minute with a spectacular move dribbling past goalie Chaudhary. Army survived a scare three minutes later when Machhindra's Nigerian forward Adelaja Somide rounded up four defenders before being denied by the goalie Chaudhary.
In the 26th minute, another Nigerian recruit Peter Segun ended up firing above the post for Machhindra. Army skipper Karki squandered a scoring chance in the 28th minute when he shot above the bar while Machhindra's Gharti Magar also faced a similar fate in the 31st minute.
One minute into the restart, Nepali international forward Nawayug Shrestha ended up firing above the bar. Machhindra missed another scoring chance in the 69th minute when Subba delayed to fire a brilliant pass squared by Gharti Magar.
Army's Khawas wasted a scoring opportunity in the 53rd minute and Gharti Magar's 65th-minute header for Machhindra from Dipak Rai's pass was gripped by Army goalie Chaudhary.
Machhindra put the end result beyond any doubt in the 74th minute after being rewarded with a self goal. Khawas put the ball in his own net in a bid to clear a ball that deflected off goalie Chaudhary's foot after a scorcher from Bishal Rai 'B'.
Goalie Chaudhary was again called into action in the 89th minute to prevent Gharti Magar's freekick. Machhindra yet again threatened in the stoppage time when Rai 'B' squandered a brilliant pass from Subba by hitting off the target.
Goal scorer Subba was declared the man-of-the-match and was rewarded with a cash prize of Rs10,000.
Machhindra's 'A' Division League winning players rewarded
Seven members of the Martyrs Memorial 'A' Division League winning team who belonged to Jhapa were rewarded by the Jhapa Gold Cup organising committee. Coach Prabesh Katuwal players Bishal Rai 'A' and 'B', Devendra Tamang, Yogesh Gurung, Rejin Subba and Biman Rai were members of the squad who were selected to be rewarded before the match. Coach Prabesh Katuwal was given Rs 25,000 while remaining six players were given Rs 15,000 each. They were all the former members of Jhapa XI.
---
---