A culinary fusion in the heart of Kathmandu
'Zing-World of Flavours' has introduced a new menu.

Sanjog Manandhar/TKP
bookmark
Published at : July 27, 2023
Updated at : July 28, 2023 17:17
Kathmandu
The menu of Zing-World of Flavours, located within the premises of Hyatt Place Kathmandu, boasts a wide array of culinary delights from around the globe. Embracing an exciting fusion of Nepali and continental flavours, the restaurant masterfully crafts a delicate balance of tastes to satisfy its diverse clientele. Its thoughtfully curated menu draws inspiration from local eateries and taverns worldwide, with a predominant influence of Southeast Asian cuisine, complemented by delectable Italian-Mediterranean offerings.

Zing-World of Flavours has earned a well-deserved reputation for its exceptional food and service in just two years. Recently, the restaurant underwent a menu overhaul, tailoring it to meet the preferences of its valued patrons.
As I stepped into the restaurant, I was greeted by warm smiles and a heartfelt namaste. The restaurant maintained its lively ambience, even amid the bustling lunchtime crowd. The restaurant's interior exuded cosiness, shielding diners from the stormy weather outside. For those who preferred to dine outdoors, the alfresco area provided a lovely space, while the indoor seating offered a serene and tranquil environment. The tastefully designed glass walls allowed natural light to flood the space, enhancing the sense of peace and comfort.
Chicken Caesar
Price: Rs920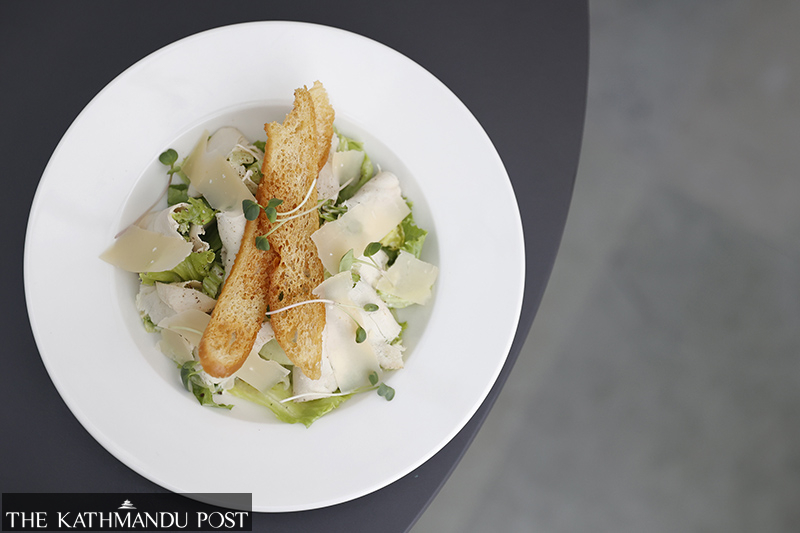 Sanjog Manandhar/TKP
The Chicken Caesar salad is a continental appetiser with juicy chicken mixed with lettuce and generously coated with Caesar dressing. This combination makes for a mild yet delicious flavour, complemented by the delightful crunch of croutons and the creaminess of mayonnaise.
The star of this dish is undoubtedly the Caesar dressing, which adds a burst of flavour and enhances its nutritional value. Every bite will treat your taste buds to a harmonious blend of textures. The salad offers a complete meal, ensuring a healthy and fulfilling way to kickstart your day.
Sisnuko Soup
Price: Rs800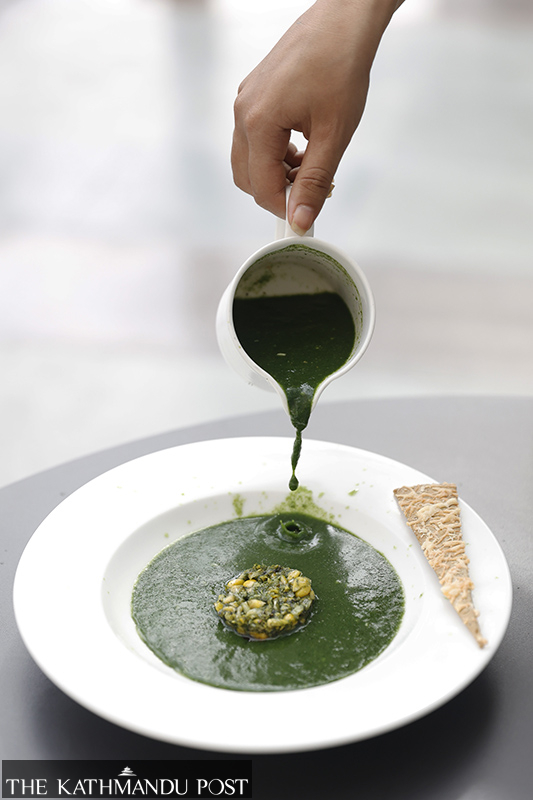 Sanjog Manandhar/TKP
Sisnuko Soup is a delightful starter made from local sisnu (stinging nettle), corn flour, and ghee. The restaurant scores full points for its meticulous presentation. The soup is served in a cup, and the sisnu and corn are arranged on a plate alongside a millet crisp for added texture.
While I'm generally not a fan of green-coloured food, I was pleasantly surprised by this soup. The original flavour of sisnu shined through the overall mild flavour of the dish. Ghee was an excellent addition to the dish, bringing in a creaminess and subtle sweetness.
Smoked Timur Chilli Chicken
Price: Rs1,250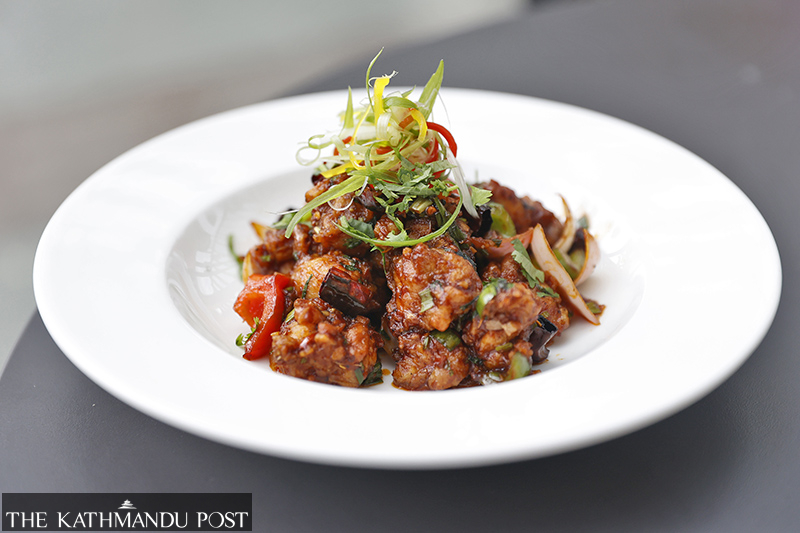 Sanjog Manandhar/TKP
After the two 'healthy' dishes, Smoked Timur Chilli Chicken was the ideal choice to satisfy my craving for spicy food. It tasted familiar—akin to chicken chilli, but with added smoked timmur for a fun twist.
The continental chicken, flavoured with the expert blend of spices, was delicious. Smoked timmur and Szechuan pepper (which is my favourite spice) significantly impacted the overall flavour, rendering it distinct and unforgettable. The chicken was juicy and tender as well.
Khasiko Taas
Price: Rs1,700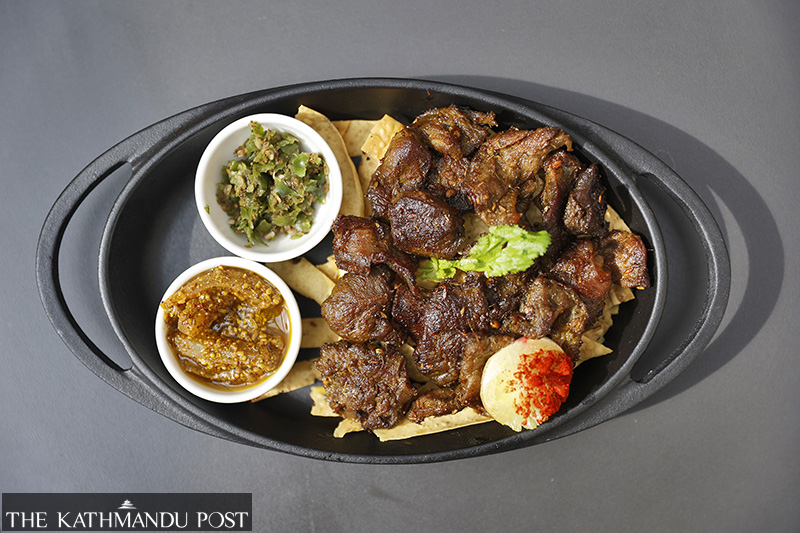 Sanjog Manandhar/TKP
Khasiko Taas is a traditional dish of fried mutton served with mulako achaar and chilli pickles on the side. This is a must-try for those who enjoy spicy food. The meat is fried to a crisp texture and was a delight to chew on. Popadams (thin Indian crisps) placed at the bottom of the dish add a layer of intrigue to the presentation and a nice crunch to every bite.
I noticed that the mutton was on the chewier side. Dipping the mutton in the accompanying timmur and chilli blend and the radish pickle will provided a pleasing balance of sourness and heat that complements it excellently.
Diners can also have the Taas with chiura (flattened rice) if they wish to experience the authentic masu chiura.
Pad Thai Chicken
Price: Rs1,250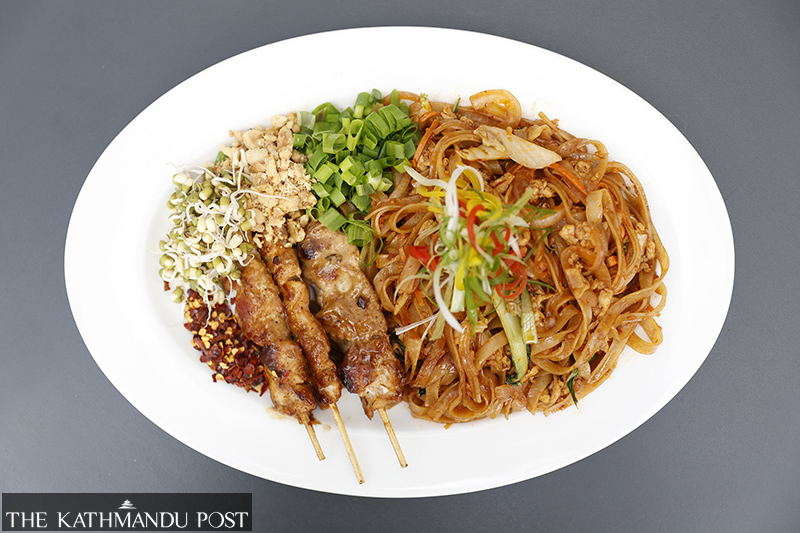 Sanjog Manandhar/TKP
This is a classic Thai dish that skillfully combines noodles, rice, and egg—all bound together with a delectable tamarind sauce. Tender chicken skewers adorn the dish, elegantly topped with dried fruits and chilli flakes, which go together surprisingly well. The result is a delightful fusion of tastes that is sure to please any palate.
Zing's Pad Thai is pleasantly sweet with just a hint of spiciness. The overall texture of the dish contributes to its flavorful appeal. The tender chicken was a blend of sweetness and savouriness, reminiscent of authentic Thai cuisine.
The Pad Thai Chicken is a delightful culinary experience that tantalises the taste buds and captures the essence of Thai flavours in each delectable bite.
Duck Sous Vide
Price: Rs1,800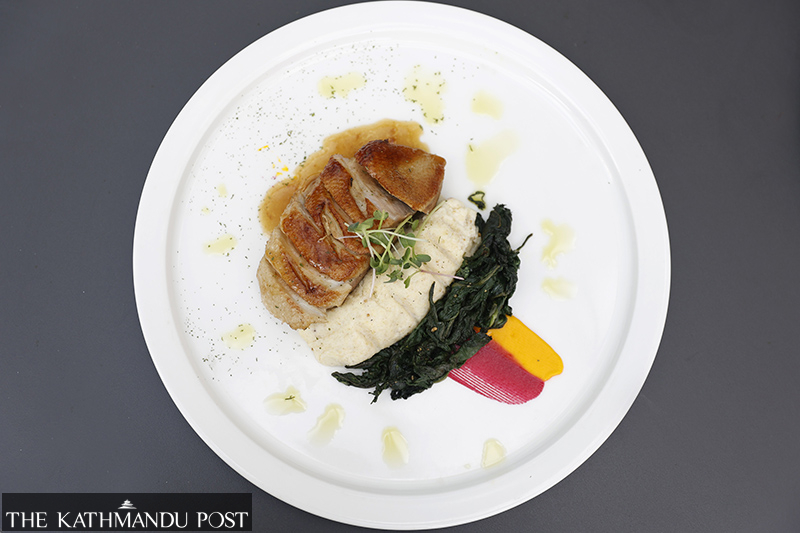 Sanjog Manandhar/TKP
Duck Sous Vide is a prime example of French cuisine, featuring sliced tender duck breast, fresh spinach, and millet mash. This carefully crafted dish offers a satisfying lunch experience.
The mash, with its smooth and thick texture, is a pleasure to savour. The combination of mashed millet, duck meat, and spinach adds to the overall experience. The flavours are thoughtfully balanced, with the mash offering a delightful sweetness, while the duck meat and spinach contribute a subtle spicy kick.
Mustang Apple Tart
Price: Rs950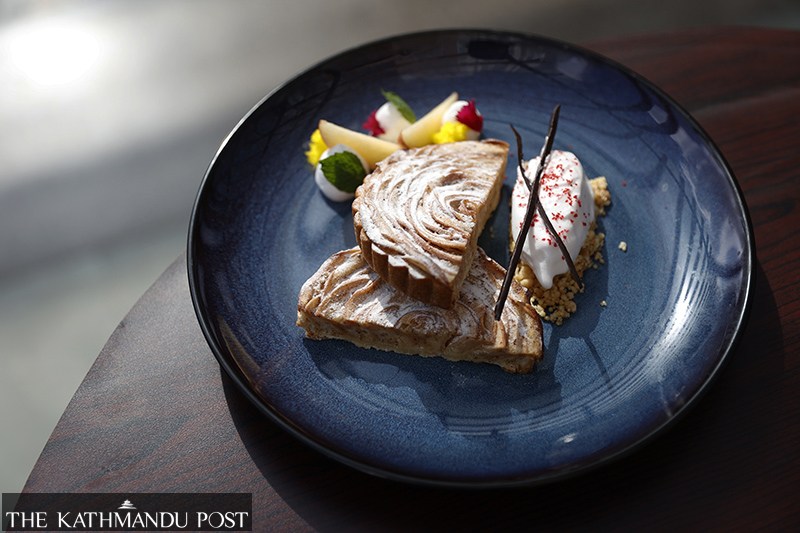 Sanjog Manandhar/TKP
For dessert, we treated ourselves to a delightful Mustang Apple Tart, which had a delicate and crunchy texture, perfectly complemented by the sweet apple cream served on the side. This brought back childhood memories of enjoying delicious pies with my family, so I thoroughly enjoyed devouring it. The Mustang Apple Tart was the perfect ending to my meal, leaving me wholly satisfied.
—
Zing-World of Flavours
Location: Hyatt Place, Soaltee Mode, Kathmandu
Time: 6:30 am to 10:30 pm
Service options: Dine-in, Takeaway
Price: Inclusive of all taxes
Parking: Inside the hotel premises
---
---