Come for the food, stay for the ambience
Timila Cafe, nestled inside the busy streets of Patan, offers a tranquil space to sit, relax and have a good time. Of course, the food is good too.

Keshav Thapa/TKP
bookmark
Published at : July 20, 2023
Updated at : July 21, 2023 07:55
Kathmandu
Established in 2018, Hotel Timila takes its name from the Newari term 'Timila,' which means 'bright moon'. The hotel also houses the popular Timila Cafe, where people come to find good food and some calm from the hustle and bustle of the city.

Operated on a family-owned land inside of Patan, the establishment is operated by Rajiv and Pradip Awale, who wanted to build a space that caters to both local and foreign folks. Thus, Timila Cafe offers a wide range of dishes, ranging from Asian, continental, Thai, and Nepali. Ram Mani Timalsina, the head chef who has been with the restaurant for a year, reveals that he is always open to experimentation, mainly when it comes to giving well-loved food a unique touch.
Upon entering the cafe, I was struck by the unique atmosphere of the space. Despite being inside a bustling area of Patan, which is synonymous with busy streets and loud noises, the setting of the cafe was tranquil, featuring ambient background music.
The hotel had a traditional Newa architectural facade with intricate wooden windows and a sloped roof. Plenty of trees and shrubs were spread throughout the yard, along with a little koi pond where fishes swam about.
The aesthetics of the cafe blended traditional influences with contemporary design, which was interesting to see. As I settled in, it felt like the outside world had reached a standstill, providing a serene oasis amidst the lush surroundings. Their resident dog, who always chooses the same little section of grass to nap in, also attested to how quiet and peaceful the space is.
The outdoor area accommodates smoking, while a peaceful indoor space is designated for non-smokers. The hotel caters primarily to tourists, emphasising both short and long-term stays. However, the cafe is mainly for locals, as their dishes prioritise the spices and flavours we are accustomed to. One nice thing I noticed about the place was that they actively avoid using plastics in their hotel and cafe, opting for wooden alternatives. Additionally, they also have a store that sells handmade items such as shawls, 'Lokta' paper notebooks, singing bowls, and other local goods.
Blue Lagoon and Pink Lemonade
Price: Rs650 (Blue Lagoon), Rs295 (Pink Lemonade)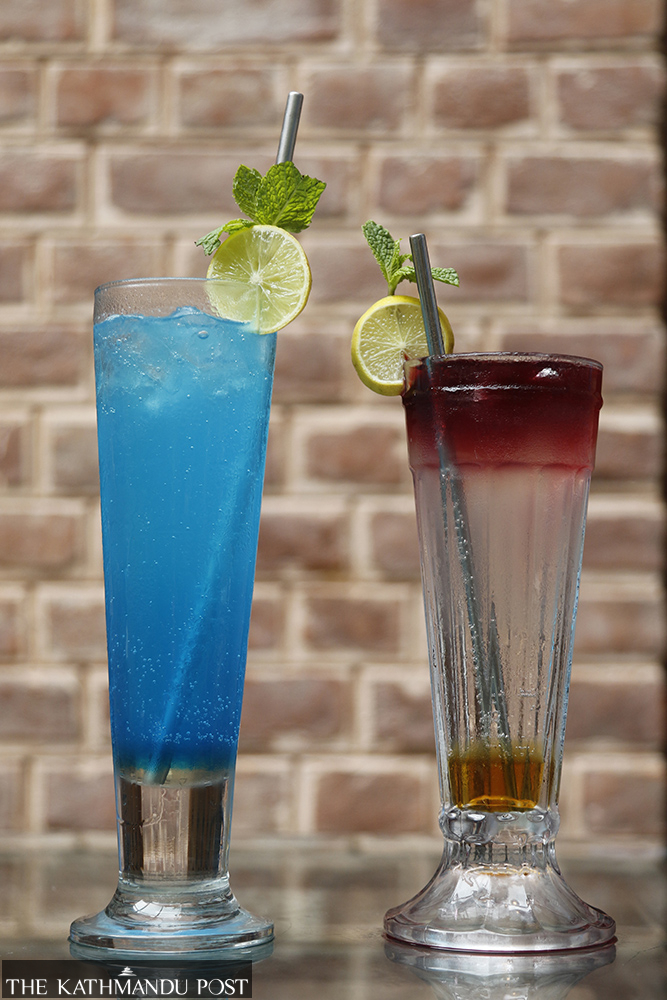 Keshav Thapa/TKP
A perfect summer drink, Blue Lagoon, caught my attention with its bright blue appearance. Concocted using Sprite, lemon, sugar syrup, and mint, it is refreshment personified. The syrup's sweetness dominated the initial taste, but after thorough stirring, I was able to appreciate all the flavours. Once mixed, it tasted like a virgin mojito with a blue hue reminiscent of an ocean drink.
Like Blue Lagoon, Pink Lemonade should also be thoroughly mixed before drinking. When it first arrived, the pink syrup floated on top and the honey sat at the bottom. Once stirred, the lemonade combines the flavours of lemon, honey, mint and Sprite, making for a fresh sip.
Chef Special Salad
Price: Rs520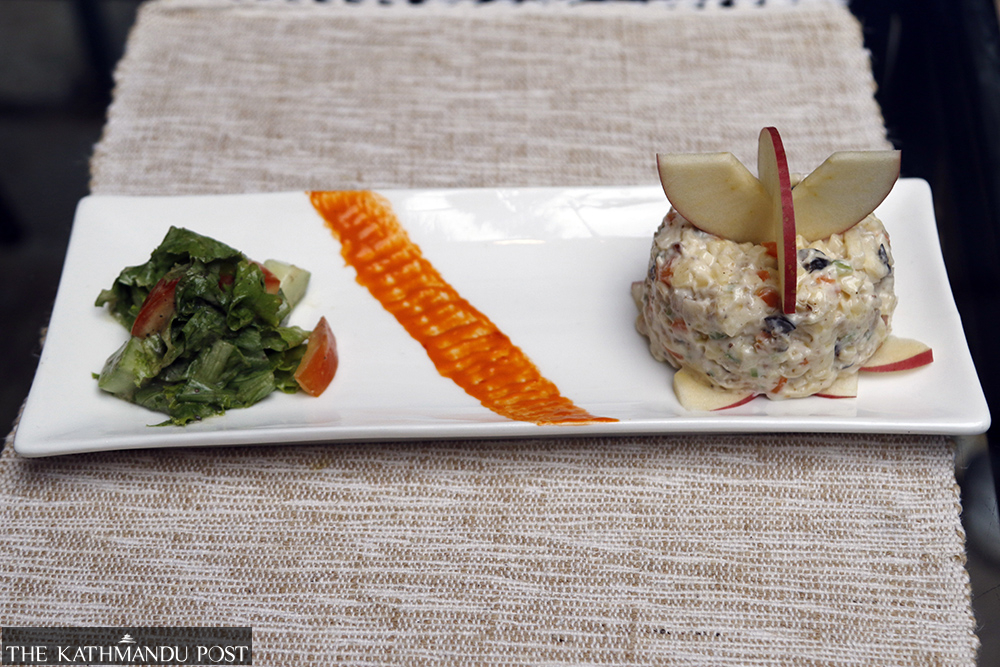 Keshav Thapa/TKP
The salad consisted of a range of fruits such as apples, cheese, olives, and carrots that were meticulously cut into bite-sized pieces. This vegetarian salad was an excellent appetiser because of its wholesome and nutritious nature. I highly recommended the dish as it helped soothe and prepare my stomach for all the heavy dishes that I consumed afterwards. The dish's taste was slightly tangy due to the olives (which I particularly am not a fan of), but it is sure to appeal to individuals who appreciate the taste of healthy fruits.
Crunchy Cheese Fingers
Price: Rs575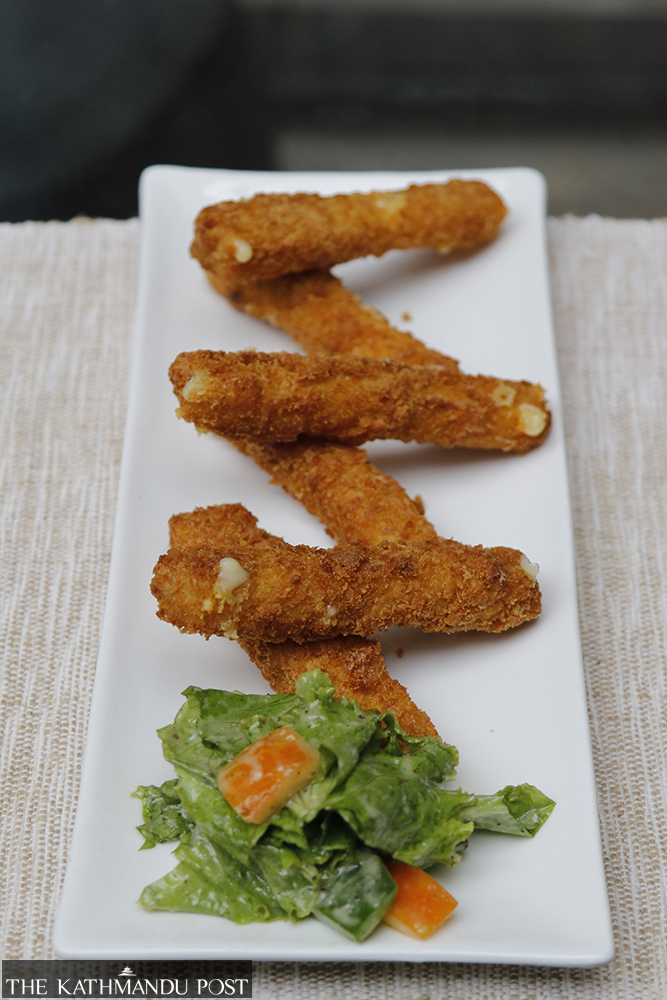 Keshav Thapa/TKP
Crunchy Cheese Fingers was a vegetarian appetiser made with flour, baking powder, bread crumbs, and Kanchan yak cheese. It featured an outer layer of fried bread crumbs and a gooey inner cheese filling. Served with a Tartar sauce, a mayonnaise-based side sauce, it was also accompanied by a green salad for balance.
When I first saw the dish, I was worried that it would be too oily. However, to a pleasant surprise, it was not too overpowering. The sauce was the perfect paring for the fingers, as they brought neutrality to the heavy nature of the dish—the sauce had a pleasant sweetness to it that complemented the cheese perfectly. Combining the two created a sweet and salty flavour that was quite satisfying. And, of course, the cheese stretch did not disappoint.
Crunchy Chicken Momo
Price: Rs475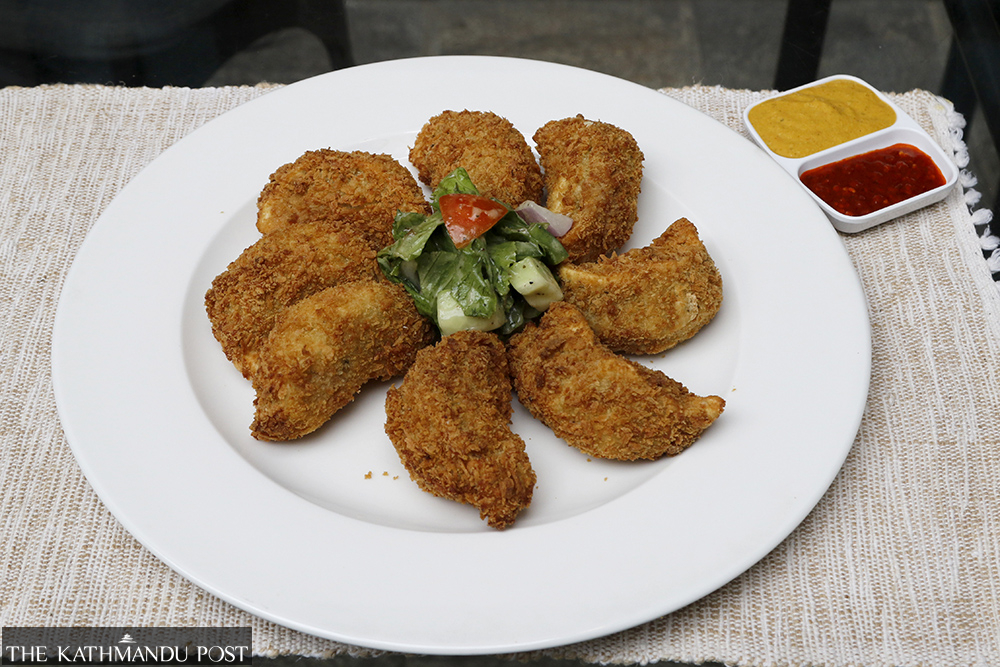 Keshav Thapa/TKP
The chicken momo had crispy bread crumbs and flour exterior, while the inside was filled with minced meat, onions, and spices. The chef revealed that the minced meat was made using their in-house machine, ensuring the quality and safety of the food.
The momo had a satisfying crunch. The outer layer, like in the case of Chrispy Cheese Fingers, was free of excess oil. The filling was packed with minced chicken, and I liked that they weren't too stingy with the stuffing. The momo's juicy flavour was also exactly what I was hoping for.
Bacon Wrapped Sausage
Price: Rs560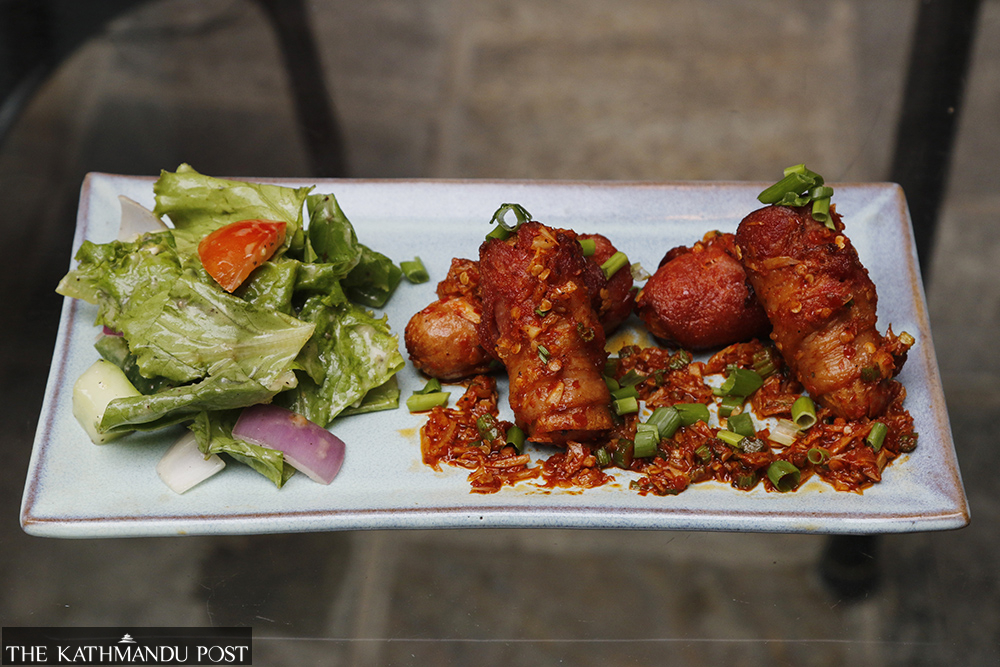 Keshav Thapa/TKP
The Bacon Wrapped Sausage was an absolute treat. With its red chilli paste, plenty of onions, and garlic, it is a perfect snack for alcohol consumers who relish spicy food. The dish comprised of sausages enveloped in bacon, accompanied by delectable dips.
As someone who loves spicy food, I was expecting to glide through the dish with a breeze. However, after having a bite, my eyes became watery. But that didn't stop me from devouring the dish, as the flavour of the chilli paste was very appealing to my mouth. This dish was definitely my favourite. But for people who can't tolerate spicy food, it is best to proceed with caution.
Supreme Chicken Pizza
Price: Rs675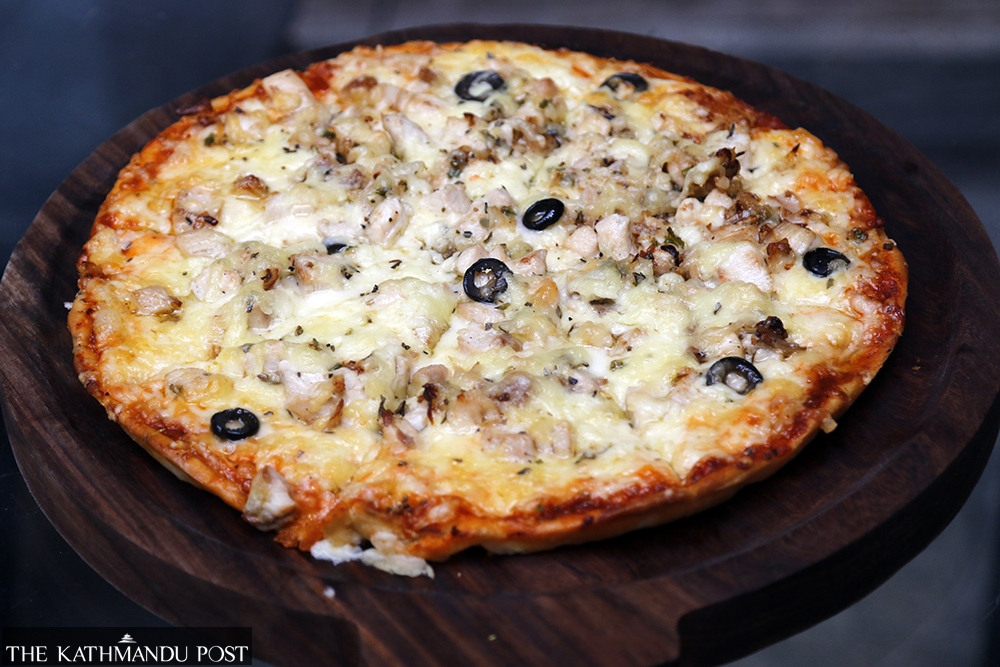 Keshav Thapa/TKP
Yak cheese and mozzarella are the main ingredients of Supreme Chicken Pizza, which is one of Timila Cafe's bestsellers. The chef's idea was to offer a new taste to foreign customers while also catering to the local palette. This resulted in a pizza with a cheesy texture featuring plenty of chicken bits.
The pizza was well-cooked, and the crust was soft and thick. However, as someone who is a fan of thin-crust pizza, I did wish the crust had a crispier quality. If you prefer thick-crust pizza, this one might be more to your liking.
American Walnut Brownie with Ice-cream
Price: Rs375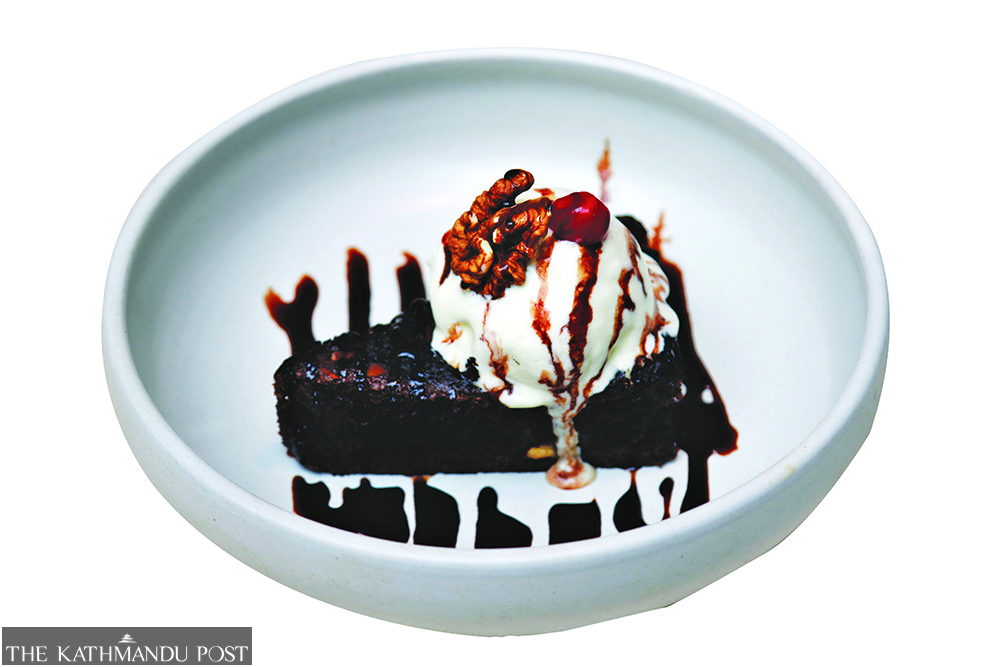 Keshav Thapa/TKP
The American Walnut Brownie with Ice-cream was the perfect conclusion to the extravagance of spiciness and cheesiness. The combination of walnuts to the brownie added a delightful nuttiness to it. Finally, a big serving of ice-cream on top created a truly exceptional dessert.
Hotel Timila
Location: Patan Durbar Square, Lalitpur
Time: 7 am to 9 pm
Service options: Dine-in, Takeaway
Price: Inclusive of all taxes
Parking: Not Available
---
---