A little-known hotel in Lazimpat aims to become 'the place' for authentic Nepali dishes
Shinee Norchhok's food menu already serves a few unique dishes from Nepal's far-west and now the establishment plans to take its food menu one notch higher by featuring dishes from across the country.

The Karnali Thali Set, which is one of Shinee Norchhok's more popular food offerings, comes with marsi rice, the hugely popular red rice grown in Karnali. Anish Regmi/TKP
bookmark
Published at : April 23, 2021
Kathmandu
Tucked away in one of Lazimpat's quiet alleyways is Shinee Norchhok, a 13-room boutique hotel. Four months ago, Shinee Hospitality, a hospitality management group, took over what was Norchhok Boutique Hotel and the property was given its current name.
Norchhok's neighbours include some of Kathmandu's renowned hotels. Radisson Hotel and Hotel Tibet are less than a minute walk away, and Shangri-La Hotel is less than a kilometre away.
I ask the property's 24-year-old operations manager/executive chef Heaven Khanal about the competition.
"Nepal's hotel industry is a highly competitive industry, which is a good thing. This forces us to stay on our toes and keep innovating and offering the best to our customers," says Khanal.
One of the areas Khanal is focusing on to stay ahead of the competition is food, which, he says, he knows very well.
"My mother taught me cooking when I was seven or eight and since both my parents went to work, it was my responsibility to cook for my grandfather," said Khanal. "But it was only after I began cooking professionally, which was during the first year of my college, that I started falling in love with cooking. My first job was at an Italian restaurant where the owner/chef taught me a lot about Italian cuisine and that experience changed the way I look at cooking forever."
After leaving the Italian restaurant, Khanal went on to work at multiple restaurants, a club in Kathmandu. He also spent a few months working at a hotel in Singapore.
"The majority of Kathmandu's leading hotels have placed a lot of emphasis on international cuisines in their food menus leaving out local cuisines," said Khanal. "We are now designing a new food menu for Norchhok, a menu that will feature international cuisines but at the same time focus very heavily on local Nepali cuisine using as many organic ingredients as possible."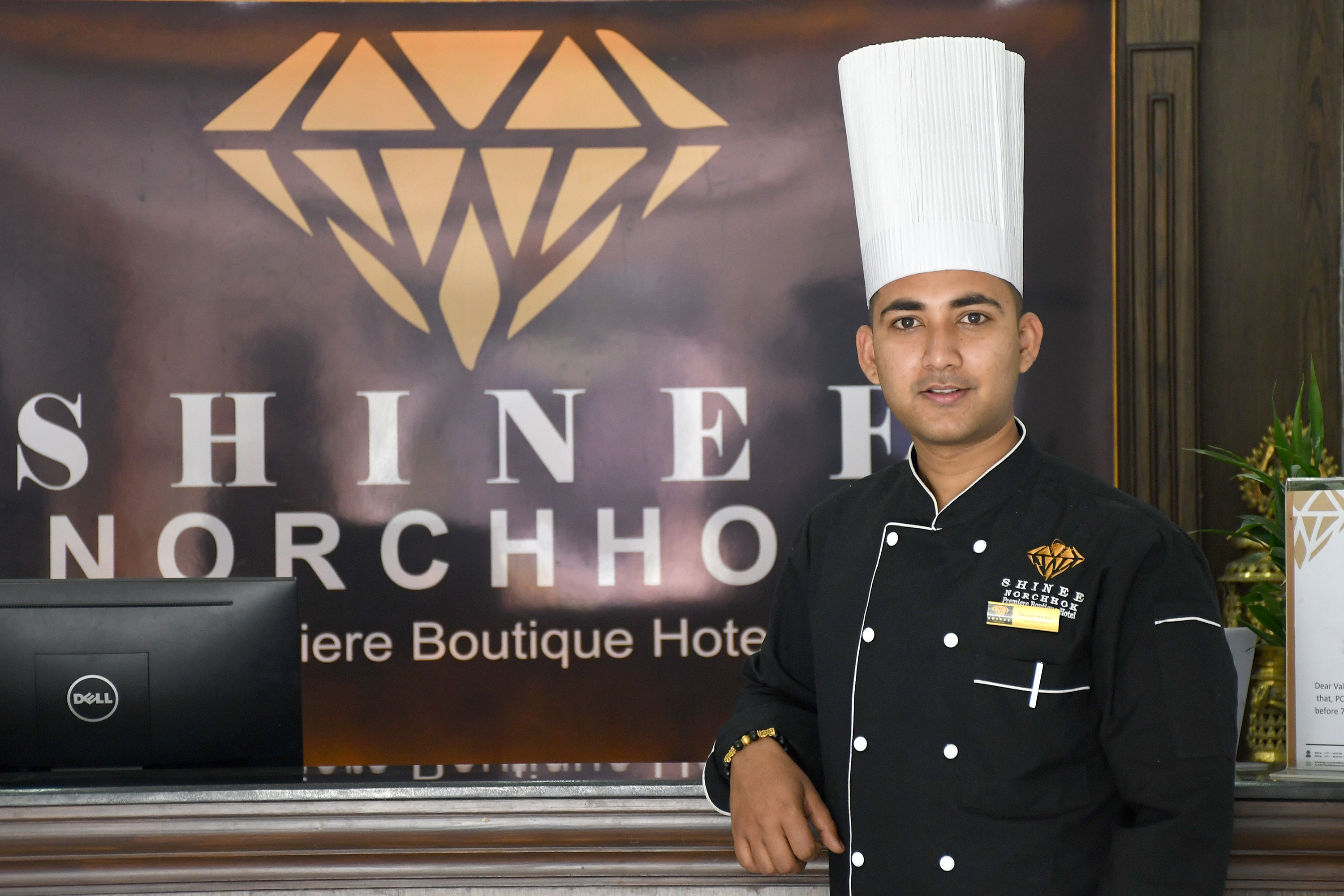 Twenty-four-year-old Heaven Khanal is the hotel's operations manager/executive chef. Anish Regmi/TKP
The aim, says Khanal, is to have Shinee Norchhok serve as a window to the diverse and exciting world of Nepali cuisine for the hotel's foreign guests, and a place its local guests trust for authentic and healthy Nepali dishes from various regions of the country.
The menu, Khanal says, is already in the works and will be ready very soon.
Given that the hotel's existing food menu is very limited with just three pages, there's no doubt a new, more extensive makes sense. The limited menu still features three local dishes, the two of which—Morel Mushroom Soup and Karnali Thali Set—are unlikely to be found in any other food menus in the city.
Both these dishes have a connection with Nepal's Karnali region and that connection is by no means an accident.
The hotel's owner is a well respected Buddhist master from Dolpa and the dishes are a tribute to the owner's birth region.
"Morel mushroom is one of the most expensive mushrooms in the world. As far as we know, in Nepal, the mushroom is found only in Dolpa," said Khanal. "We have been able to source it because our owner hails from the region."
The brownish watery morel mushroom soup isn't very appetising to look at, but it, says Khanal, is packed with nutrition and has a lot of health benefits.
The stock, made from vegetables, is light, and the small diced morel mushroom lends it a mild woody taste. Also present with the mushrooms are diced carrot and onions.
The next dish Khanal brings is the Karnali Thali Set. According to Khanal, it is one of the more popular dishes on the menu. Differentiating the Karnali Thali Set from other thali sets served in the city's restaurants is it comes with marsi rice, the hugely popular red rice grown in Karnali, instead of white rice. Also served in the set is a curry made from beans sourced from Karnali, which Khanal says is organic. The rest are all the same.
"It's a much healthier option compared to your regular dal bhat thali," says Khanal. "It's already popular among our more health conscious customers, and given the rise of the healthy eating trend, we are very sure that the thali will only get more popular."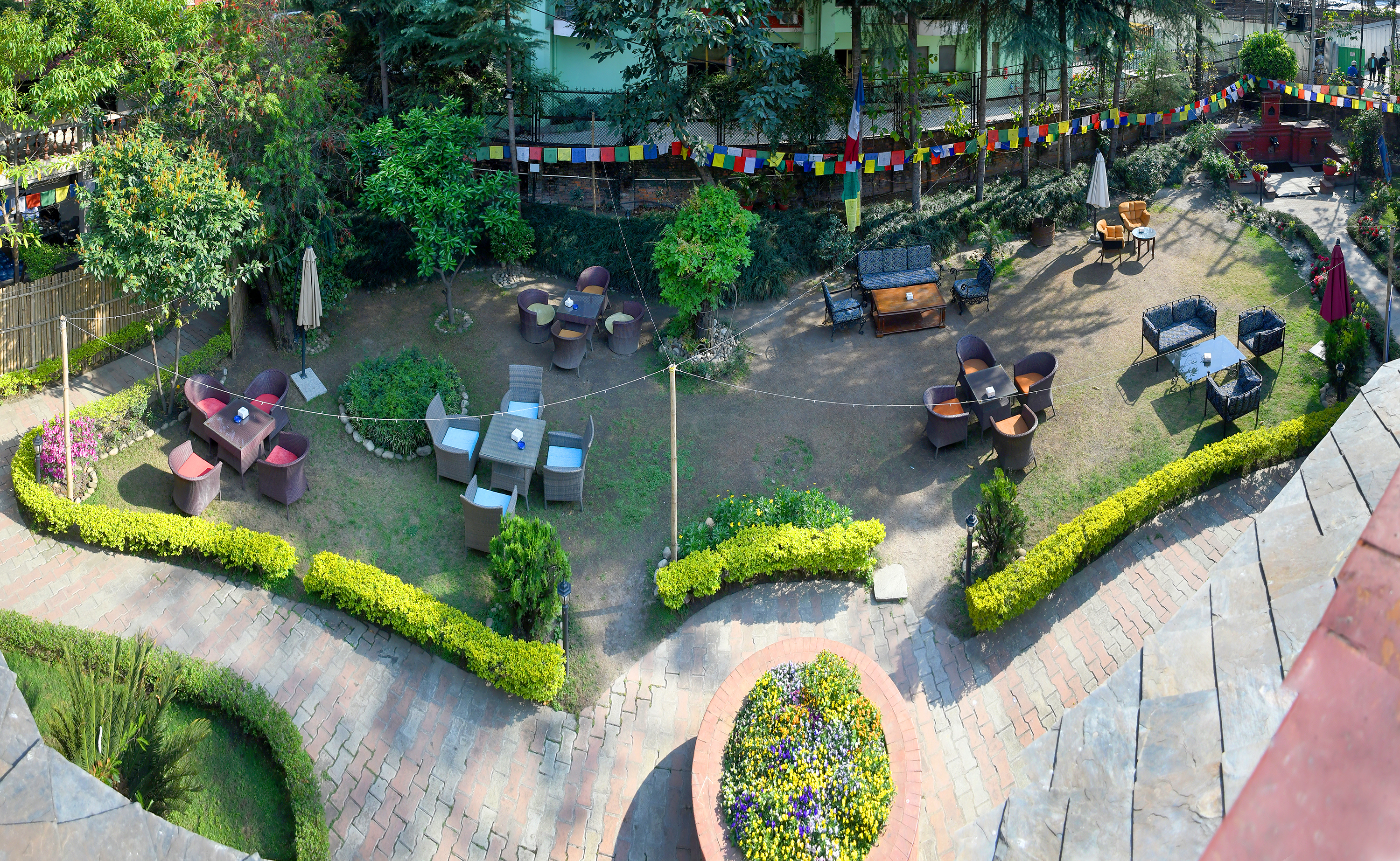 Shinee Norchhok has 13 rooms and a spacious garden for outdoor dining. Anish Regmi/TKP
Khanal says he has big plans for the hotel's new menu, and when done, the menu will, he says, will be one of a kind in the city's premium restaurant landscape.
Khanal isn't the one to divulge many details but insists that the menu will have familiar Nepali dishes like selroti but will also feature lesser familiar regional dishes that are popular in the respective regions.
"For example, Dolpo Aloo is one of the popular regional dishes that will feature in the new menu," says Khanal. "For this dish, we will be using potatoes grown in Dolpo. The potatoes from the region are more starchy, which makes a world of difference, than the ones available in the market right now. When cooked with spices from Dolpo, the taste of the potatoes elevates to another level."
Khanal's aspiration for making Shinee Norchhok 'the place' for authentic cuisines from Nepal is a tall one given his culinary experience so far has mainly centred around Italian and other international cuisines.
"I have a great, hardworking team here at the hotel and I know that we can achieve the goals we have set for ourselves," says Khanal.
---
---