Evergreen momos at the original Everest
Everest Momo Centre might have many copycats but the original remains true to its buff momos and jhol.

bookmark
Published at : January 3, 2020
Updated at : January 3, 2020 08:14
Momos come in all shapes, sizes and colours in Nepal. There are oblong momos and round momochas; some make their packets green, stuffed with spinach; others go orange or purple and fill theirs with chocolate. There's open momos and massive Tibetan style momos.
There's so much variety when it comes to the humble dumpling, and so many new bougie places try to deliver a taste in every possible form and every possible style—even beyond the jhol, fry, kothey and steam that we're all accustomed to. Tandoori? Check. Sadeko? Check. Chaat? Yes. On a skewer? Apparently so.
Nepalis are obsessed with momos, and for good reason. They're packets of goodness that unite the country. From high-end hotels that cast their momos in a sheen of luxury by adding unnecessary accoutrements to platefuls drowning in a jhol at a roadside eatery, they're hard to screw up. Momos are big business too—Bota Simply Momo claims to serve 15,000 morsels per day.
But there is one style of momo that perhaps everyone who's grown up in Kathmandu looks at with fondness. These momos are the circular kind, cooked on kerosene stoves that emit a raucous roar. The bhyar-bhyare, as it is colloquially called, is a Kathmandu staple. Kerosene stoves, colonies of momos sitting atop steam baths, and vats of achaar—it's a romantic sight for the ruminating dumpling obsessive. During every seeming conversation that I have with people, especially those ones who harp on about momos with undying importunity, three magic words come up—Everest, momo, centre.
But which one? The original, of course; the one that has so many cats copying it that it's almost lost its own identity. The one that cooks dumplings in batches and plays bingo when people's plates are ready. The one that serves you anything you want, so long as it's a buff momo swimming in a lapsi jhol. The popular one that still sits inside a shoebox space in spite of its success. Narayan Dai Ko Masangali momo has several eateries, opened on the back of its triumph; but unlike Narayan's, Everest has copycats—but mostly by name.
Ducking into the small space in Naxal, you will be greeted by a didi sitting at a blackjack table-sized counter, with an ordered flush of numbered, green poker chips. Those chips are dealt out to customers and called when the batches are ready. While some places have their momo steamers on a rolling boil, where dumplings seemingly play a permanent fixture, and dolly them out faster than you can say "bhok lagyo"; at Everest, you wait for your momos.
While you wait you'll find yourself searching for your phone, or something to do, because it's a mostly silent place where people come to refuel and not much else. Inside that waiting room, you will find four parallel pews and on the walls, a shallow shelf for eating from. On the whole, it's a rather clean place.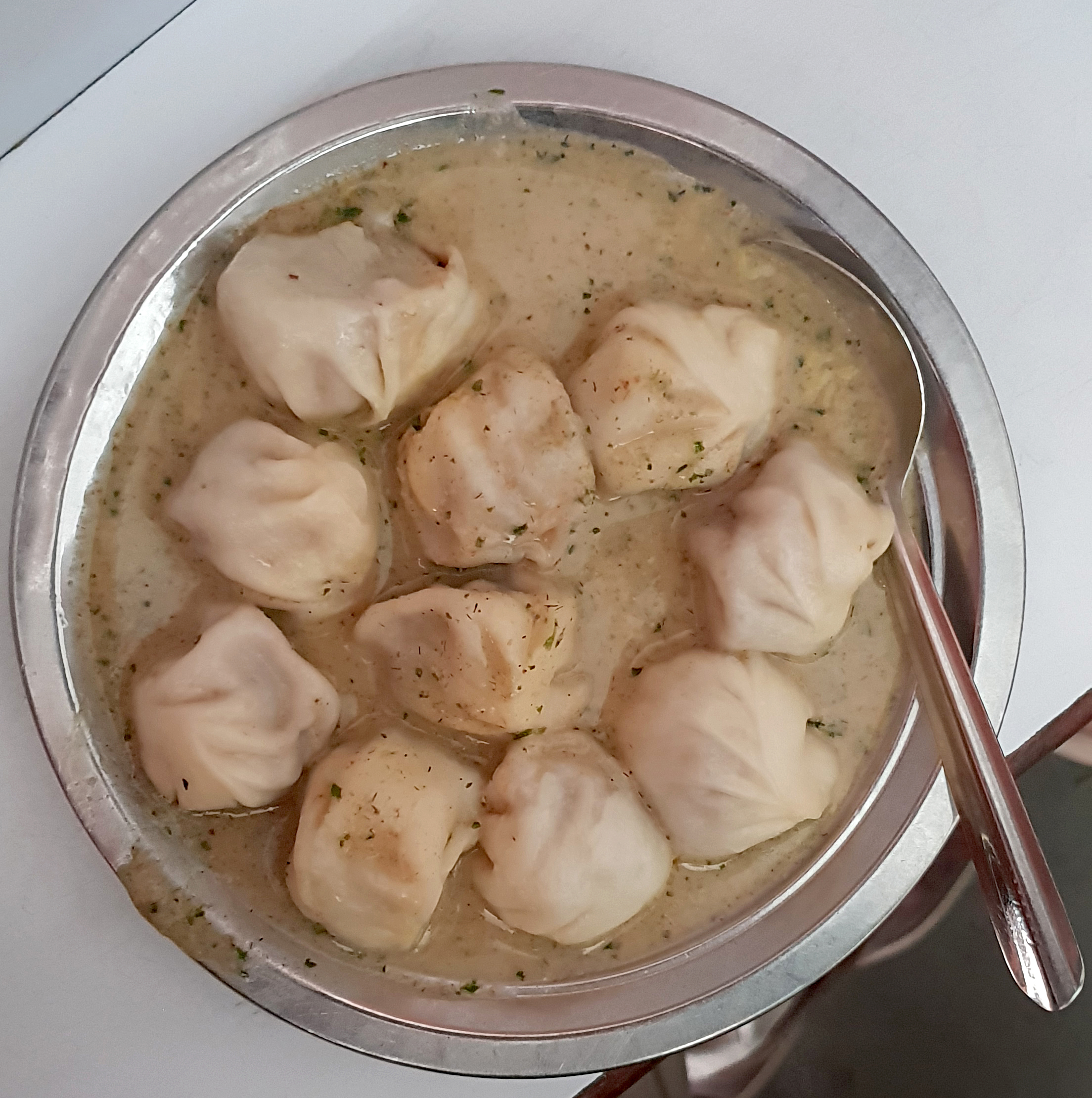 Arriving sweaty, fresh from their sauna and in a cool bath of jhol, tearing open the momos' doughy garb reveals lets even more steam out. Eat in one bite if you have a palate made of asbestos; eviscerate and douse in jhol if you're not so keen on delivering your tongue the third degree. When the meaty globules are perforated, their cores spew turmeric lava into the jhol. Ben Day dots of the oil paddle microbially within the deep pool of jhol, splicing and separating, further painting the balls of buff. The wrappers are at-times too thick, but on the whole are enough to present the heavily masala spiced meat, spangled with sliced green onion.

The momo-borne physical and spicy heat are somewhat cooled by the nutty, sour and slightly-too-salty liquor they are served in, but it's mostly accompanied by nodules of meat and dough.

The beige jhol that these momos are served in is not like many I've tried before, despite being rather familiar. Narayan's has one similar, and it's a trademark jhol of the many bhyar-bhyare places around the city. It's certainly got the slight sting of lapsi, and it's flecked with several different colours and spices. It's hard to tell what exactly is in the soup, but there are certain flavours that stick out. On top of the sour lapsi, there's a distinct nuttiness the lady at the door describes as being a chhop of til, sesame, or something like it. Black flecks in the jhol point to either black sesame or something similar—perhaps philinge (Niger seeds)?

The jhol must be a draw for the crowds, as more liquid is steadfastly distributed by servers following the dealing out of plates. One thing is clear though, the flavours contrast and complete themselves—spicy, warming, bitter, sour—and the distinct oiliness of the momos.

In this day and age, the single item menu is a bold move that many seem to have ditched for a please-all mentality. But, it's obvious Everest Momo's dedication to buff momos will remain evergreen among the crowds of people who want a satisfying plate, with relative speed and steadfast satisfaction.
Everest Momo Centre: Rs 150
Food: ★★★
Ambience: ★
Value: ★★★
---
---