Farmer's Market at Le Sherpa to ditch plastic by December
The ambitious plan to reduce waste will come into effect on Saturday.


Hundreds frequent the weekly market at Le Sherpa in Lazimpat. Facebook
bookmark
Published at : July 25, 2019
Updated at : July 26, 2019 11:09
Kathmandu
A plastic-free drive has been given the green light at the Farmer's Market at Le Sherpa.
Held each Saturday at high-end restaurant Le Sherpa in Lazimpat, the market attracts a few hundred for its premium food offerings from its 80-odd stalls. By December, every stall will be entirely plastic-free, according to organisers.
In the meantime, the market's management will institute a traffic light system to show customers each vendors' level of plastic use. The plastic-free plan was started some two months ago, after the market's management teamed up with Plastic Free Himalayas to design and institute a system to rid the market of plastic over the course of the next few months.
Francois Driard, director of Farmers Markets of Kathmandu, told the Post it was the market's responsibility "to lead the way".
"We are all becoming more and more conscious of the fact that we need to minimise plastic use and be protecting the planet," Driard said.
With the help of Plastic-Free Himalayas, the concept of green, red and yellow plaques was designed to indicate the level of plastic-free compliance among vendors, which will continue until December. Green placards would indicate vendors were plastic-free, yellow for reusable plastics and red for single-use plastics. Driard said vendors who don't comply will have to pay a higher fee to run a stall inside the market.
"The idea is that it's a softer way to push vendors to go plastic-free," Driard said.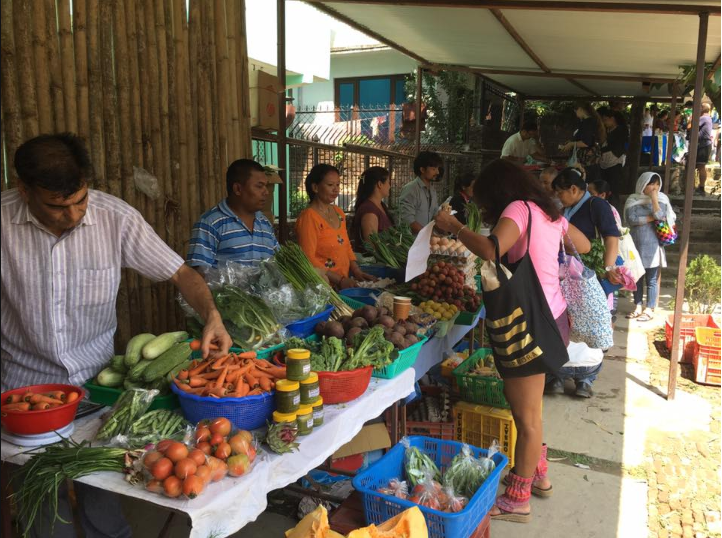 Plastic could be a thing of the past at the Farmers Market at Le Sherpa Facebook
Reena Bajracharya of Plastic-Free Himalayas said most vendors were supportive of the new traffic-light system, and plastic-free drive.
"We asked them if they were ready for it, and they said they were already trying to reduce their use of plastic. It was very good to see that they were looking for alternatives already."
Driard, who also runs Himalayan French Cheese, told the Post other vendors had come around to the idea after some initial uneasiness. The traffic light system was a good incentive for plastic reduction too, he said. Additionally, uncompliant vendors' table fees would be increased.
Driard's table at the farmers market has been "green" for the past couple of weeks, and believes everyone will be able to find non-plastic alternatives.
"We need to challenge them to find some solutions."
Bajracharya said spreading the word was the most important part of making the market a plastic-free success.
"We are working a lot on the education part, so that customers bring their own bags and we're encouraging vendors to engage with them too," she said.
Farmers Markets of Kathmandu also manages Sunday's market at Yellow House in Sanepa. The plastic-free drive would not be instituted there, but Driard hopes the practice will "trickle down" the town from Le Sherpa's.
***

What do you think?
Dear reader, we'd like to hear from you. We regularly publish letters to the editor on contemporary issues or direct responses to something the Post has recently published. Please send your letters to tkpoped@kmg.com.np with "Letter to the Editor" in the subject line. Please include your name, location, and a contact address so one of our editors can reach out to you.
---