On the road
Mark Meigo is the penultimate vagabond. In an incredible 20-month long journey, he has travelled, on foot, from his home country Estonia through continental Europe and large swaths of Asia.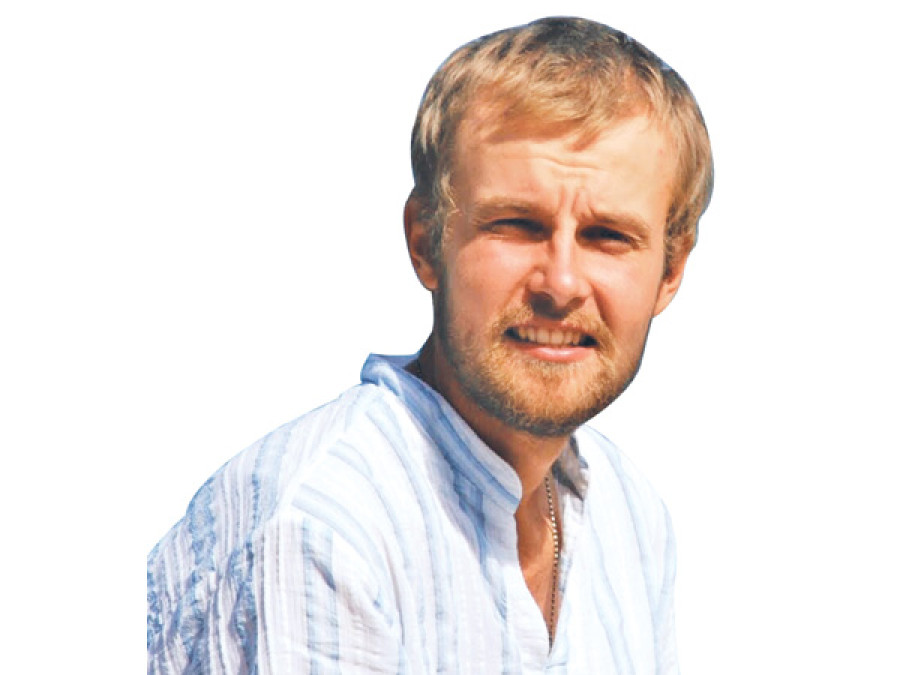 bookmark
Published at : February 2, 2016
Updated at : February 2, 2016 08:42
Mark Meigo is the penultimate vagabond. In an incredible 20-month long journey, he has travelled, on foot, from his home country Estonia through continental Europe and large swaths of Asia. The Post's Sanjit Pradhananga caught up with the traveller, currently passing though Nepal—along the East-West Highway—for a chat about his journey, its joys and hurdles and what the future has in store. Excerpts:
This has been quite a long journey for you. Can you tell us a little bit about your travels thus far?
Yes, I have been on this journey for almost two years now, starting May 11, 2014 to be precise. From that day on, I started this journey from Estonia, my home country, and I have been travelling exclusively by foot, without relying on buses, cars, trains, airplanes or anything else.
It took me five months to travel through eastern Europe—walking from Estonia to Greece via Latvia, Poland and the Balkans. Then I entered Asia through Turkey and Iran. The only country I did not walk through was Pakistan. I took a flight from Iran to India and then walked northwards for four months (1,820 kms through seven Indian states).
Currently, I am walking through Nepal along the East-West Highway. I plan on walking from Mechi to Mahakali. I have already finished walking 800 kms, and still have 200 kms to go until I reach the Kakarbhitta border.
I have, so far, walked through 14 countries and a total of 7,850 kms. In Damak, I plan on celebrating the completion of 8,000 kms—which is also, incidentally, 20 percent of the distance of Earth's equator.
Surely, taking up a project like this was extremely challenging. How did you come up with the idea of starting? What were some of your inspirations?
I had a lot of inspirations starting from my early childhood. At that time, almost every evening, my mother used to read to me different books on fairytales. Most of these stories usually started in some faraway place, beyond the seven seas.
When I was a teenager, I did not like to sit in classrooms. Whenever it was possible, I escaped school to go to places I had never been to before. I used to take random buses and used to drive to unknown places. In hindsight, I was a big nuisance for my teachers and parents. For many hours, even all day, I would sit in parks, just to observe people and myself. I had so many questions about the mysteries of life and I felt I really needed the answers and the experiences that would give me peace.
Before I started this journey, I read many stories of people who had done it. Many people had walked for many years—some even for more than 20 years!
This really inspired and fired me up. I began to develop this very strong inner feeling that I also had the necessary will to do something similar. It felt like the only right way for me to continue with my life. (I am not married and I do not have a girlfriend, so I did not have to worry about that.) And my whole family supported me in the endeavour. Their united message to me was: "Go, go, go!"
Your trip has taken you across the continental Europe and through fascinating parts of Asia as well. Although, I am sure all of your trip has been memorable, can you recall some of the best moments from your trip.
Where do I even begin? These past 20 months have been so enriching. During this time, I have lived and slept in more than 110 different homes. I always feel very blessed to have the opportunity to stay with local families. I feel that homes are the most private and special places—holy even. Seeing the daily life of families from the inside and listening to their stories and questions is always very special and memorable.
If I were to pick specific instances, in Hungary, a young female dog, whom I named Happy, started following me and lived and walked with me for 10 days. I will remember her companionship for a long time.
After walking through the Balkans, it was also great to reunite with the sea after three months in seven countries. In Greece, I met with my mother and sister, with whom I spent a short vacation with. I climbed Mount Olympus with my sister, which was a great challenge but extremely fulfilling at the same time.
The colourful and vibrant India had its own charms as well. I had so many different types of experiences during my travel there. For instance, for two days, I lived in a slum near Mumbai. I was invited to stay in a house with a single room, an offer I gladly took up. I lived there in a tiny room with nine other people, two dogs and two cats. The slum dwellers were so generous, even though they had so little themselves. Despite their situation, they were so happy and grateful for whatever little they had. It really put things into perspective.
A few week later, I met another family who owned a big company and several houses. Yet, despite their prosperity, they constantly told me that the most important thing in life is not the money but how well we treat each other. Their hospitality was great, but their open hearts is what I will remember them by.
In India, I also got the opportunity to walk with thousands of Hindu pilgrims on their way to the Ambaji Temple in Gujarat. These pilgrims walked more than 300kms in a week, and I was honoured to have been a part of such a sacred pilgrimage.
I have also had the chance to visit many schools, universities and companies in different countries and given talks there. Once I gave a talk to an audience of more than 800 girls at the Mayo College in Ajmer, India. This was a very memorable event as well.
Overall, I think, I get a very positive feeling after I finish walking through one country and I do find myself full of gratitude as I start walking through the next.
What are some of the challenges that you have encountered along the way. Anything you'd want to forget?
There is nothing that I would want to forget, even though this trip has been extremely testing at times. I feel that there are many types of challenges: Some are inner, emotional and others are outer, physical.
One of the challenges is having to walk through different climate zones. The maximum temperature in which I have walked in is +42 degrees Celsius. I was wearing a hat then, and I had to soak it with water every couple of hours to be able to continue walking. The coldest temperature I have walked through is -17 Celsius. During that time, I was wearing double thermo clothes and other woollen apparel. Also, for nearly a month, I walked through the monsoon rains in India.
During this journey, I have camped more than 200 nights in tents in different forests. One night in Pali, India, a leopard was only a few metres away from the tent and was roaring but did not touch the tent. Thankfully! I have been bitten by dogs, however.
I also carry a 15 kg backpack with me and a few times, in Slovakia and in India, I came very close to being robbed.
Yet, despite all the physical duress, the hardest challenges for me is to deal with my inner negative emotions. There are many egoistic dynamics in me that I do not like—I feel they are very bad. But I am working daily to overcome them because they do not really help me at all as I try to make positive connections with the local people I meet every day.
You have been walking in Nepal for a few weeks now. How has the experience been thus far?
Walking more than 800 kms in Nepal has truly been one of the most beautiful experiences of my life.
So many happy people have invited me into their homes, given me tea, food and many gifts like new shirts, a new jacket, new socks, new shoes, and have even given me money. In Nepal, up to now, I have slept in 11 homes, three schools, a hospital, a restaurant and an Armed Police Force camp. Every day at least 10 people stop their motorbikes and want to give me a lift, which I always refuse.
Each day in Nepal has been very different and truly very special. Nepali people are one the friendliest, most hospitable, and happy and sincere people I have met.
What are some memories you will take away from Nepal?
I really loved being with the young people of Nepal. I was invited to visit three different schools and I stayed in the students' hostels. I love my Nepali brothers and sisters very much—we have had so many joyful moments together.
The hospitality here, of course, is unforgettable.
Where do the roads lead you after your travel through Nepal?
Hopefully to India, Bangladesh, Myanmar, Laos, Vietnam, China, South-Korea, Japan, Canada, North - and South America, Africa and then back to Europe.
If you could offer our readers one lesson that you have learned from your journey, what would it be?
I have learned that every breath and every heartbeat is a precious gift. And that the best way to live is to constantly evolve into a better human being. Always treat other people, nature and yourself with kindness. Just that will bring magic into your life, as it has done in mine!
---