Under-prepared pitch forces postponement of PM Cup matches in Mulpani
The tournament kicks off on Friday with Army vs Province 2 clash at TU Stadium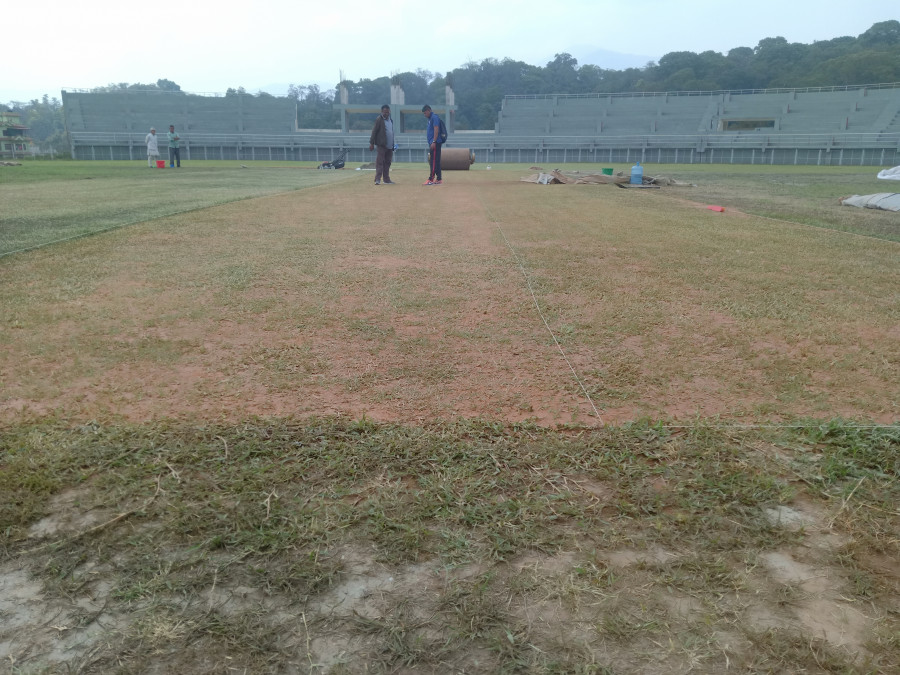 Officials inspect the pitch at the Mulpani cricket ground in Kathmandu on Thursday. Post Photo: Adarsha Dhakal
bookmark
Published at : May 23, 2019
Updated at : June 22, 2019 15:05
Kathmandu
An under-prepared pitch has resulted in the postponement of the first two games of the Prime Minister Cup One-Day National cricket tournament at lower ground in Mulpani.
National Sports Council, the tournament organiser, was preparing to inaugurate the lower ground in Mulpani with the Nepal Police Club versus Province 1 clash. However, both the pitches supposed to use for the tournament are not in playing conditions and the inauguration of the ground has been postponed for Sunday.
Doubts still remain if the pitches in Mulpani ground will host any match at all. Mulpani is scheduled to host nine matches—all league games—of the PM Cup with the rest to be held at the TU Stadium. "There will not be any matches for the next two days in Mulpani and we are planning to get the pitches prepared for Sunday," informed national cricket team coach Jagat Tamatta.
Curator Ajay Pandey was still planning if something more could be done in the only pitch that could somehow be made playable by Sunday. "I was trying to use my experience to bring it into perfect shape although we had a very short time to prepare it. But it didn't work," Pandey, who has travelled across the country to prepare pitches for domestic tournaments, said.
Mulpani currently has two grounds, one at the upper part which also houses the office of the Cricket Association of Nepal. Few games of the first edition of the PM Cup were held at the upper ground—the only instance when it hosted a high-profile event. The NSC is itself taking care of the lower ground, which has a 1,500-seater capacity parapet, in coordination with the government. But since a portion in the premise is disputed by the occupation of few local residents, rest of the construction work has long been stalled. The trails made by heavy vehicles leads to the playing pitches making the outfield uneven while a part of the boundary towards long on doesn't even have grass.
The PM Cup will be officially inaugurated on Friday when Tribhuvan Army Club take on Province 2 clash at the TU Stadium. Nepal Armed Police Force Club are the defending champions. The tournament offers Rs 2 million to the champions and Rs 1 million for the runners-up. The man-of-the-series will ride home a motorcycle.
---
---