One good thing for the future of art literature is here
Asia Art Archive and Siddhartha Arts Foundation's Mobile Library Nepal could be a start to engaging more people with art—a place to dig deeper and understand art better.

At the newly established art library, currently in Bikalpa Art Center, Pulchowk, the vision of strengthening conversation around art appears to be coming together. Keshav Thapa/TKP
bookmark
Published at : February 6, 2021
Updated at : February 7, 2021 16:14
Kathmandu
"Looking at a well-curated exhibition should be an effort that is not easily (sic) digestable. It should ultimately be an educational, intellectually stimulating, inspiring experience," read lines from Jens Hoffmann, an exhibition maker's essay in the book 'Who Cares?—16 Essays on Curating in Asia'. The lines hit home as it's one of the things people, particularly in Nepal, have continued to discuss—of how exhibitions need to offer more to people—and more so without the realisation this discussion is happening globally.
To the average Nepali, the world of art has remained vast and yet narrow. The understanding of what art is, what are our art practices, and what an exhibition should offer have been mostly vague. And when books like these are inaccessible and unknown, odds are people will never even think to discuss issues of art further.
But at the newly established Mobile Library Nepal, currently placed in Bikalpa Art Center, Pulchowk, the vision of strengthening conversation and activities around art appears to be coming together.
The book 'Who Cares!' by Para Site, Hong Kong's leading contemporary art centre would probably have never made it to a Nepali's Google search suggestion unless a specific keyword connects to the right data. But at a library, people's exploratory impulse can lead them to pull up any book and surprise them with what they didn't know, or with what they knew but didn't know what to search for.
"That is what is special about libraries. When you are Googling things you tend to anticipate what's going to pop up, but in a space like a library where you can just pull out things, there's an element of surprise there—of seeing things that you perhaps wouldn't look out for or have not seen before," says Samira Bose passionately resonating to the start of a mobile art library in Nepal. Bose is the programme coordinator at Asia Art Archive, India.
After a gloomy year in the pandemic, the mobile art library's start looks like a silver lining for the country's evolving art world. And the people behind the library believe the initiative will be a significant start to many more art activities in the future. The library has filled a necessary gap of archiving Nepali art practices and literature that for years people from the art community have addressed.
At Bikalpa Art Center, a small artistic space provides a collection of content on art, art history and trends from across Asia for people of diverse backgrounds and for mainly, artists, creatives, students, educators and art writers and critics.
The library also includes Nepali art literature from art writers like Ram Dayal Rakesh, Mukesh Malla, Laya Mainali, Ramesh Khanal, Saroj Bajracharya, Madan Chitrakar and Gyanendra Bibhas. And art books on various themes like women in the arts, art in the time of crises, innovation through traditions, art education, art and activism, alternative art spaces, museums in Asia, popular forms of visual culture, cultural revolution, photography and video art and histories of social art.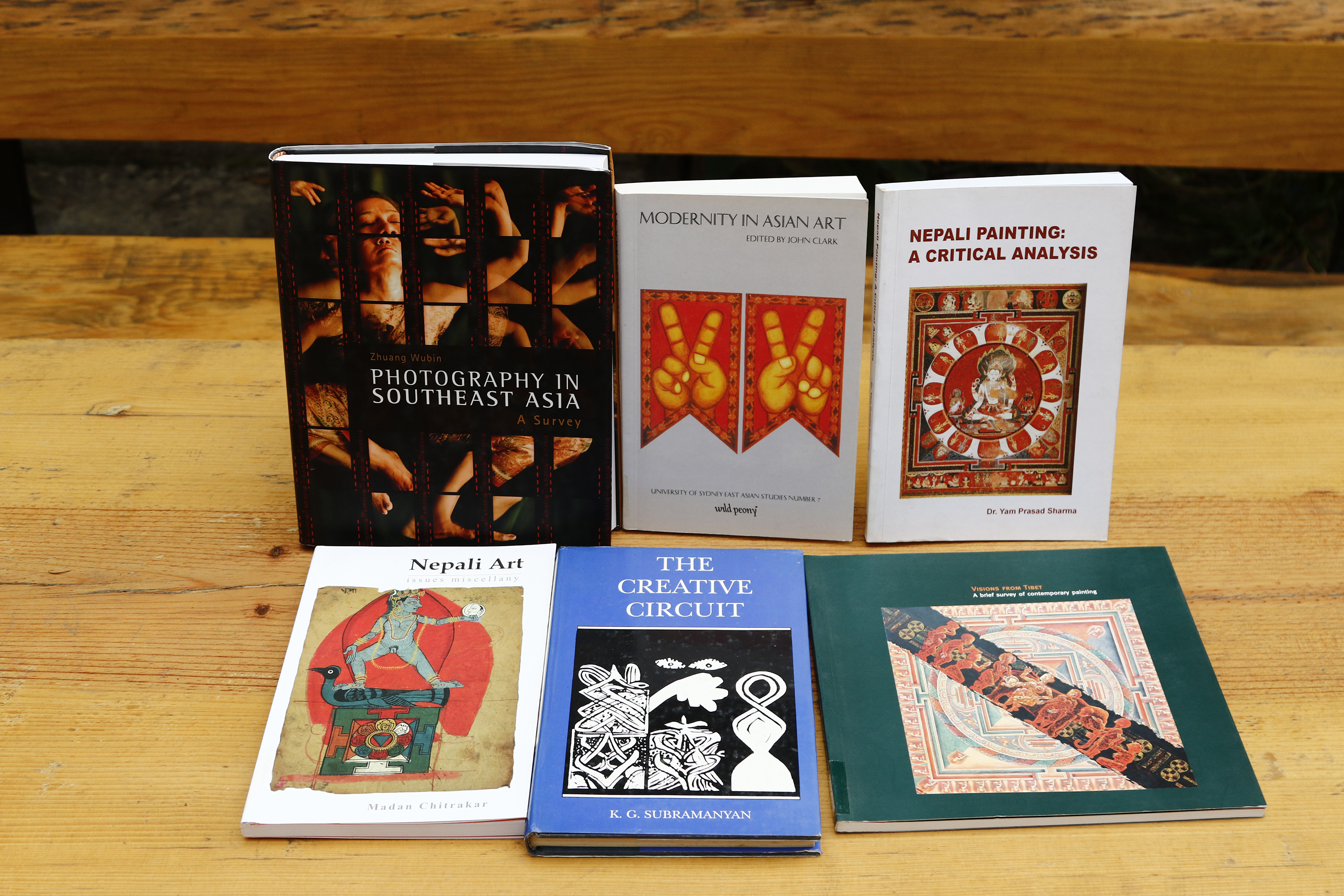 Keshav Thapa/TKP
The project is a collaboration between the Asia Art Archive, a non-profit organisation based in Hong Kong, and Siddhartha Arts Foundation, an organisation that promotes Contemporary arts in Nepal. And it currently has a collection of about 484 books, including exhibition catalogues, periodicals, and monographs. Going forward, it plans to expand on the collection and circulate it to different art institutions and independent organisations.
The mobile art library will be the first art library to unpack contemporary Nepali art literature and engage with mainly students and educators to widen the horizon of art.
"It's not that we don't have libraries here in the country but there has always been a certain kind of boundary with institutional libraries but with this project, we hope to make this place more engaging. It won't be a conventional reading place where people should be quiet, we want this place to be a space for art discussions and initiative," said Mahima Singh Kushwaha, an artist and the coordinator at Mobile Library Nepal.
The idea of the library initially had evolved over a conversation between Sangeeta Thapa, the founder of Siddhartha Arts Foundation, and Claire Hsu, the co-founder of Asia Art Archive, on the significance of documentation of art and how their archives were devoid of Nepal's art history. Thapa had always felt the need to document art to foster the Nepali art scene.
"Archives are vital and are documentations of the times we live in and the artists being receptive to socio-cultural-political situations. And if we don't have the documentation we don't know anything, we don't get to understand art," said Thapa.
Previously, in 2010, Thapa had initiated an art library in Patan Museum, 'Kathmandu Contemporary Art Centre,' with Celia Washington, with a collection of about 3,000 books. However, she was unable to continue with the art space after the earthquake due to financial difficulty.
But soon after Thapa's conversation with Hsue, they decided a library would be the perfect way to work on archiving Nepal's art and art history and to simultaneously introduce Nepali art practitioners and enthusiasts to the works of art from around Asia. The initiative aspired to build a foundation to support various art initiatives and the universities in the country through a library that would constantly try to exchange and share knowledge about art. The project works in two parts together, one of bringing art literature to the Nepali diaspora and then of taking Nepal's art to Asia. And it builds on the Kathmandu Triennale 2077 curatorial team's research efforts and conceptual contributions.
"We had immediately thought of the mobile library as one intervention in Nepal because we believed we could work on multiple programmes with this initiative. We thought it would be the best way to make art literature accessible to locals and organize educational and public programmes through the project," said Susanna Chung, programmes manager and head of learning and participation at Asia Art Archive, Hong Kong.
Chung and Bose both had also travelled to Kathmandu last year to conduct research on how to go about with the project and to understand the ground reality of the country in terms of art and culture development to cater accordingly through the art library.
"The research was important for us, as we wanted a process of knowledge exchange and we didn't want to be an organisation that just brings resources to a place, we understand that we are also lacking in terms of art history in what is happening in Nepal," said Chung. "And through this initiative, we want to make the invisible visible."
The Mobile Library Nepal team believes for quite a long time our learning of art has been guided by Western art and history, while the Asian art practices and history have not been as conspicuous. Even today, in Nepal, the art history pedagogy is more dominant in teaching Western practices than the country's own art history. And for years, important histories have remained undiscovered.
"But with our initiative, we hope to share with people art practices across Asia so that they can go deeper into understanding these art practices and history," added Chung.
Besides bringing a good collection of art literature to people, the mobile library project is also working on a bibliography project which was first initiated in Asia Art Archive, India, to recognise art writing in the country. The project now under the library project aspires to bring together a listing of art documentation together from South Asia to tell users where it is available and can be accessed.
"Within this project, we also tried to collect keywords to bring together themes and names, independent initiatives to help make these works of literature more accessible to people and we hope when we are able to collect significant information we can organise an exhibition and share this with people," said Bose.
The mobile library is also in preparation to organise reading circles to engage more people with the literature available in the library.
"What we hope to do is make this library an active place of learning and exchanging information as we also are quite aware of how the country's reading culture is not established and we hope to work on it through these programmes," said Thapa.
Additionally, the library will be engaging students and artists in research and fellowship programmes and is hoping to organise a knowledge exchange programme from Kathmandu to Janakpur and vice versa. The project also looks forward to the users of the library to initiate more activities that can build a better ecosystem for an evolving art scene.
Around the world, libraries are recognised as places that bring together people, diverse ideas and interests together—moreover, places like these are considered pertinent to develop a community intellectually. In Sri-Lanka, AAA's mobile library had sought to bring together people to think about heritage preservation. And in Myanmar the library was used to think about building infrastructure, says Chung. The Mobile Library Nepal will be AAA's fourth iteration of the mobile library project.
And the Mobile Library Nepal team here in Nepal, hopes to bring people together to think about art, generosity and accessibility of the things the country already has. It hopes to advocate people in the existing art history and art that we have not recognised as art, to discuss and strengthen the art ecosystem from within.
"So, the idea of the library is not just to build infrastructures for shared experiences but also to unpack what already exists. That's why our project is very open and we aspire this initiative to be a space for learning to help them open the world of art to more people," said Chung.
---
---