The pains of outgrowing the fundamentalist roots
Tara Westover's 'Educated' recounts the extremity of her upbringing and her efforts to find liberation through formal education.

Pixabay
bookmark
Published at : November 2, 2019
Updated at : November 2, 2019 07:46
Kathmandu
On a jagged little patch of Idaho, at the base of Buck's Peak, Tara Westover lives with her parents and six elder siblings. She is around seven—though no one remembers when exactly she was born. Her birth has not been registered, and for the government, she does not exist. She doesn't go to school because her father believes it is akin to surrendering to the devil. A devout Mormon, he also believes that the Second Coming is near, and obsesses over preparing for it.
One day, her grandmother offers to take Tara away from her father's survivalist ideas of canning peaches and packing emergency supplies. Come with me to school, she implores Tara. The little girl almost relents, waking up at dawn to accompany her grandmother. Then she just slops the pigs, fills the trough, moves her grandfather's horses to a new pasture, and stares at her grandmother's car until it disappears around the bend. The school, she has decided based on her father's words, will brainwash her. It will be ten years before she steps into an educational institution.
Westover's memoir is the recounting of this journey, of how she went from an isolated upbringing without a basic concept of education, to conquering academics in the best universities of the world. It is a story of grit and determination, of fear and fate, and mangled relationships. It is a reminder, again and again, of just how powerful a miracle the gift of learning can be. It is a sensational story, sensibly told, that needs to be read with empathy and understanding.
At the very beginning, Westover clarifies, "This story is not about Mormonism." This is an attempt to keep away readers perversely and covertly fascinated by the examination and fallacies of a different faith. The memoir might not spring from this ancient belief, but it does shadow the family's life to this day. "Butter and honey shall he eat," Tara's father, Gene, reads aloud from Isaiah—the next day, he lugs home fifty gallons of honey, and banishes milk from the dinner table.
God can't abide faithlessness, her father believes. He condemns the medical establishment, firm in his belief that "they are trying to kill you." When half his face melts off in an explosion, he says he would rather "submit himself to the devil than go to a hospital." Everything in this home is cured only by Tara's mother's herbs—ylang ylang and witch hazel, calendula and lobelia. Any woman revealing an inch of her skin is a "whore", people mingling with the other sex are "gentile."
These proclamations are lodged deep in Tara's subconscious, it is a burden of morals and prohibitions that she heaves around. The memoir could be a case study of just how long-lasting and harmful childhood indoctrination can be. Tara's father, and then her brother, Shawn, attempt to, and are often able to, control her body and thoughts. Snide remarks and restrictive measures soon morph into full-blown neglect and violence. As Tara begins working for her father, sorting junk into piles, this disregard for sanity and human life comes into focus. An incident where he knowingly dumps a load of metal with her sitting on top is terrifying. But even more awful is the way he reprimands her after she falls, making her feel inadequate and clumsy —"How'd you manage that?" To add to the horror is Tara's mother, who doesn't (have a choice to?) offer a tetanus shot when an iron spike has pierced her daughter. "You've damaged your kidney," she says calmly, going off to prepare a batch of juniper and mullein flower.
Another incident, of Tara's brother bursting into flames while at work, and the reaction of their father, will leave readers shocked. Confident in the power of his Gods, Gene grows ever more reckless, taking illogical risks again and again, not stopping even after half his family has their fingers torn off and heads splintered. At one point, he's speeding through the night, unperturbed, because he's not "driving faster than our angels can fly."
Towards this father, Tara is often mild, making excuses, protecting and shielding him. Later, she wills herself to seek explanations for his gaslighting, abuse and violence. This casual misogyny seems to pass from father to son. Soon, Tara's brother Shawn will be shoving her head into toilets and dragging her through asphalt parking lots. Her story will be as much of a tale of education, knowledge and wisdom, as of rebuilding a life battered of its self-esteem and confidence. Throughout, Tara makes a sincere attempt to be careful and measured, to stick as close to the truth as possible, and to try to treat her family with understanding and sympathy. All of us need crutched and clutches, something to draw on, she concludes: education, religion, science, nature…
It is not to say she succeeds. There are times when she lapses into a monotone, presenting only a polished version of her own experiences and building anecdotes out of hearsay. Though an inspiring and provocative work, Educated is not bereft of the weaknesses of a memoir. A person's traumatic experiences cannot be criticised or questioned, and yet, some incidents in the memoir appear dramatised and amplified for effect. Or perhaps this heightened tension and anxiety was what the author felt, particularly as a frightened child, and reproduced on the page. The storyline is stretched taut and crisp, like a thriller, causing readers' hearts to swell and hammer.
Contradictions and questions arise aplenty—Tara says she realised she had to read a 'textbook' only after a friend told her at university, yet she has already prepared for an exam beforehand by reading a textbook, at her parents' home. Her family's accidents are too gruesome to be treated effectively even by medical science, yet her mother clicks her fingers and heals them fully, with no risk of infections or internal damage. Tara mentions multiple times of an inaccessible lifestyle, yet her family and their business are very much connected on the world wide web.
Again, it is impossible to critique or doubt an outpouring of personal experiences and feelings. And what Tara has undergone and risen out of is laudable. She tries to tell it as honestly and in as matter-of-fact manner as she can. Her language is smooth and descriptive for the most part, lapsing into a stilted and stiff tone when confessing her own feelings. The storyline teeters and falters, and has a jumpy feel of disparate timelines. The quality of her writing is its anthropomorphism, perhaps born out of her affinity with nature. She is loving towards the mountain Princess of her hometown, "whose head brushes the sky," and "whose caresses she misses." Conifers and sage-brush are soloists, wheat fields a corps de ballet. She often feels as if "the peak itself is exhaling", and that a gentle hill "stitches itself to the mountain base."
Told in such touching details, Educated is a tale as pathetic as it is bizarre, as wild and it is stirring. It explores the deep and long scars of fanaticism. But it dwells more on the beautiful and wise. It is a celebration and triumph of the power of education to truly heal and transform. It is a work that will make you thankful for the roof over your head, the meal you eat, the book in your hand, the very fact that you are 'educated' enough to decipher the words and meanings within.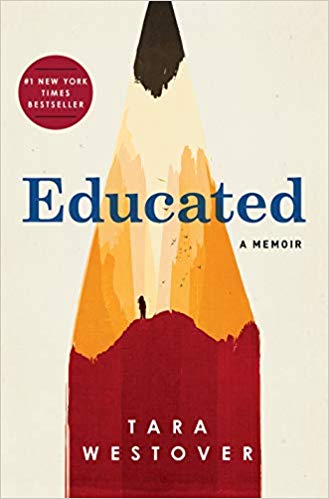 Educated
Author: Tara Westover
Publisher: Windmill Books
Price:Rs850
---
---