Where tradition and modernity converge
Studio Kishangarh's exhibition'Domains of Wonder' at Siddhartha Art Gallery explores themes of creation, devotion to Lord Krishna and imaginative narratives within vibrant and engaging settings.

Post Photo
bookmark
Published at : October 20, 2023
Updated at : October 20, 2023 17:46
Siddhartha Art Gallery's (SAG) stark white interior is spry with the vibrant greens of Studio Kishangarh's 'Domains of Wonder' exhibition. Each painting adorning its vast walls exudes a fun vibe with its bright and exuberant colour palette, depicting Shrinathji (a form of Krishna) in landscapes that are similarly vividly vibrant, made with modern techniques. A notable part of the exhibition is its Pichwai-style artwork, traditionally crafted for temple adornment. Some paintings embrace a deliberate simplicity, perfect for adorning walls, while others provoke contemplation, inviting viewers to explore various interpretations.
Established in 2010 by Princess Vaishnavi Kumari, Studio Kishangarh blends traditional art with contemporary innovation. Vaishnavi, a master's graduate in Art History, endeavours to modernise miniature paintings by experimenting with new materials and fresh perspectives. Through the 'Domains of Wonder' exhibition, Vaishnavi aims to transport the audience to a vivid glimpse of an era we rarely encounter. "The landscapes and backgrounds in these paintings are vivid and enchanting. You can almost feel the monsoon clouds and the ancient trees, immersing yourself in a wondrous past," says Vaishnavi.
The studio, in its bid to combine traditional and modern, utilises both traditional artistic materials like stone colours, silver and gold leaf alongside modern ones. Vaishnavi shares that the use of these traditional materials adds depth and quality to the arts, which is very different from the use of modern materials. Studio Kishangarh experiments with all kinds of mediums—as observed in the exhibition as well as with the range of works presented there—from traditional paper to canvas, stone colours to acrylic paints. The exhibition brings the beauty of both contemporary and traditional techniques.
Upon stepping into SAG, your attention is immediately drawn to the acrylic painting 'Sacred Tree I' and 'Sacred Tree II', where Shrinathji stands out against a bold red and yellow background. The sacred tree depicted here intricately weaves its branches from Shrinathji's form, painted in serene hues of blue. This theme of creation is central to the 'Domains of Wonder' exhibition, evident through the frequent presence of trees, plants, and animals in the artwork. Among these, my personal favourite is the 'Creation of Universe Part I to V', inspired by the concept of the cosmic egg.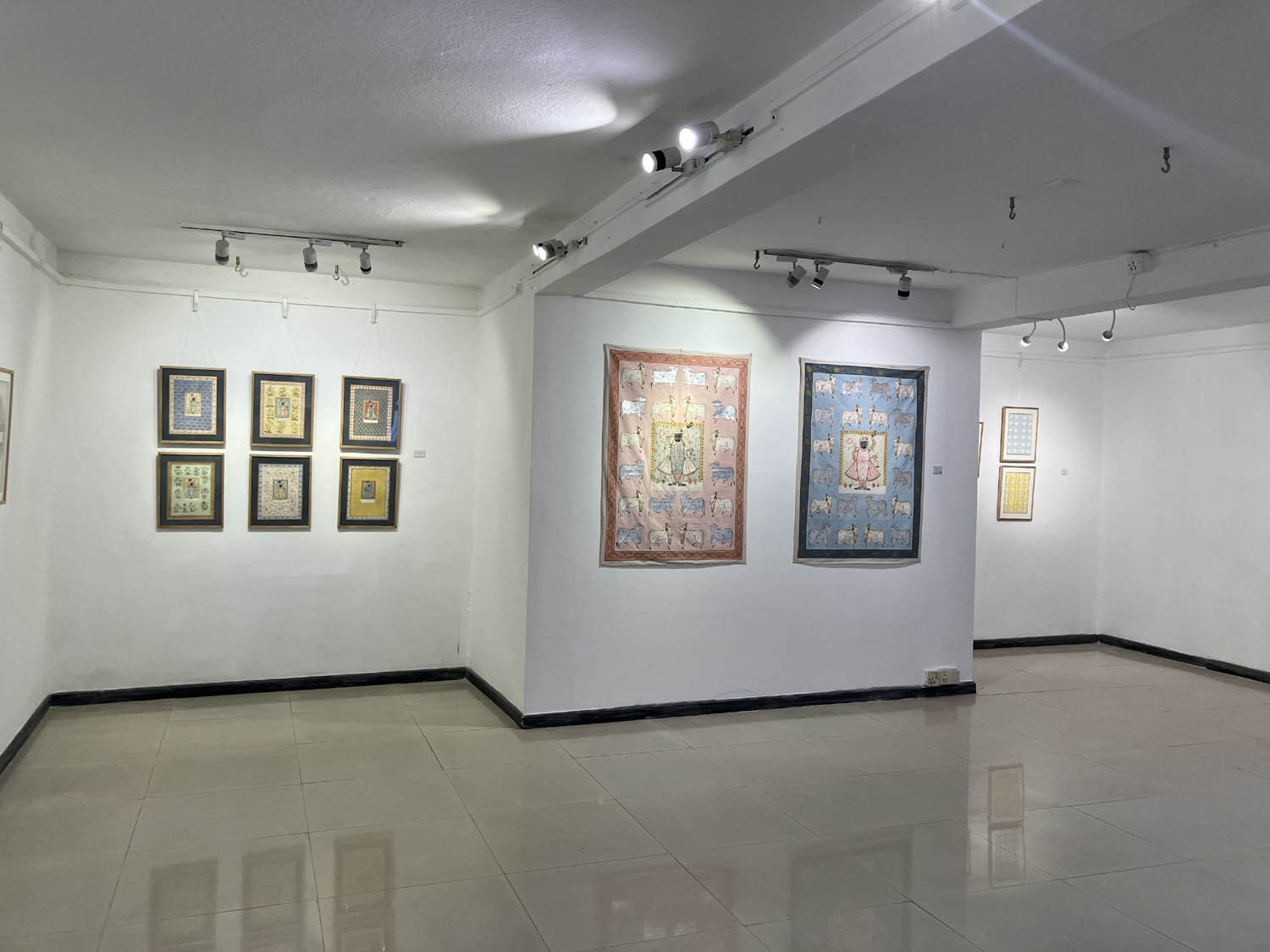 PHOTOS : Courtesy of Siddhartha Art Gallery
The arrangement of the artwork offers a sense of deliberate continuity without fully unveiling the creator's meanings. For instance, the 'Creation Of Universe' series is strategically spaced, unveiling the paintings gradually, akin to the gradual process of universe formation. Similarly, the Pichwai paintings are interspersed at intervals among the frames, enhancing the viewer's engagement with the exhibition.
A recurring theme in the exhibition is the presence of devotional paintings honouring Lord Krishna. Paintings like 'Darshan: An Immersive Experience' portray Shrinathji in various contexts within the deity's site, while 'Gopashtami: Celebrating Krishna as a Cowherd' places Shrinathji amid vast herds of cows. A particularly intriguing feature in 'Darshan: An Immersive Experience' is the presence of a silver leaf amidst the smaller artworks of Shrinathji. Vaishnavi offers an intriguing explanation for this—the silver leaf symbolises the audience's unique relationship with the deity, allowing them to visualise their own connection with Shrinathji.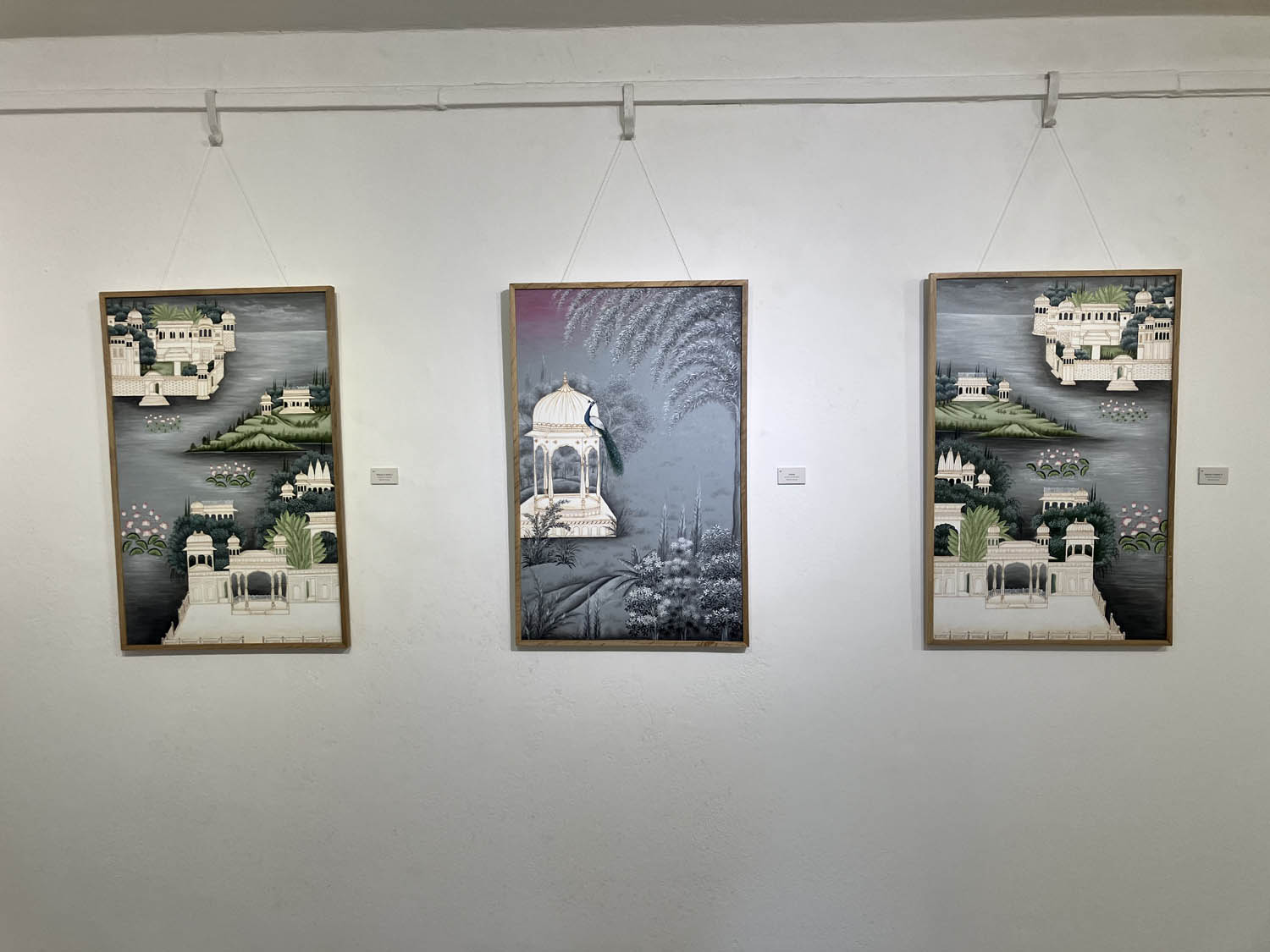 PHOTOS : Courtesy of Siddhartha Art Gallery
The importance of the vibrant landscapes is evident in many paintings. In 'Gopashtami: Celebrating Krishna as a Cowherd', the scene unfolds under dark, greyish skies, accompanied by the moon, amid dense forests and bordered by small flowers. Similarly, 'Palaces in Water I and II' depict stormy grey waters adorned with bright pink lotuses and castle-like structures, appearing as if awaiting an impending misty danger. These paintings invite viewers to imagine stories—this is how it felt for me—of events in these mysterious places and the lives of the people there.
However, some paintings can feel repetitive. Seeing the same shades of green in multiple artworks of forests and trees, despite occasional darker tones, can become a bit monotonous.
The paintings at Studio Kishangarh are the outcome of collaborative efforts. A team of artists contributes collectively to each artwork. When they work together, some artists focus on plants and trees, others on animals, and some on landscapes. Additionally, there's someone dedicated to crafting intricate borders.
"At Studio Kishangarh, everyone brings something unique to the table, adding a fresh perspective to bring the vision to life," says Vaishnavi.
Studio Kishangarh's 'Domains of Wonder' will be on display at Siddhartha Art Gallery in Babermahal, Kathmandu, until November 18, 11:00 am to 5:00 pm.
---
---
Most Read from Arts
E-PAPER | December 08, 2023