Through her third eye
Consisting of stunning arrays of large canvases and sculptures across mediums, Pramila Giri's third exhibition at the NAC is an encounter that is close to sacred.

Giri poses in front of her artworks at Nepal Art Council in Babermahal, Kathmandu, earlier this wek. Photo: Courtesy of Sophia L Pandé
bookmark
Published at : October 19, 2023
Updated at : October 19, 2023 21:21
The exhibition currently on at the Nepal Art Council (NAC) could command the space at any great Modern Art museum in the world—the Mori in Tokyo or the Tate Modern in London. Consisting of stunning arrays of large canvases and sculptures across mediums, Pramila Giri's third exhibition at the NAC is an encounter that is close to sacred, unencumbered by the complicated overtones of religious didacticism.

The odd thing is, many art lovers may never have had the privilege of viewing these works in person, others still may not even have heard of the artist, the greatest of her generation, perhaps even the greatest living Nepali artist today. This is mainly because while Giri has had exhibitions in Nepal (at NAC in 2016 and 2018), and her works travelled to the watershed Nepal Art Now show in Vienna in 2019, she lives and works in Norway with her architect husband, Hans Christie Bjonness; pieces from her oeuvre have not been easily available, therefore, to lend out to amalgam shows domestically, creating a void in the art world here.
Her public sculptures at the Rashtriya Beema Sansthan, Tribhuwan University in Kirtipur, and the Rashtriya Banijya Bank Head Office in Ram Shah Path Road, among others, remain on view for those in the know, but her contributions to Nepal in the form of these massive, searing sculptures, and her 18 years of service teaching at the Lalit Kala Campus as a founding professor of the Fine Arts programme, have faded from recent memory, remaining only in the minds of the older generations of artists she nurtured; the younger generations of makers, while many have visited the show, remain mostly oblivious to this legend that came before them.
Thankfully, this will change with the establishment of the Pramila Giri Foundation, an institution that will house her works and include her own home and sculpture garden in Bishal Nagar. The former was designed by Bjonness on a commission from his spouse who had envisioned her home and sculpture garden decades ago as part of her legacy to Nepal.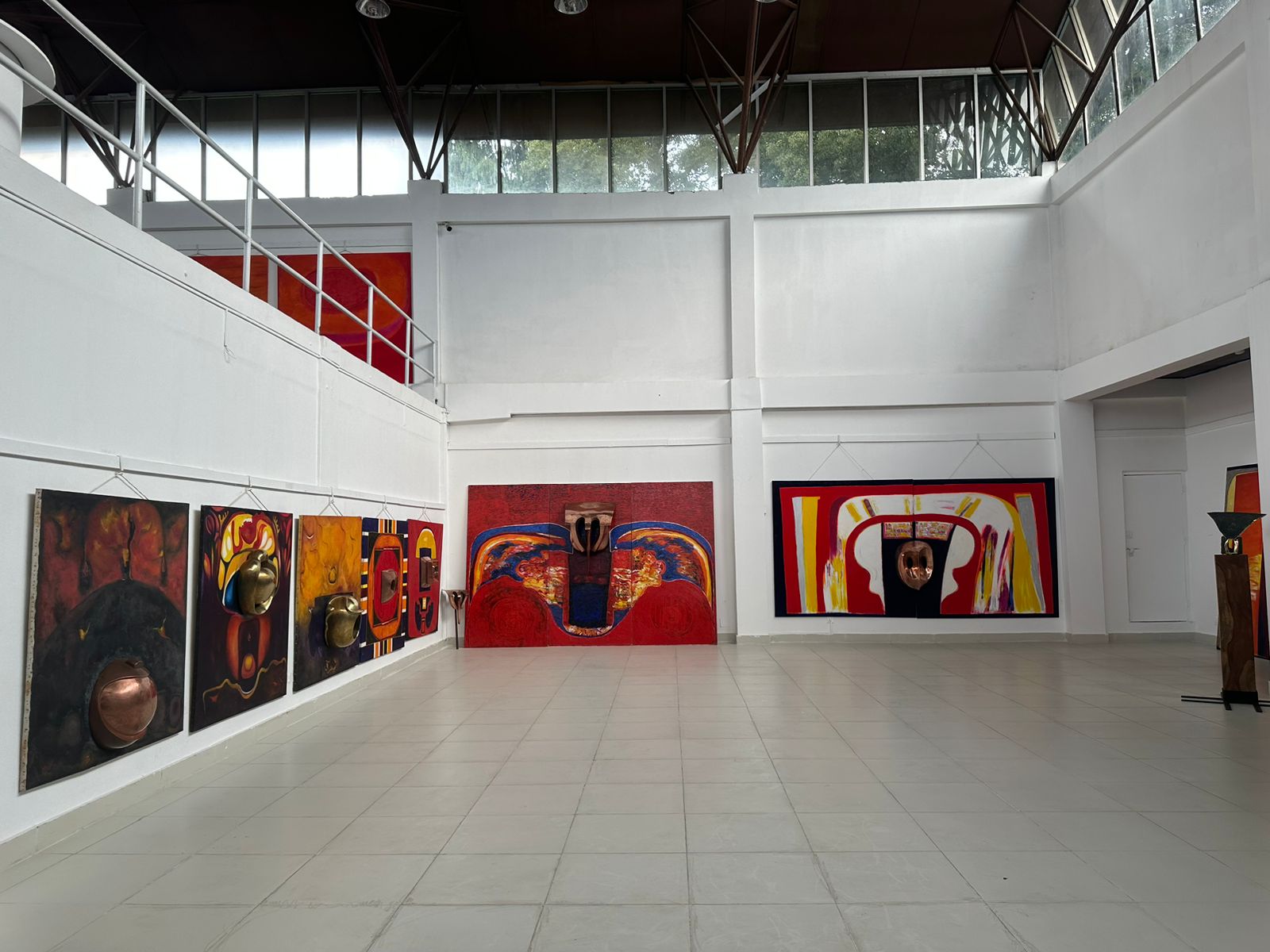 Photo: Courtesy of Sophia L Pandé
The power of Giri's works comes from her special ability to translate spirit or energy into matter, something the Indian art scholar Keshav Malik has already commented on in an essay in the catalogue for this show. As one walks past canvas after numinous canvas, it is hard not to stand and stare, to pull up a stool and sit down in front of one of the ultramarine or silvery white abstracts, trying to wrap one's head around the essence of these epic artworks; for some, walking into the paintings might seem like a tempting prospect, such is the power emanating from them.
It is the energy of life itself, not just spirit, that is embodied in these mystical paintings. Giri does not use a brush, she uses her own hands to create the strokes, feeling the need to physically touch the canvas, using a scraper to shape the colours and texture, and a cloth to smoothen the surfaces. This tactile approach is perhaps the reason why nothing is lost between artist and canvas, with no brush to obstruct the energy between artist and artwork; the result is pieces of art that are uncannily, enchantingly, both ancient and modern, feminine and masculine—the translation of something pure and meditative into palpable art.
With her sculptures, Giri works first within her mind's eye, seeing a form that she then translates into sculpture using the lost wax technique, slowly the form emerges, and with it, her choice of medium; she works across wood, metal, cement, plaster of Paris, and the softer soapstone and limestone, preferring their grain and malleability to that of the harder marble. Her first preference is that of sculpture; she sees herself foremostly as a creator, transcending the boundaries of her gender, using her training during her formative years at Shantiniketan to incorporate the values of social connection and a deep learning from nature into the art. Perhaps this is why no matter how abstract her forms and shapes, the tangible spirit that embraces humanity, beauty, and purity, but avoids dry asceticism, remains on in the creation, allowing us to connect with it on a personal level.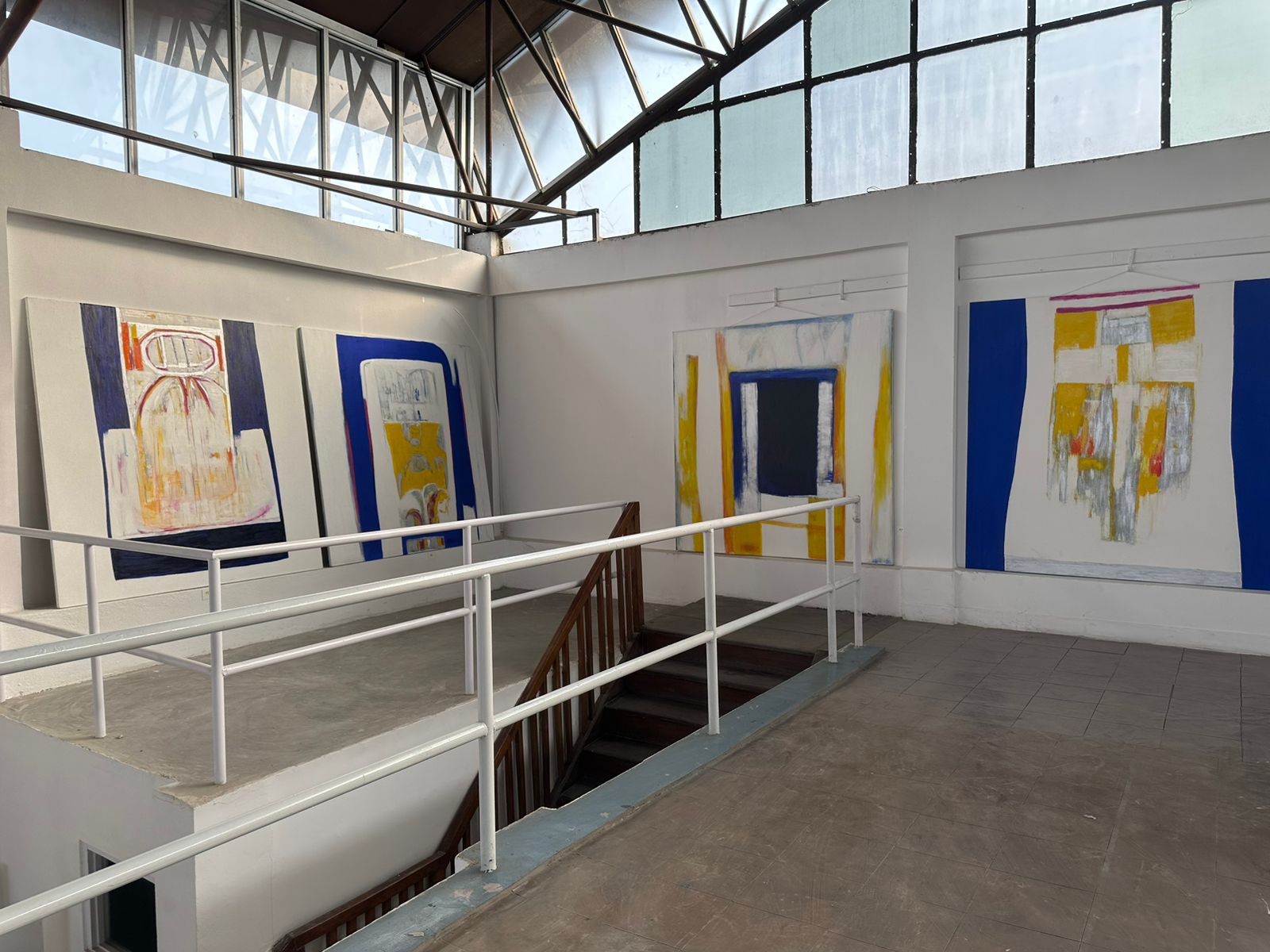 Photo: Courtesy of Sophia L Pandé
Meeting the artist explains much of the power of her work. Delicate and diminutive (she sometimes needs a ladder to access the higher parts of her enormous canvases), her gentleness and curiosity shine through with every engagement, her bright eyes looking out into this world with thoughtful observation. At this exhibition, she can be seen sitting in a chair with a thermos beside her, offering cups of tea to all the people who may want to speak with her, generously giving her time and wisdom, particularly to the younger people who all seem completely floored by the works they are surrounded by.
It is rare to meet a living artist of this stature and have access to her thoughts and presence. And while it is never possible to completely know another person, much less an artist, perhaps an anecdote may help: when Bjonness first met Giri in 1977, it was his first visit to Nepal and he was struck by the beauty of the Valley and the cultural wealth inherent in its architectural heritage. Along with his acquaintance of the Kathmandu Valley's riches came that of a quiet artist with a powerful, uncompromising vision of her own, Pramila Giri. It took 13 years for their relationship to evolve into a marriage, a union of true equals founded on their mutual respect for each other's disciplines, underscored by a tenderness visible for all to see. Giri still chuckles when she tells the story of how she accepted Bjonness, saying to him that her first love would always be that of art. Bjonness remains one of Giri's most dedicated admirers, loving both the artist and the woman, understanding that one could not exist without the humanity and dedication of the other.
It is difficult to convey the true gravity of the works on display at the NAC, the canvases in the Bagmati Gallery's upper-level change with the light; one could be there all day watching the subtle changes in tone and texture, caught in a blissful meditation, gaping at their limpid purity. Then there are the mind-blowing mixed media canvas sculptures on the lower floor of the Bagmati Gallery that combine the artist's formidable, vivid paintings with her pulsing, dynamic metal sculptures, resulting in an experience that defies explanation, almost as if viewing a god or goddess come to earth in an alien, robotic, hypnotic form.
I leave you with a remark made by an astute viewer: as I wandered slowly from canvas to canvas, I overheard a young woman say that she could see the universe in the eyes of a painting. I swung around, moved by her remark to look again, and I saw it too: the universe through the third eye of the artist herself. It is this ability to convey the infinite with a few strokes that makes Giri's art so very divine.
'Through My Third Eye' is on display at the Nepal Art Council till October 20, 11:00 am to 5:00 pm.
---
---
Most Read from Arts
E-PAPER | December 08, 2023