Peering into the delicate
Shaili Malla, a young artist from Bauddha, presents a dream-like, foggy window into the memories that have shaped her.

Deepak KC/TKP
bookmark
Published at : July 2, 2023
Updated at : July 2, 2023 07:43
Kathmandu
Taragaon Next is a quaint space. Midst the large hovering trees and the immodestly green grass (where you can greet a fox or two) are the pod-like brick houses with large circular windows. Designed by an Austrian architect, Carl Pruscha, in 1972, Taragaon Next is a rare instance of a space not corroded by a vulgar display of concrete and chaos. It is here that one can view Shaili Malla's delicate little exhibition, 'Echoes from Yesterday.'
Shaili, a Bachelor in Fine Arts (BFA) graduate from Kathmandu University, wears many hats. Besides working with traditional art mediums like painting, she also vlogs, illustrates, and sells stickers, bookmarks, art prints, handmade brooches and cards. 'Shaili ko shaili' (Shaili's style), as her YouTube channel is called, hints at an artist on the cusp of evolving times—adjusting to technological and digital movements.
'Echoes from Yesterday' is her first solo exhibition. She's taken a reserved tone for it—working with paint and translucent paper to create paintings heavily influenced by her past and the things that have shaped her.
As one enters the gallery, one is greeted with a rather eerie-looking painting. A mossy-green hydra (or perhaps a tree) stands in the middle of a foggy frame. Only as you get closer will you notice what gives the painting its mist-like texture—layers. Shaili uses translucent paper to add layers to her works—juxtaposing different colours, shapes and drawings to create the final narrative.
Shaili reveals that her primary muse is memory. With each of her paintings—a dog sleeping on a red sofa, an elderly woman peering out from the curtains—she recalls memories from her past. The dog is her beloved pet, Snoop (who passed away), and the woman is her grandmother.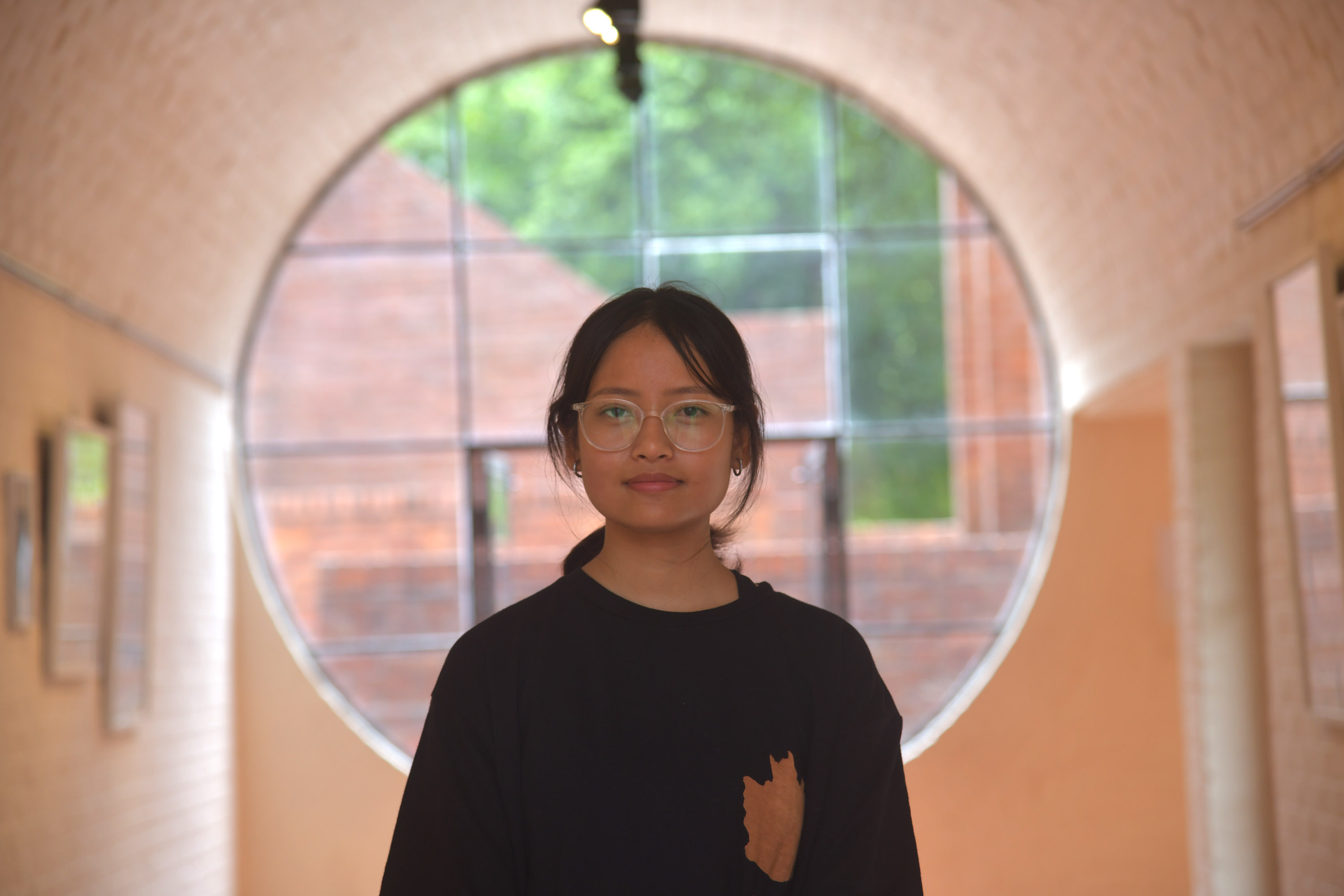 Shaili Malla
This recollection moves beyond the tangible—one painting captures a rather serene sky, while the other is a reconstruction of a cityscape at night. "Even though our memory fades, some sensory detail—scent, sight, or texture—remains. That is what I wanted to show," she says.
This idea of recollecting past memories occurred when she started journaling with a close friend. "I used to draw, while my friend used to write," she says. If they travelled somewhere, they'd press flowers and leaves to mark their visit. However, due to an unforeseen event, her dear friend passed away. "This exhibition is also my way of remembering him," she says.
Because her artworks come from an incredibly personal place, they have a sense of fragility. The paintings are shrouded in a white mist, and her subjects look like they are in the process of disappearing into the frame itself. This perhaps hints at the frail nature of our memories—wherein we slowly forget even the happiest days of our lives.
That way, Shaili's works seem like an attempt to document, appreciate and recognise these moments before they evaporate into oblivion.
There is a softness in Shaili's paintings—reflected in how she speaks—as she chooses calm, placid and subtle colour palettes over strong ones. This is also evident in her final year BFA project, 'Dear Wolves', which she showcased at Nepal Art Council in 2022.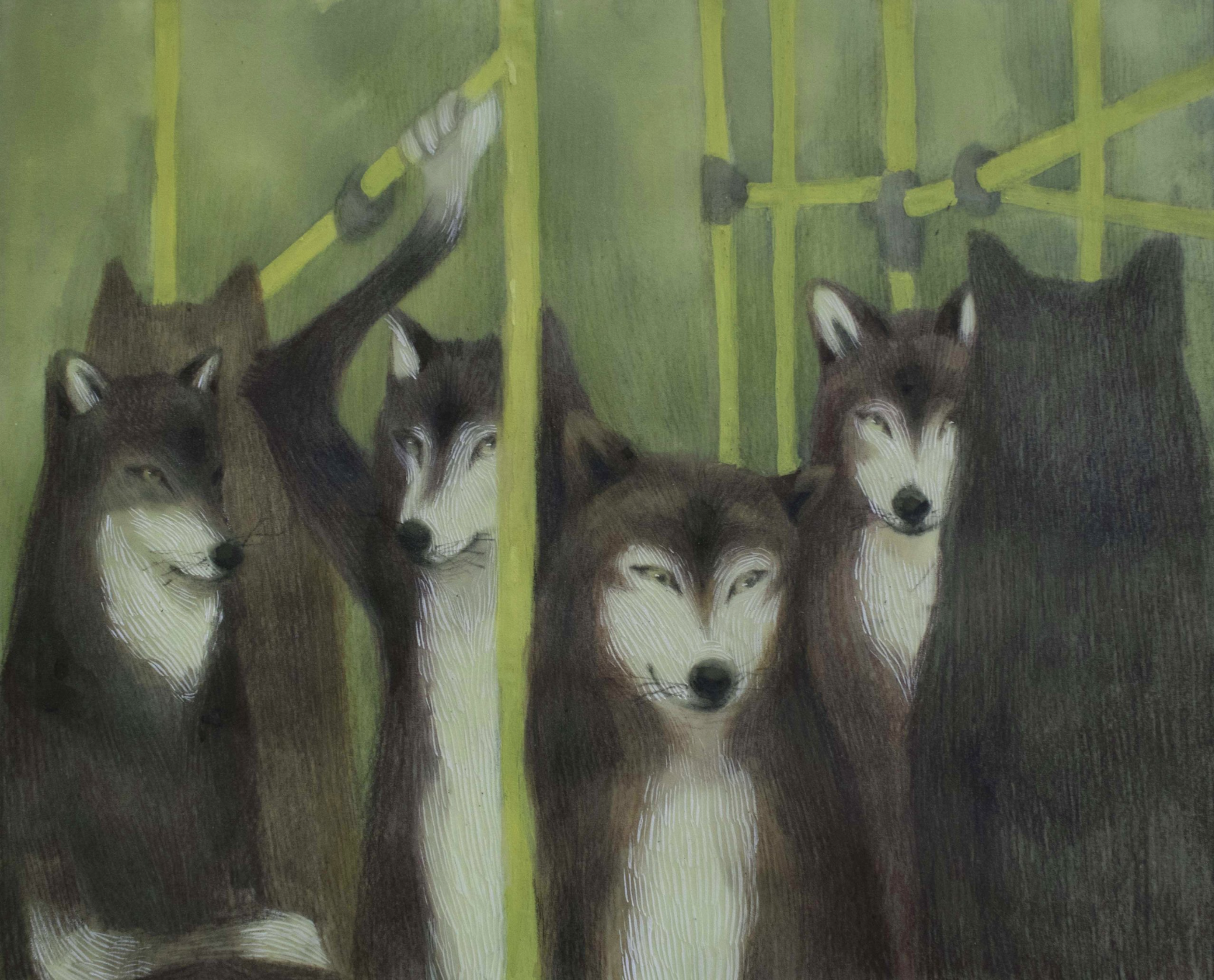 An artwork under Shaili's final year project 'Dear Wolves.' PHOTO: Courtesy of Shaili Malla
'Dear Wolves' is a poignant collection—tackling the issue of catcalling and harassment, particularly in public vehicles, without being overtly didactic. She has painted wolves—with notoriously haunting eyes and a sinister smile—gazing directly into the eyes of the viewer. This gaze surely creates a feeling of uneasiness in anyone—perhaps mainly women—who have faced unwelcome and lingering stares from strangers during public commutes.
What makes Shaili's style different are the toned-down, neutral colours she uses to tackle heavy issues like loss and discomfort. At first glance, it is easy to dismiss her work as just pretty or soothing, but if you take a more serious look, you'll notice that it carries much more depth and awareness.
It is rather rare for a recent art graduate to gear up—and meet the demands—for a solo exhibition. However, it is young artists who bring in fresher and more unique perspectives, daring to delve into topics that many of us might not have even considered pondering upon. Thus, it is extremely important that young artists are supported, encouraged and guided by those who already have a steady footing in the world of art.
Shaili's first solo exhibition was made possible by Taragaon Next's 'Artist in Studio' programme, which provides up-and-coming artists with monetary help, a studio and guidance to create a unique body of work within a course of six weeks or more. The final display is then exhibited at Taragaon Next's gallery.
The exhibition will continue till July 9 at Taragaon Next, Bauddha, Kathmandu.
---
---
Most Read from Arts
E-PAPER | December 08, 2023