Deeply personal, soothingly mellow
Danfe Arts' recent exhibition 'An Ode to The Blue' is an unhurried and pleasant display that celebrates feminine and maternal narratives.

A viewer takes in watercolour works at the exhibition. Courtesy of Chakshita Rana Pathak/Danfe Arts
bookmark
Published at : April 14, 2023
Updated at : April 14, 2023 18:30
Danish philosopher Kierkegaard once said, "Life can only be understood backwards, but it must be lived forwards." We are inherently shaped by the past—our childhood, where we grew up, and what we have been through. Artists have always seen their lived experiences as a place to draw inspiration; the past, time and again, manifests itself as their greatest muse.

Danfe Arts' newest exhibition paints the same picture. Titled 'An Ode to The Blue', it features the works of five female artists: Deepmala Maharjan, Mini Tamang, Saurganga Darshandhari, Shreeti Prajapati and Sony Rai. All of their works—albeit through different mediums—pay homage to feminine spaces and maternal narratives.
As one enters the Wind Horse Gallery, where the exhibition has found a temporary abode, one is greeted by monochromatic relief prints by one of Nepal's foremost printmakers, Saurganga Darshandhari. Her works have always been informed by the personal and the societal, both merging together to create unique stories.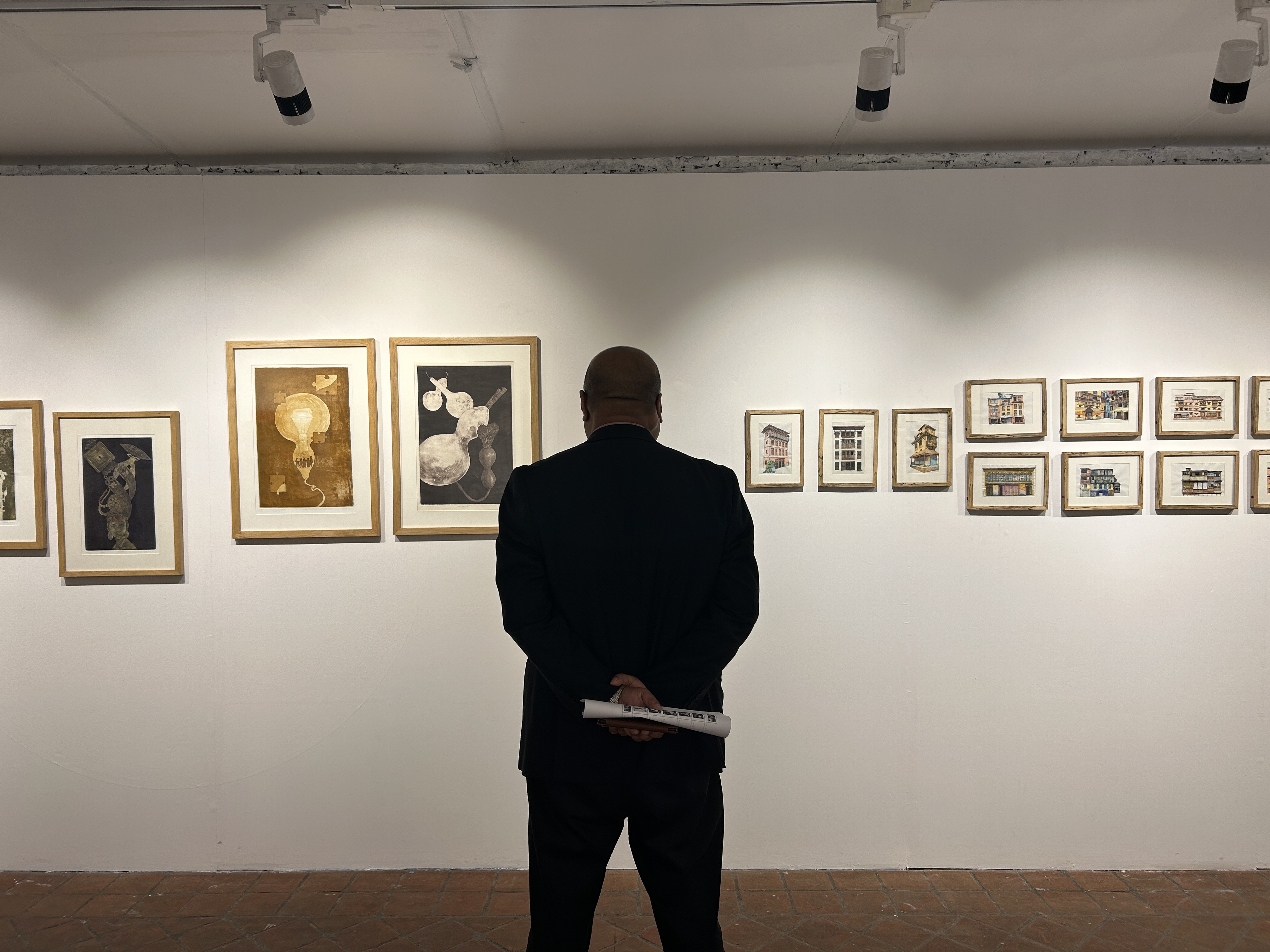 Courtesy of Chakshita Rana Pathak/Danfe Arts
Darshandhari hints towards the idea of tea time as a form of resistance and leisure. Tea or Chiya is more than just a drink: it's conversations between friends and family, it's introspection when alone, but most importantly, it's modern day resistance at a time where leisure is akin to luxury. After a long day at work or college, what soothes a Nepali is a cup of tea. In 'Free Time', the tea being poured by a feminine figure transforms into waves flowing from one cup to another into the frame itself. Through her statement, Darshandahri reiterates, "Tea time has always been an opportunity for people to connect [and] discuss things."
For this exhibition, Mini Tamang has worked with shades of blue yarn to create weaves and patterns that reminds one of the seas or the sky. 'Dolly' is modelled after makeshift dolls that she played with as a child—weaved together using yarn, they also look like cacti bundled together. 'Waves' allows the audience to move the weaves around, mimicking the ever-changing flow of water. The blue shades combined with the laborious and textual quality of the yarn give her work substance. "I want viewers to be able to touch and interact with my pieces," says Tamang.
Shreeti Prajapati's watercolour works portray the iconic Kathmandu Valley urban scape, especially those in Newa communities. Eclectic houses with elaborate windows and vibrantly coloured walls are shown bundled together. But somehow, in the midst of all the chaos, there is a sense of calm. There is beauty. Titled 'Pursuing the humble abodes', Prajapati looks back on her childhood spent in spaces with this unique type of architecture. Her statement evokes a sense of nostalgia, "When it rained, the courtyard carried the scent of red bricks, and the tin-roofed terraces made a comforting patter." The details—from the flaking of paints in the wall to clothes hung on the windows—give her work its charm.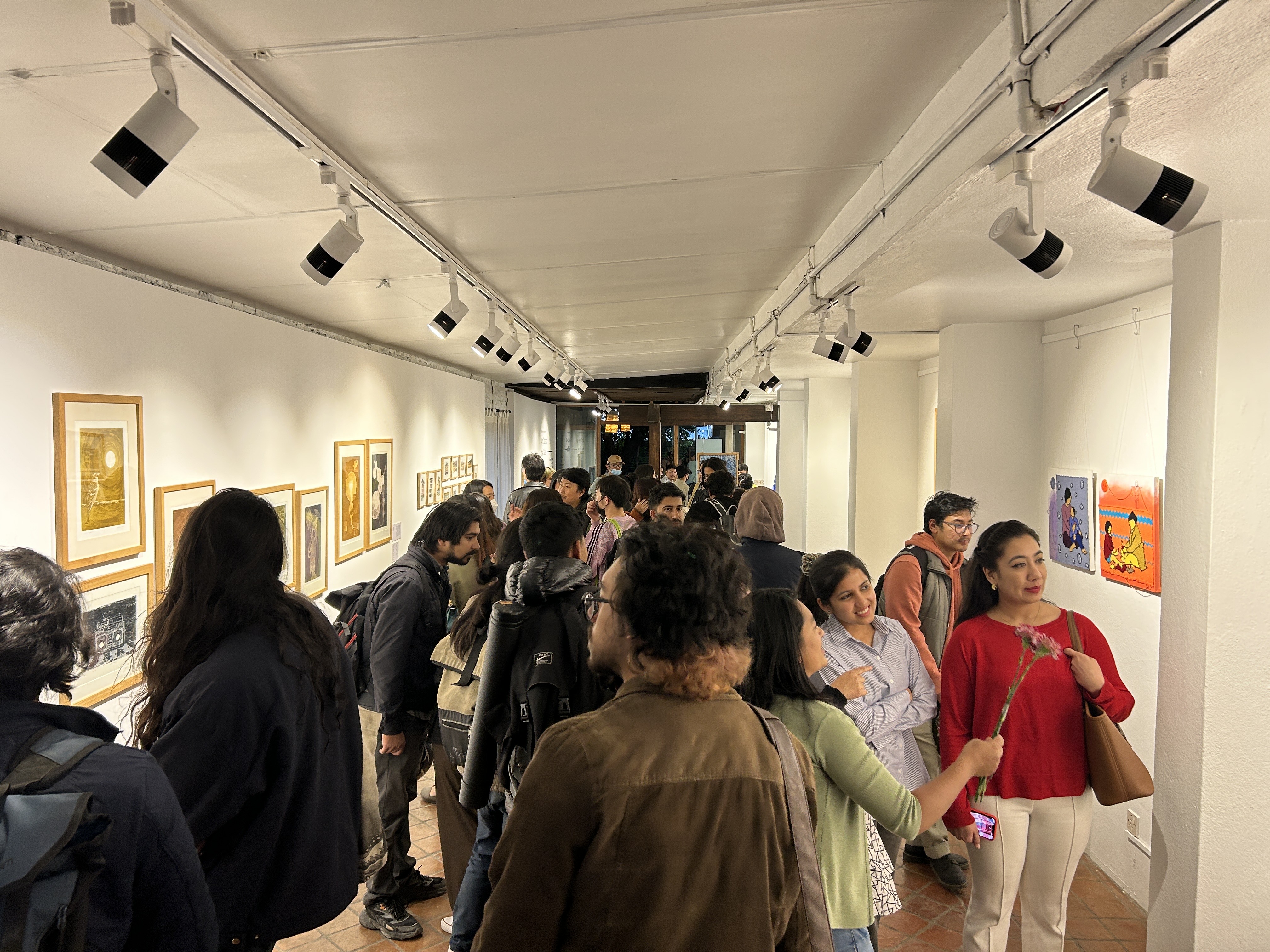 Courtesy of Chakshita Rana Pathak/Danfe Arts
Beside Prajapati's paintings are aquatint prints by Sony Rai. Her works are informed by her heritage—the Kirat community—whose culture and traditions are at a crossroads due to modern pressures. "I see my people getting a step closer every day to losing their heritage," she says. Her prints feature traditional Kirat jewellery, objects and memorabilia that are specific to her culture. The purpose: to act as a bridge between the past and the present and to create a future where these traditions are not only remembered but, once again, brought into practice.
At the further end of the gallery are acrylic and yarn works by artist Deepmala Maharjan and her mother Heera Maharjan. With the help of Deepmala's graphs, Heera has knitted memories of the mother-and-daughter duo—from childhood to adulthood. Titled 'Motherhood: Love, Strength and Friendship', the vibrant works are Deepmala's acknowledgement of her mother's resilience, who initially took up knitting to sustain the family.
Almost all of the exhibits in 'An Ode to The Blue' are reflections of the artists' longing and nostalgia for the past. The exhibition doesn't wish to make heavy statements or ask the viewers to engage in critical thinking. It instead aims to invoke feelings of relief and warmth, asking you to stop, take a deep breath and let the fond recollections of a distant time bring you comfort.
The exhibit will continue till April 19.
---
---