Depicting a forgotten past on dwindling blueprints
Bidhyaman Tamang puts on canvas the tales of lost agricultural complexity, the ethos of modern city life, and nostalgia.

Photo Courtesy: Siddhartha Art Gallery
bookmark
Published at : December 1, 2022
Updated at : December 1, 2022 08:13
Kathmandu
In this day and age, wherever our eyes can see, buildings seem to follow. From a bird's eye view, the city might as well seem like corn tightly packed on a cob.
Having been uprooted from his origins in Ramechhap to the maze in Kathmandu, Bidhyaman Tamang explores the phenomena that keep on diminishing agricultural diversity and enforcing a centralised, militarised and industrialised life in his latest exhibition, 'My Memories Of The Soul'.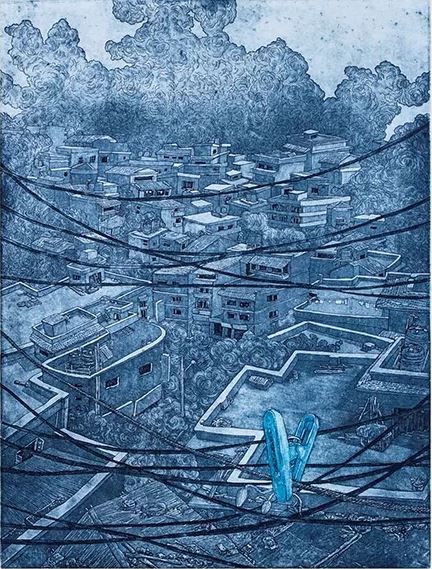 Photo Courtesy: Siddhartha Art Gallery
Using the recurring themes of maps, insects, and animals, Tamang puts his ideas and messages into ink and canvases to tell us a story we are all too familiar with, but wilfully neglect. As plottings dwindle arable land, farm owners move to the capital, and life becomes more urban-stricken; Tamang's exhibition reminds us of our roots - of being self-sufficient, living alongside bugs and animals, and living a life that doesn't abide by 9 to 5 timings of a job.
One section of the exhibition in particular, centres around Tamang's fond childhood with insects. Frames upon frames of insects actively going extinct hang together in the shape of an ECG (Electrocardiography) graph of a heartbeat with a mirror at the end.
Tamang brought the majority of his collection to a reality in 2021. He is now urging people to rethink the way we have ended up living.
———————————————————
What: My Memory Of The Soul
Where: Siddhartha Art Gallery, Babar Mahal
When: November 27 to December 11
Time: 11:00 to 5:00 (Sunday to Friday), 12:00 to 5:00 (Saturday)
---